From winter markets to popup events, we've found fun (and safe) ways to check items off your Christmas list this year! Don't forgot our small businesses this holiday season, Greater Lansing also has many locally owned gift buying shops—check out our Shop Small, Shop Local blog for more info.
Many of our attractions have signed the Greater Lansing Safe Pledge to show their commitment in helping mid-Michigan stand out as a safe choice for all visitors. For more information on how to plan a safe trip to Lansing check out our Know Before You Go and How To Be A Good Customer blogs.​
Updated November 20, 2020
---

Lansing Art Gallery & Education Center
119 N. Washington Sq., Suite 101, Lansing 48933
November 5–December 23, 2020
Shop safely online and browse through selected works from the 2020 Michigan-Made | Holiday Art Exhibition. You may also shop in-person starting November 17 through pre-scheduled appointments, Tuesdays from 11 a.m.–6 p.m., as well as Thursdays and Saturdays from 11 a.m.–3 p.m.
---

REO Town Marketplace
1027 S. Washington St., Lansing 48910
Thursdays & Fridays, November 14–December 24, 2020
Every Thursday and Friday, REO Market Place will be welcoming artisans. Check their Facebook and Instagram pages for who will be showing off their creativity and selling goods each week.
---

East Lansing, 48823
November 16–21 & December 7–12, 2020
The Lansing Regional Chamber and the City of East Lansing are happy to bring you the East Lansing Business Crawl. This crawl encourages you to shop local businesses in East Lansing during the weeks of November 16–21 and December 7–12. To participate collect a Small Business Crawl card at one of the following participating businesses below and support them by making in-store purchases. The card is also available for download on the Lansing Regional Chamber's website.
Beggar's Banquet
Campus Corner
Crunchy's
Curious Book Shop
Harper's
Lou & Harry's
Massage and Wellness
Pitaya
Saper Galleries
Seams Fabric & Mercantile
Snap Pizza
Sundance Jewelry
Student Book Store
Underground Printing
How It Works
When players make a purchase (gift cards included) at a participating business, they will receive points by keeping their receipts and submitting them on the Lansing Regional Chamber website.
Players that support FIVE participating businesses and submit their receipts on the Lansing Regional Chamber website will score a field goal and then enter a drawing to win prizes.
Players that support TEN participating businesses and submit their receipts on the Lansing Regional Chamber website will score a touchdown and are entered into a drawing to win prizes along with the chance to win the grand prize of $1,000.
There is no limit to the number of times players can submit a completed Small Business Crawl card.
---

Old Town Lansing, 48906
November 3, 2020–January 12, 2021
Join participating Old Town businesses for: Treat Tuesday! Each week features a different Old Town business that wants to offer you a treat to spice up your Tuesday. It may be a sale, it may be a giveaway, it may be something brand new and fabulous that you can't live without! So follow Old Town Lansing on Facebook every Tuesday (even into 2021!) for something uniquely Old Town from your favorite businesses.
Schedule for the next couple of months:
November 3rd: Katalyst Gallery
November 10th: Polka Dots Boutique
November 17th: Grace Boutique
November 24th: Sweet Custom Jewelry
December 1st: Bad Annie's
December 8th: Twiggies
December 15th: Curvaceous Lingerie
December 22nd: Great Lakes Art And Gifts
December 29th: Uncovered Beauty
January 5th: Absolute Gallery
January 12th: Where The Wild Things Bloom 
---

Lansing Mall Holiday Craft and Vendor show
Lansing Mall
5330 W. Saginaw Hwy., Lansing, 48917
November 21–22, 2020
Come shop unique items from your local small businesses and crafters. You may even see some of your favorite super hero's or villains! Buy some yummy goodies and get your Christmas shopping started or finished.

Saturday, November 21, 2020 from 11:00 a.m.–8:00 p.m.
Sunday, November 22, 2020 from Noon–6:00 p.m.
---

Mason, 48854
November 27–28 & 30, 2020
Love your locals on Plaid Friday, Small Business Saturday and Cider Monday! On November 27th wear Plaid to show your support. Look for weekend features at many independent shops. Online, in-store or take-out this holiday season and support locals as you shop, eat, drink & be merry in Mason, MI.
---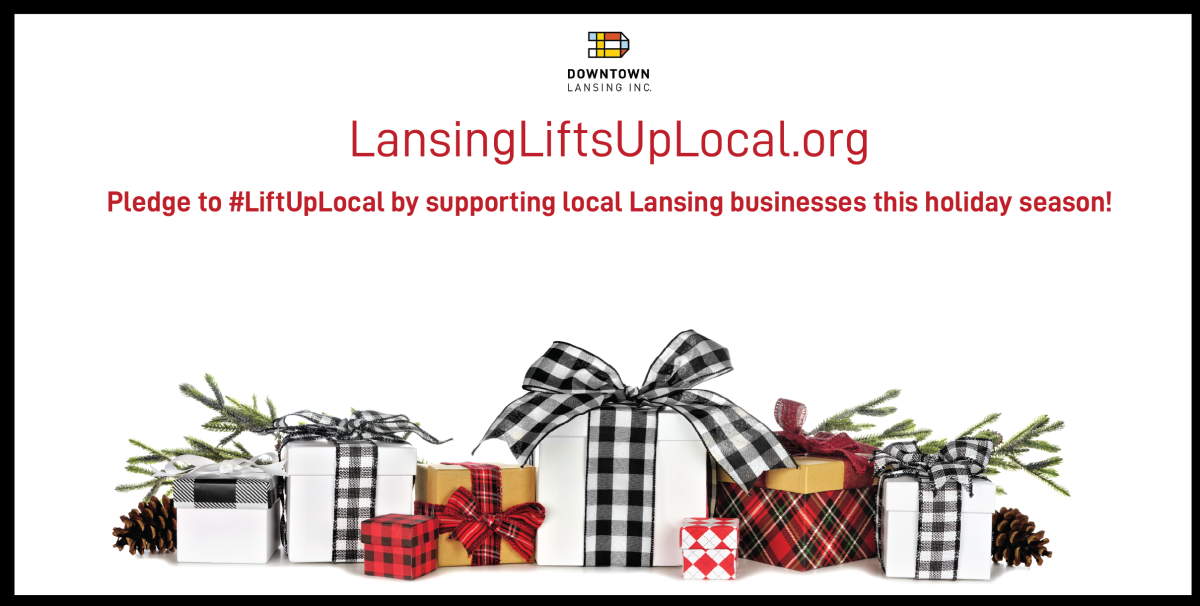 #LiftUpLocal with Downtown Lansing, Inc.
Lansing, 48912
November 28–December 4​, 2020
This holiday season, Downtown Lansing Inc. and partners encourage you to head downtown to safely sip, shop, and stroll outdoors past downtown businesses and holiday storefront displays.
Starting on Small Business Saturday, November 28—check out not only our great downtown businesses, but Lansing-area storefront shops, gallery displays, and boutique gift shops who have set up with their goods and services in storefront windows. All week long, enjoy themed shopping nights to help you embrace winter while you #ShopLansing, #GrubLansing and #SupportLansing—and pass on the Lansing Lifts UP Local love!
This storefront activation initiative will allow people to be outside and see one another, in a safe socially distanced pace, with strictly enforced pandemic protocols. Grab a coffee to sip while you stroll, and order takeout in support of downtown restaurants while you take in the holiday lights and music.
---

November 28–December 14​, 2020 (or until the limited 700 gift cards are gone)
The City of Grand Ledge's Downtown Development Authority (DDA) is offering a bonus incentive as a quick way to generate support for retail, restaurant, personal care services/gyms, and entertainment venue businesses located within the DDA district.

Starting at midnight on Small Business Saturday, November 28, 2020, use this website to purchase $25.00 gift cards from participating businesses. Thanks to the generosity of the Grand Ledge Downtown Development Authority (DDA), each $25.00 gift card purchased through the site will receive a $10.00 bonus! Spend $25 and receive $35! The week of December 14, 2020, gift cards will be mailed to those who purchased them. 
Please Note: This incentive program is limited to 700 gift cards. The program will run through Tuesday, December 8, or until the 700 gift cards are all gone. 

How the Gift Card/Certificate Incentive Program Works
This round of the program is limited to a total of approximately 700 gift cards/certificates, but the DDA may sponsor additional rounds if funds are available.
Gift certificates/cards eligible for the $10.00 incentive can only be purchased at www.cityofgrandlege.com/GiftCard during starting on Small Business Saturday, November 28, 2020.
Households are limited to purchase up to ten (10) gift cards/certificates in $25.00 denominations per round from their choice of participating businesses.