Plan Your Trip
Welcome to Michigan's Capital Region!
Our goal is to inspire visitors to Love Lansing like a Local and I would personally like to invite you to experience all that Greater Lansing has to offer. From world-class attractions to colorful festivals, Michigan's Capital region has something for everyone. And I promise, it won't take you long to see we're glad you're here! Greater Lansing is a diverse and welcoming community with over 500 Certified Tourism Ambassadors. We take pride in rolling out the red carpet for visitors, whether you're here for a conference, sports tournament or a weekend getaway.
While in the area, please stop by our visitor information center for maps, brochures and personalized planning assistance. It is conveniently located in downtown Lansing just steps away from shops, dining and attractions. Whether you prefer to navigate our community with your smart phone, or simply wish to browse a copy of our visitor guide, we are dedicated to be your travel planning resource.
I hope you enjoy your Pure Michigan experience while in Greater Lansing. If we can offer any assistance to make your stay more enjoyable please contact us! On behalf of our staff, Board, partners and community leaders – Welcome!
Sincerely,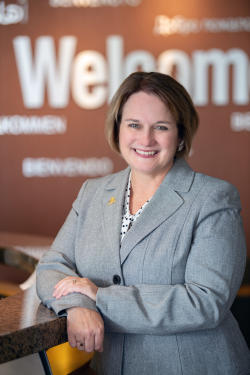 Julie A. Pingston, CDME, CMP, CTA
President & CEO, Greater Lansing Convention & Visitors Bureau
Travel Greater Lansing with accessibility in mind. Lansing prides itself on being a welcoming…
Greater Lansing has something for every type of person, so whether you're a "foodie…
Traveling on a budget? The Greater Lansing region has special offers, coupons, and discounts on…
The visitor guide is a comprehensive handbook to all the region has to offer. With sections on…
There's a never-ending list of things to see and do in Greater Lansing, Michigan. The Greater…
Not only is getting to Greater Lansing easy, so is getting around! From cab, to limo, to bus to air…
Greater Lansing is easy to navigate especially with the following resources. View local maps…
We are a friendly, diverse Midwestern destination that offers both "All-American" flair…
Dreaming of a summer weekend getaway? We are too! But if you can't visit in person, we've…
Have questions about visiting Greater Lansing? We've got you covered. These are frequently asked…
Planning your trip to Greater Lansing is easy with your visitor inspiration guide. This comprehensive handbook shares all the region has to offer. Attractions, shopping, dining, maps and so much more! Request a printed visitor inspiration guide or flip through the digital version.
Read More
Visiting Lansing? Discover the newest attractions, upcoming events and festivals, and the hidden gems of the Greater Lansing area delivered right to your inbox.
Read More