Plan Your Trip
Welcome to Michigan's Capital Region!
Our goal is to inspire visitors to Love Lansing like a Local and I would personally like to invite you to experience all that Greater Lansing has to offer. From world-class attractions to colorful festivals, Michigan's Capital region has something for everyone. And I promise, it won't take you long to see we're glad you're here! Greater Lansing is a diverse and welcoming community with over 500 Certified Tourism Ambassadors. We take pride in rolling out the red carpet for visitors, whether you're here for a conference, sports tournament or a weekend getaway.
While in the area, please stop by our visitor information center for maps, brochures and personalized planning assistance. It is conveniently located in downtown Lansing just steps away from shops, dining and attractions. Whether you prefer to navigate our community with your smart phone, or simply wish to browse a copy of our visitor guide, we are dedicated to be your travel planning resource.
I hope you enjoy your Pure Michigan experience while in Greater Lansing. If we can offer any assistance to make your stay more enjoyable please contact us! On behalf of our staff, Board, partners and community leaders – Welcome!
Sincerely,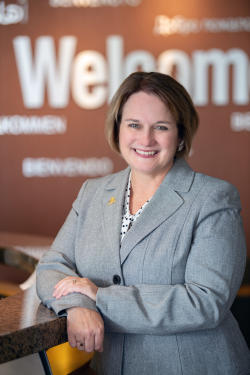 Julie A. Pingston, CDME, CMP, CTA
President & CEO, Greater Lansing Convention & Visitors Bureau