There's so much that's been missing from our lives for the last year or so. For sure it's hugging and visiting with friends and family. Maybe it's enjoying a sporting event in person. We've certainly had our fill of Netflix, TikTok and YouTube. Hopefully we've completed all our home-based projects after watching a ton of HGTV. It's time to get out of the house. Are you ready? Let's take a look at what the Lansing area has to offer in the world of live outdoor entertainment. Get these on your calendar and buy your tickets now!
Outdoor Music Events
Where: Brenke Fish Ladder Old Town Lansing
When: July 15-17 | 6 & 8 p.m. shows
The Dam Jam returns as a three-day event along the riverfront in Old Town Lansing at the Brenke Fish Ladder. Explore the Lansing River Trail on foot, bike, or kayak as you seas the day at the artisan village, shop from local vendors, and catch some fresh eats. Join in on the shell-ebrations with live music in-the-round at the Brenke Fish Ladder while mermaids make waves and dance the night away featuring a robust lineup of Michigan bands. Eat, drink, and dance six-feet apart, be merry, and #WearAMask. Lansing 5:01 is following and enforcing state-mandated regulations to ensure the health and safety of our community. Masks are required at all times unless seated at your reserved and designated table. Attendees will be required to follow physical distancing guidelines.
Where: TBD
When: June 25-27
The 2021 Summer Solstice Jazz Festival (SSJF) will be presented to the community in a virtual/hybrid format* from June 25-27. In partnership with the MSU College of Music, 18 bands will perform live sets at Murray Hall in MSU's Billman Music Pavilion, which will be livestreamed for community members to enjoy at home or at small viewing locations set up in the community. Closer to the festival date, the performer lineup will be announced as well as additional details about the viewing locations and how to view the livestream from home. The viewing locations will be set up in compliance with applicable, current COVID-19 restrictions.
Where: MSUFCU Headquarters | 3777 West Rd., East Lansing
When: Tuesdays - June 29, July 27, August 24, 2021 | Gates open at 6 and performance starts at 6:30 p.m.
Tickets: $20 General Admission, $5 Students
Bring your own chair or blanket to enjoy a wonderful casual concert of chamber music outside!  Picnic baskets encouraged!  Social distancing and other health and safety guidelines will be followed. 
Where: MotorWheel | 725 Prudden St., Lansing
When: Saturday, August 14, 2021 | 4-9 p.m.
Tickets: $40 General Admission https://bit.ly/3g1UZnF
This will be one awesome parking lot party surrounded by lush grass on the perimeter for those who choose to blanket and jazz. BRING YOUR OWN COMFY CHAIR! FOOD TRUCKS (3) - BEER - WINE - SODAS - WATER - ICE CREAM - POPCORN

 
Where: Jackson Field | 505 E. Michigan Ave., Lansing
When: Saturday, September 11, 2021
Tickets: $49-$79
Common Ground is back at Jackson Field with G-Eazy and special guests @TeeGrizzley, @Duckwrth, @yungbabytate 
Outdoor Comedy
When: Friday July 23, 2021 | 8 p.m.
Where: Jackson Field 505 E. Michigan Ave., Lansing
As Seen on her Netflix Special "Sweet & Salty"
$35 general admission/$50 VIP
When: Saturday, August 14, 2021 | 7 p.m.
Where: Jackson Field 505 E. Michigan Ave., Lansing
As Seen on Saturday Night Live, Deuce Bigalow: Male Gigolo, The Benchwarmers
$35 general admission/$65 VIP
Even More 
When: June 10, 2021 | 5:01-11 p.m.
Where: 100-300 blocks of S. Washington Square, Lansing
STOP! and detour your way through downtown as Lansing 5:01 partners with Downtown Lansing Inc. to close the streets to provide aid and support for Lansing's downtown district and local businesses. Dance through the streets, sip on local drinks, tap along to the beats or grab a bite to eat while showing your LOVE for Lansing-based businesses along three blocks of Washington Square.
BLOCK:AID will feature larger-than-life installations and activities, live music, local artists, boutiques, small businesses, food trucks and more to transform Washington Square like never before.
When: June 17, 2021 | 5 p.m. – 9 p.m.
Where: Potter Park Zoo
For our 21+ guests:
These after-hours events includes evenings of drinks, appetizers, and games. This series of four, smaller-scale events will replace Wine & Stein to satisfy new guidelines and capacity limits. The other dates are July 22, and August 26. Zoo Nights is a casual, happy hour style event that will feature tastes from local restaurants and beverage companies. Take the opportunity to see the zoo after-hours, visit with the animals, and enjoy yard games with friends all while savoring tasty treats! Tickets are $15 for zoo members and $20 for non-members. ⁠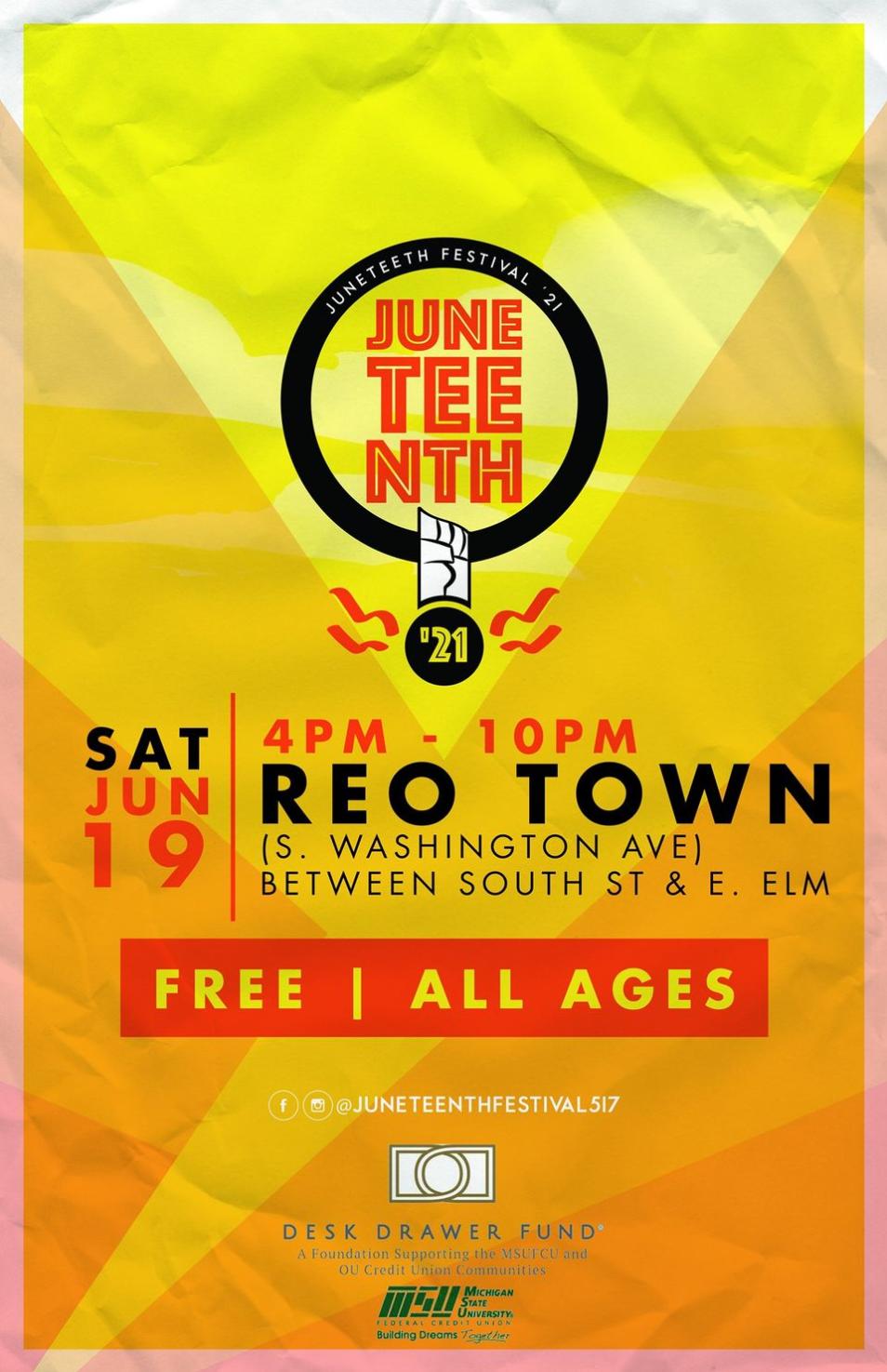 Where: S. Washington Ave. between Elm St. and South St., REO Town Lansing
Date: June 19, 2021 | 4-10 p.m.
A celebration of of black arts, expression and experiences in the Lansing community. Featuring Live performances, food and business vendors, and informational booths highlighting black-le nonprofits/grassroots organizations. FREE
Live Music in the Parks
City of Lansing 
This free "Concerts in the Park" series is held throughout the summer at select Lansing parks on Wednesday evenings from 7:00 p.m. to 9:00 p.m.
Concert attendees should bring lawn chairs or blankets to use during the concerts. In case of rain or other inclement weather, concerts will take place at the same time and location on the following day. The rain out line is 517-483-6019.
For directions to the Park or for more information, please call 483-4277. 
June 16th @ Moores Park with Root Doctor
June 23rd @ St Joe Park with Life Support
June 30th @ Durant Park with Stone Street Revival
July 14th @ Turner Dodge House with the Sea Cruisers
July 21st @ Fulton Park with Taylor Taylor
July 28th @ Frances Park with Grubo Dezeo
August 4th @ Hunter Park with Global Village
August 11th @ Fenner Nature Center with the Lansing Symphony Orchestra
Ingham County
The Friends of Ingham County Parks host free Friday Night Concerts at the Lake Lansing Park South Band Shell concert stage in June, July and August. All Friday evening performances begin at 7:00 p.m. There is free parking and admission! Bring your lawn chair and a picnic.
Grand Ledge
There will be Music in the Park taking place on Thursdays, June 3 - August 27, 2021 at Jaycee Park in Grand Ledge.  Bring your friends and a lawn chair or blanket. There will be food concessions available onsite.

Patios offering Live Music
American Bistro  |  2328 Showtime Dr. (The Heights at Eastwood) Lansing
Live solo musician Fri-Sat 6-10pm outside (weather permitting)
Cleats Bar & Grille  |  5801 Aurelius Rd., Lansing                           
This restaurant is located at Hope Soccer Complex and offers great food and on select evenings, musical entertainment as you dine under the stars.

EagleMonk Pub and Brewery  |  4906 W. Mount Hope Hwy., Lansing
Live local musicians play on Wednesdays, outside in the beer garden, 7-9 pm. 
One North Kitchen & Bar |  5001 W. Saginaw Hwy., Lansing    
Live solo musician Fri-Sat 6-10pm Find the stage near the garage doors so you can enjoy either indoors or on the patio.

UrbanBeat  |  1213 Turner St., Lansing  
Open 5-10 pm Tue-Sat. with live music every night. Seating indoors and outdoors.
Like this blog and want more?  Sign up for our monthly newsletter to get blogs straight to your inbox and find out more of what's happening in #Lovelansing!
Photo Credits:  Fortune Feimster, tommykaz68-Instagram, pobbob-Instagram, Lansing Symphony Orchestra, Phil Denny