The Lansing, Michigan region is full of interesting and innovative dining spots. When we asked ourselves if these restaurants were located in another city would we drive an hour or more to dine there? The answer was a resounding - Yes! Lucky for locals these are located in our backyard, but we encourage you to gas up the car and pay them a visit.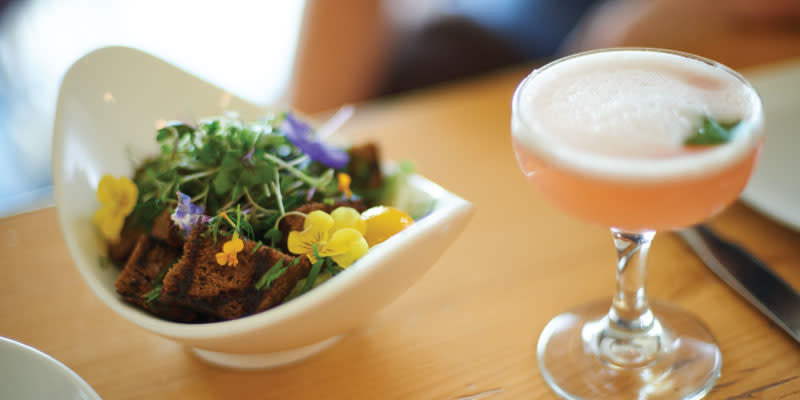 Red Haven's mission is to "Eat Fresh. Eat Local." The husband and wife duo of Nina Santucci and Anthony Maiale developed their love of fine food while working in Philadelphia. The owners began their mid-Michigan culinary journey in 2013 with the Purple Carrot Food Truck before launching Red Haven. Anthony serves as executive chef and trained at the Pennsylvania Culinary Institute. Nina runs the front of the house and manages the restaurant. Both have appeared on the Food Network shows Diners, Drive-ins and Dives and Guy's Grocery Games.
Cuisine: Locally sourced, farm to fork.
Menu: Changes seasonally. Lunch offers a creative menu of soup, salad and sandwiches. Dinner is designed for sharing with small plates packed with big flavor.
Drinks: Extensive wine list and craft cocktails with a Michigan focus.
Atmosphere: Rustic farm chic. Think Mason jars, wood plank tables, large windows letting in natural sunlight and fresh flowers on the table. The food is the star in this dining room. Seasonal patio.
Why go: Nina and Anthony curate menus that feature almost exclusively Michigan products. They work directly with farmers to buy food at the peak of ripeness.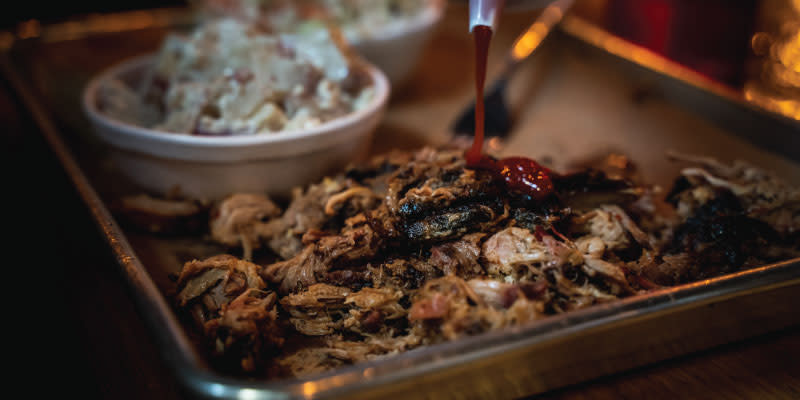 Owner Sean Johnson's mission was to create a meat-centric restaurant that combined his love of slow smoked meats and heavy metal music. As the name implies this BBQ joint caters to carnivores and unapologetically doesn't offer any vegetarian options. "I will never carry lettuce in this kitchen," states Johnson. Think you're the ultimate carnivore? Take the Ultimate Carnivore Challenge by devouring an 18-layer sandwich, one side, and made to order mac-n-cheese all within 45 minutes. Winners find glory with a free meal, t-shirt, a beer and photo on the Wall of Carnivores.
In addition to the great BBQ, MEAT has been consistently named best in the state for their mac-n-cheese and Bloody Mary's. Featured on the Big Ten Network's Campus Eats and Food Network's Diners, Drive-ins and Dives.
Cuisine: Down home Southern BBQ
Menu: Lunch and dinner you'll find meat plates of pulled pork, beef brisket, smoked turkey and chicken wings, meatwiches, French fry bar and made to order mac-n-cheese.
Drinks: Craft beers and award-winning Bloody Mary's
Atmosphere: Casual dining. Rock n Roll inspired décor. Fingers dripping with one of the six tasty BBQ sauces? Rolls of paper towel are at the ready. Seasonal patio.
Why go: All of the meats are slow-smoked for up to 18 hours using a combination of wood until they are moist, flavorful, and butter soft. And each and every one of their rockin' sides and sauces are scratch-made in house.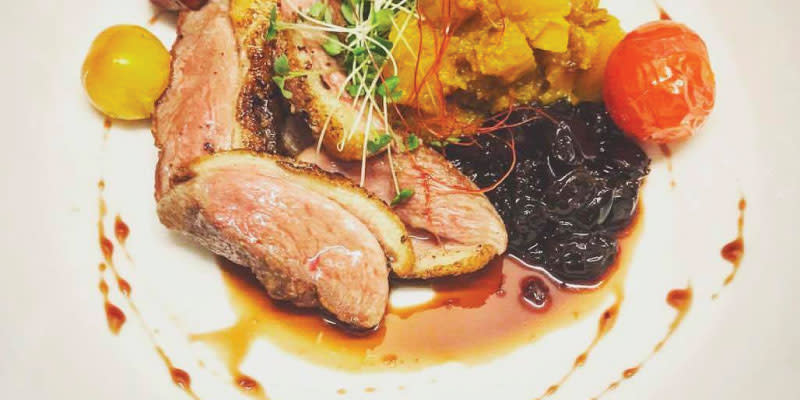 Co-owners James Cheskaty and Lance Davis, opened EnVie in 2017 in the heart of downtown Lansing's Washington Square. James takes the lead in the kitchen while Lance concentrates on the bar program and front of the house operations. This popular bistro aims to serve French-American inspired cuisine from the exciting to the familiar. Just steps from the State Capitol, Lansing's movers and shakers choose EnVie for power lunches and special occasion dinners.
Cuisine: Modern French-American inspired dishes.
Menu: Lunch and dinner you'll find a rotating menu featuring starters like cassoulet, oysters Rockefeller and smoked white fish pate. Mains include: duck benedict, seafood risotto and lamb.
Drinks: Inventive from-scratch cocktails and extensive wine list.
Atmosphere: The white and black décor is simple and sophisticated but has an inviting casual feel, allowing the bistro's food to shine.
Why go: All of food and even the tonic, bitters, grenadine and juices for the cocktails are all scratch-made in house.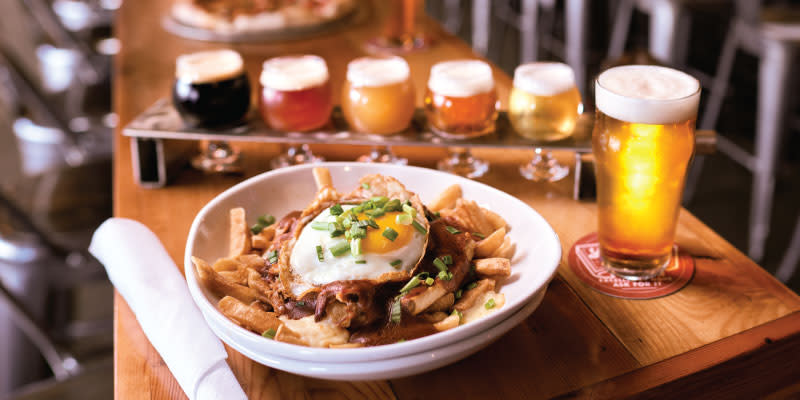 Lansing Brewing Company is the lone full-scale production craft brewery in the city of Lansing. Head chef Joshua Moyer explains that beer was always the primary focal point of LBC but patrons would argue that extraordinary food pushed LBC from good to great. While burgers may be the most popular menu item, there are plenty of choices for vegetarians as well. LBC is uniquely located near the Lansing River Trail and Cooley Law School stadium making it the perfect spot for drinks and dinner before the game. The oversized outdoor green space is the ideal backdrop for live music and routinely hosts special events.
Cuisine: Eclectic American Pub Fare
Menu: Lunch and dinner "Before Handers" include: Great White North Poutine, County Fair Caviar, Z's Macho Nachos made with wonton chips, fried Briney Spears and So Take These Broken Wings chicken wings. Main Events include: chicken and waffles, Trippin' Balls Burger, Go Green, Go White pizza, House Partay salad and Yo Adrian! Philly sandwich.
Drinks: Craft beer made on site.
Atmosphere: Industrial warehouse filled with décor dedicated to Lansing's brewing heritage. Large windows give a glimpse into the brewing facility and garage doors open out onto the massive outdoor green space with fire pit and lawn games. The "Stock Room" is perfect for groups and private events.
Why go: Everything is fun, laid back and delicious. From the whimsically named menu items to the lawn games and special events on the patio, patrons are encouraged to kick back with a cold craft beer and enjoy a fabulous meal with friends.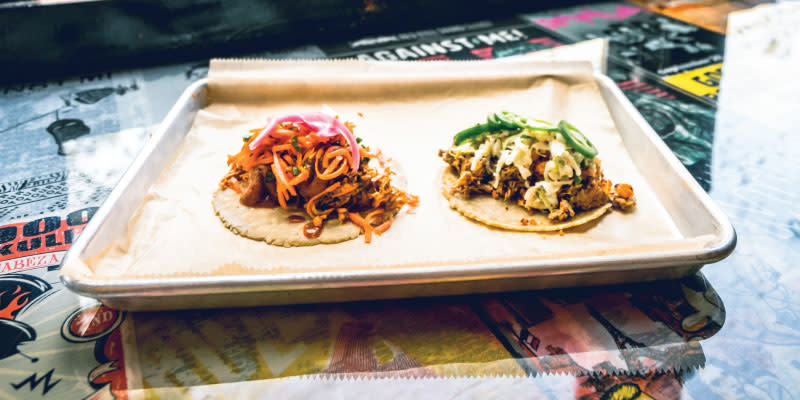 Can't decide between nachos and pizza? You don't have to! Cosmos wood fired pizzas are out of this world good and go well beyond the tried and true cheese and pepperoni.
Cuisine: Inventive Mexican-American and Italian-American fare
Menu: Lunch and dinner features tacos such as: Roasted Trout, Tequila Chorizo, Ancho Shrimp and Roasted Cauliflower. Pizzas include: Pineapple Prosciutto, The Spaceball, and DDD Duck Sausage which was featured on the Food Network's Diners, Drive-ins and Dives.
Drinks: Distinctive Margaritas and Mules.
Atmosphere: Punk rock inspired décor. Spacious dining room outfitted with retro comic book wallpaper.
Why go: The "trust us" menu options. Put your faith in the experts and they will serve up a delicious creation that goes well beyond what's listed on the menu. Your stomach will thank you!