When The Food Network called to say that Guy Fieri was coming to Lansing, there wasn't anyone surprised that MEAT Southern BBQ would be on his short list of quirky, yet delicious eateries featured on the hit show Diners, Drive-ins and Dives. Located on Turner Street in Old Town Lansing, MEAT has more than doubled its footprint in the last couple of years due to its increasing popularity. In season, the patio/courtyard is always packed with folks like me who have fallen in love with the brisket (make mine the fatty brisket) and all the sauces. I also love a side of cornbread and some spicy mac and cheese. But after watching the show, I'm definitely going to try the smoked wings with the black magic sauce and the pork belly Reuben. Take note that MEAT also has a great selection of craft beers and signature cocktails. It's just as much fun to sit up at the bar every once in a while. Belly on up and get a belly full of pork belly. Mmmmmmm, good.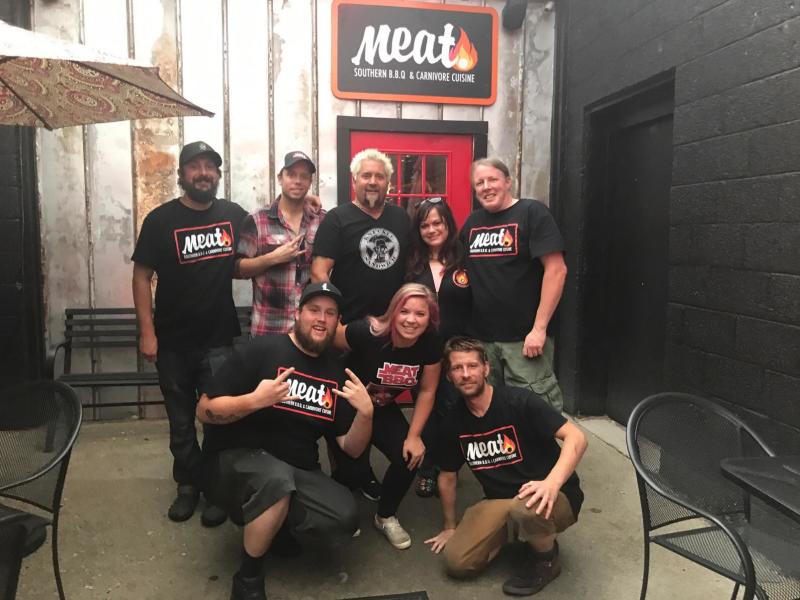 With over 600 eateries under his belt, Guy Fieri includes not only diners, drive ins and dives on the show, but also eclectic, quirky and down-home funky spots. Never anything fancy-pants or hoity-toity, it's always all about the food. He also stopped by a few other fabulous restaurants/eateries in the area.
Capital City BBQ is located in the other half of a cell phone store. It's on the corner of Martin Luther King Jr. Boulevard and Saginaw Highway in the Westside Neighborhood of Lansing. It's unassuming, but locals rave about it's Vietnamese Pho and Bahn Mi, a fabulous Cuban sandwich and great barbeque. 
Zaytoon on Elmwood Drive just east of the Lansing Mall in Delta Township, has been serving up fabulous Mediterranean food for four years now and educating folks about shwarma, falafel and tabbouli. among other Middle Eastern delights.
Eastside Fish Fry is located on Kalamazoo Street halfway between Michigan State University and downtown Lansing. Fresh seafood and chicken is fried up (or grilled) on the spot for you. Be the hit of the party and bring in a tray of chicken wings with that special seasoning that can't be beat. They've even got alligator bites and crawfish. You buy it. They'll fry it. Yum. 
Here are more details about the Diners, Drive-Ins, and Dives episodes featuring Lansing restaurants:
• Meat Southern BBQ was featured on the Friday, September 15, 2017 episode. The episode describes the eatery as "a righteous barbecue joint in Lansing, Michigan puttin' pork belly in a Reuben and smokin' up wings."
• Capital City BBQ and Zaytoon Lansing were featured on an episode that first aired on Friday, September 22, 2017. Fieri was shown "diving into killer cuisine with international flair," according to the episode description.
• Eastside Fish Fry & Grill's segment aired on Friday, October 13, 2017. The episode description describes Meyer's business as "a funky joint frying up everything from wings to pig skins to chicken gizzards."
It appears that the Food Network included more stops during their visit to Lansing, stopping in at two more of the Lansing area's favorite places. Added to the list was The Cosmos and The Purple Carrot Food Truck. 
The Cosmos is adjacent to Zoobie's Old Town Tavern and serves up some fabulous combinations of thin crust artisan pizza and the most delicious Duck Fat Fries. We can't get enough of it.
The Purple Carrot Food Truck is the launching point for Red Haven and both boast incredible farm to table dining experiences. We certainly understand why Guy Fieri added it to the list.
#LoveLansing #DDD
First published in the fall of 2017. Updated June 2019.
* Header Photo by: John Lee ©2011, Television Food Network, G.P.