Back to school season is here and whether you're a student or parent, you're both feeling the anxiousness and excitement of being on Michigan State University's campus. Your college years are full of long nights and great memories but Michigan State has features that make it stand out beyond all the rest.
We have created a list of the top 5 things to do during your time at MSU to experience all the special things the campus has to offer for students AND parents.
Students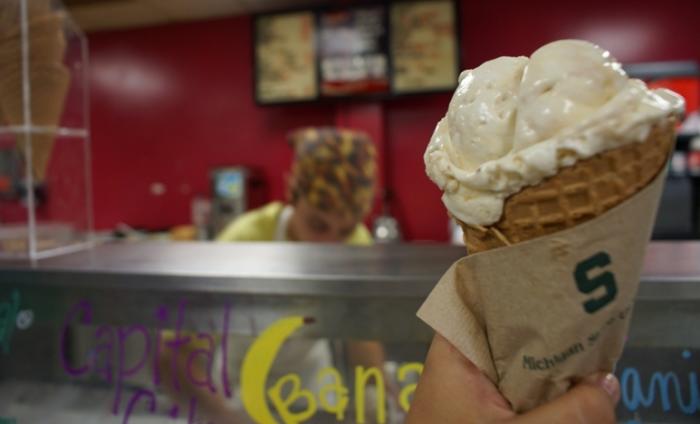 Taking pride in their agricultural roots, MSU has become home to some of the best ice cream in the nation. Make your way to the dairy food plant and store in Anthony Hall to tour the facility where the magic is made and don't forget to grab a cone of their famous sesquicentennial swirl, a cake batter ice cream with green thick fudge swirl and cake pieces! But we can't forget about the cheese. The Dairy Store also produces authentic cheeses making for the best grilled cheeses to satisfy those mid-day cravings.
Bowling at the Union​​
The stress of classes can sometimes be overbearing, leaving you counting down the days until the weekend so you can take a break and relax. But, who says you can't have a mid-week break? On Wednesday nights, the bowling alley at the Union has cosmic bowling from 8 to midnight and is free for students with their MSU I.D. Grab some friends, unwind and get some strikes!
Movies at Wells Hall
Movie nights just got better at MSU! Though Netflix with your friends in the dorms is sure to be a fun night, sometimes you miss the feeling of watching a movie on the big screen with freshly popped popcorn. The University Activities Board puts on movie screenings at Wells Hall during the weekends featuring classics and even NEW releases! The best part, it is free with your MSU I.D. plus one guest, so feel free to bring a visitor and show them what MSU is all about.
Crunchy's
Known for their buckets of beer and the "Best Burger in Town", Crunchy's has always been a gathering place for sports fans, friends, neighbors, students and locals – of all ages. This is the go to restaurant following any tailgate or a start to a weekend night. With events from comedy nights to karaoke, Crunchy's is home to some of the best college nights you'll have at MSU with the most entertaining memories!
Red Cedar River
MSU is known for being a green campus filled with an abundance of trees and trails but the nature elements don't stop there. You'll find the banks of the Red Cedar flocked with students (and ducks too!) in the warmer months of fall and spring, making it the place to be on campus. The Red Cedar River is the perfect backdrop to relax, study, soak up some rays, or even hammock!
Parents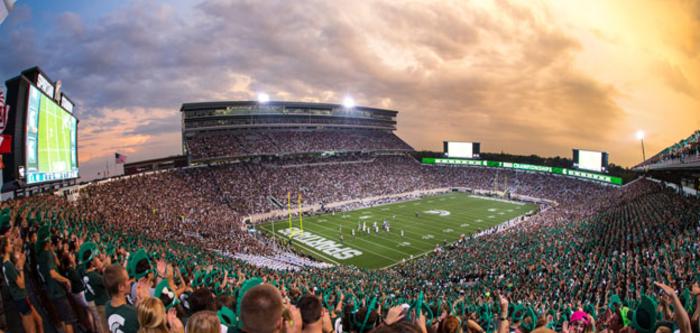 Brody Cafeteria
I must say, the dining hall trip is a staple to any parent visit at MSU. Brody Cafeteria is the biggest dining hall on campus with TEN different food stations featuring foods with a southern flair to a comfort homestyle cuisine. For a family visit, this is the perfect place to accommodate even the pickiest of eaters and better yet, you can experience the food culture of what it is like to eat at state!
MSU Sporting Event
GO GREEN! There's nothing like a football Saturday in Spartan country. From students to alumni, patrons fill the campus roaring with Spartan pride. MSU sporting events are some of the greatest experiences you can be a part of as a student at State and a great chance for parents to visit and share the spirit. Whether you're a basketball, baseball, hockey, or football fan, Michigan State takes pride in all its sports and each season is a good excuse to come to East Lansing and enjoy the game day festivities!
Wharton Center
Michigan's largest performing arts center resides right in the heart of East Lansing and is the number one performing arts venue owned by a University. Students at MSU have the luxury of seeing award winning shows at a discounted rate and YOU can too! Each student can purchase a ticket plus one guest with their MSU I.D. so take your child out to the Wharton for a night appreciating the arts!
MSU Union
A one stop destination into some of the best things MSU has to offer. The Union is not only home to multiple study rooms and student services but it also features, a food court, spartan spirit shop, bowling alley, Biggby and even the MSU Dairy Store! Making this the perfect place for parents to visit to get a taste at what life is like on campus for their kid. 
Downtown Lansing
Take your students away from the stress of campus and explore the local area! Head to Downtown Lansing to indulge in the culture of our states Capital. Take a tour of the State Capitol Building or visit the Michigan Historical Museum. Follow that up with dinner at one of Lansing's fancier restaurants like, EnVie, or experience a taste of Michigan craft beer at Lansing Brewing Company. Either way, your child will be happy to get away from the books and out on the town!
Michigan State is a Big Ten school with big opportunities and this list does not come close to all of the great aspects of the Spartan community. These are just a few of the special things that can make your college experience unique and one to remember. Check out this page for more things to discover at Michigan State University and as always, Sparty On!