The return of Spartan Football – Just saying the words gives those of us that bleed green full-blown goosebumps. The concept is so exciting because of all the positivity and excitement that Spartan football brings to our lives.
It's all about the reconnection with the Spartan family. The excitement of a Saturday game day in East Lansing. Just picture yourself walking toward Spartan Stadium, you pass the Sparty statue and you hear the Big Ten's best marching band blaring the greatest fight song in the world. "On the banks of the Red Cedar, there's a school that's known to all…" From the tailgating to the reconnecting with friends to the glorious crowd rush at kickoff of the home opener – this is Spartan Football, and suddenly, many, become one! Whether you are alum or born and raised superfan we have certain MSU elements coursing through our veins. We all have the recipe inside of us; start with 2 cups of water from the Red Cedar, a cup of dirt from Spartan Stadium, a dash of Beaumont Tower, a sprinkle of the MSU Union and two tablespoons of Breslin Center and stir. All these Spartan elements are in our blood and when school starts back up, a chill spikes the air and gridiron glory returns to this beautiful campus, we have no choice but to come alive. It's a calling we simply must answer.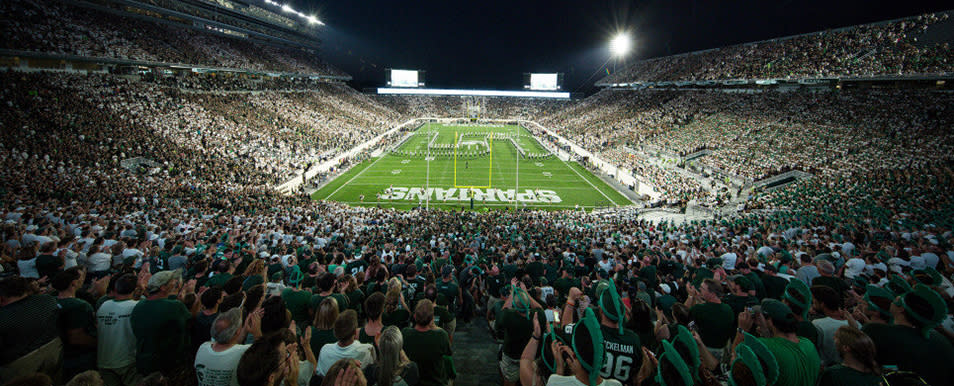 Do you know a Spartan fan that just won't let up? They, eat sleep and breath MSU? Like someone who can't watch a sack by the Spartan defense without jumping out of the chair and screaming? I like to think the enthusiasm I have for MSU football makes me catalyst of good mojo for the Spartans and I'm in my glory when I'm taking in the coaches shows and the sports articles and the MSU blogs and I know everything about every player and every weakness of our upcoming opponents. How about you? How much Spartan football is in YOUR blood? Maybe its your sister, or brother-in-law or your spouse? Someone you work with? Enjoy this video of our look at what happens when a Spartan SUPERFAN takes over THE OFFICE. Enjoy and go Green!
 

Plan your Spartan Football weekend here: https://www.lansing.org/things-to-do/michigan-state-university