A strong culture brings out the best in businesses, community groups and charitable organizations. Employees and team members feel motivated and valued. The mission statement and goals are clear. Everyone feels like someone has their back.
But how do you make sure that culture exists on your team?
It's important to take a step back, evaluate and hold team-building events and outings that focus on morale, reinforce values and develop a vision with a road map to get there.
Visiting the Greater Lansing area can bring your group closer together with unique ways to build spirit and chart a course to success. You'll find out of the office fun and games, or simply breaking out to a different meeting space, will invigorate ideas and mindsets.
Here are six ways to unwind, refresh and move forward in distinctive spaces in Lansing.
Inject Some Fun
Spare Time Entertainment Center: Take the cutthroat competition out of the office and into the sporting arena at Spare Time, where you can let loose bowling and playing laser tag. Depending on the size of your team, the venue's Capital Room can be a great spot to relax. The private space has eight lanes of bowling, leather couches and a bar dedicated to making your day great. Catering is available and managers can tap an event planner to help nail down the details.
Breakout Escape Room: Escape rooms have been growing in popularity for years, but many have yet to experience the problem-solving and adventure that goes into figuring out how to escape a room with no apparent exit. There are different plots and scenarios that will challenge your team to come together for a win – just what you're looking for when you're working.
Head Outside
Woldumar Nature Center: We spend so much time cooped up in offices that we don't always stretch our legs and discover how a hike, a cross-country ski or a scavenger hunt in a natural area can clean up the cobwebs of our minds. Tucked along the Grand River, Woldumar has five miles of trails to explore. Once you're done breathing in the fresh air and natural beauty, the renovated RE Olds Anderson Rotary Barn can be a unique spot to come up with fresh ideas.
River Town Adventures: When the weather warms, a float and a paddle down the Grand River or around Fidelity Lake at Ralph Crego Park are right in River Town Adventures' wheelhouse. They specialize in group or corporate outings and have even designed trips of varying travel lengths and time periods that fit your desire.
Make Meetings Memorable
Think Space: For that time when you need to break free of a typical conference room, Think Space is the place to be. The center combines work and whimsy with state-of-the art modern areas that are completely customizable to kick creativity into gear. The facility has a relaxed living room setting, a bar area and a spot to enjoy breaks in the action with games like giant Jenga. Of course, there's also a traditional room that can be setup for however you want to run your meeting.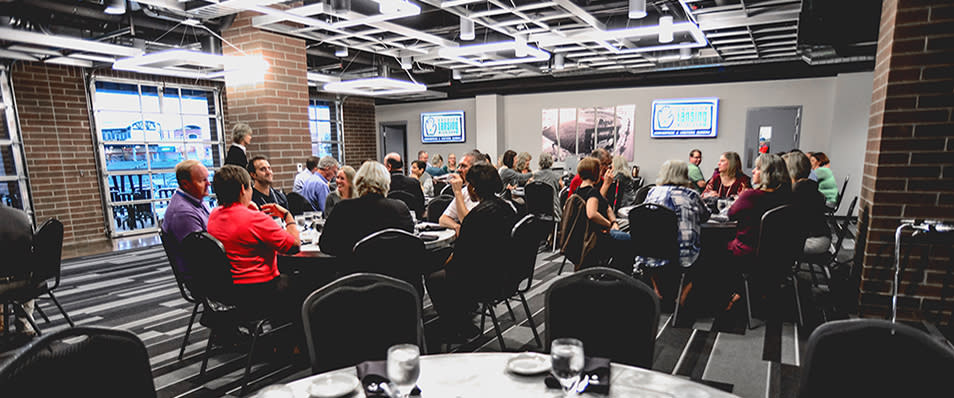 Cooley Law School Stadium "The View": Talk about a cool venue, check out the home of the Lansing Lugnuts from left-centerfield. A newly completed renovation of 2,000 square feet of space that can be a hit (see what we did there) for everything from formal meetings to after-work social events that can serve up to 120 guests in a banquet setting. There's also patio seating and the center is available on game days. This is a sweet suite.
Learn more about what Lansing can do for you group by visiting the Greater Lansing Convention and Visitors Bureau here.