Eleven participating countries, 800 teams, and approximately 15,000 visitors to East Lansing, Michigan.
The Greater Lansing Convention & Visitors Bureau, along with Michigan State University and many local partners, were excited to host the 43rd annual Odyssey of the Mind World Finals this year! The week before Memorial, Day, more than 800 teams ranging from elementary to college ages competed to become world champions at event sites across the campus of MSU.
An event of this scale relies on the expertise of our services team, our well-established relationships with local vendors and media, and the kind of community collaboration that is unique to the Lansing area.
Here's a closer look at what went into the success of the 2023 Odyssey of the Mind World Finals.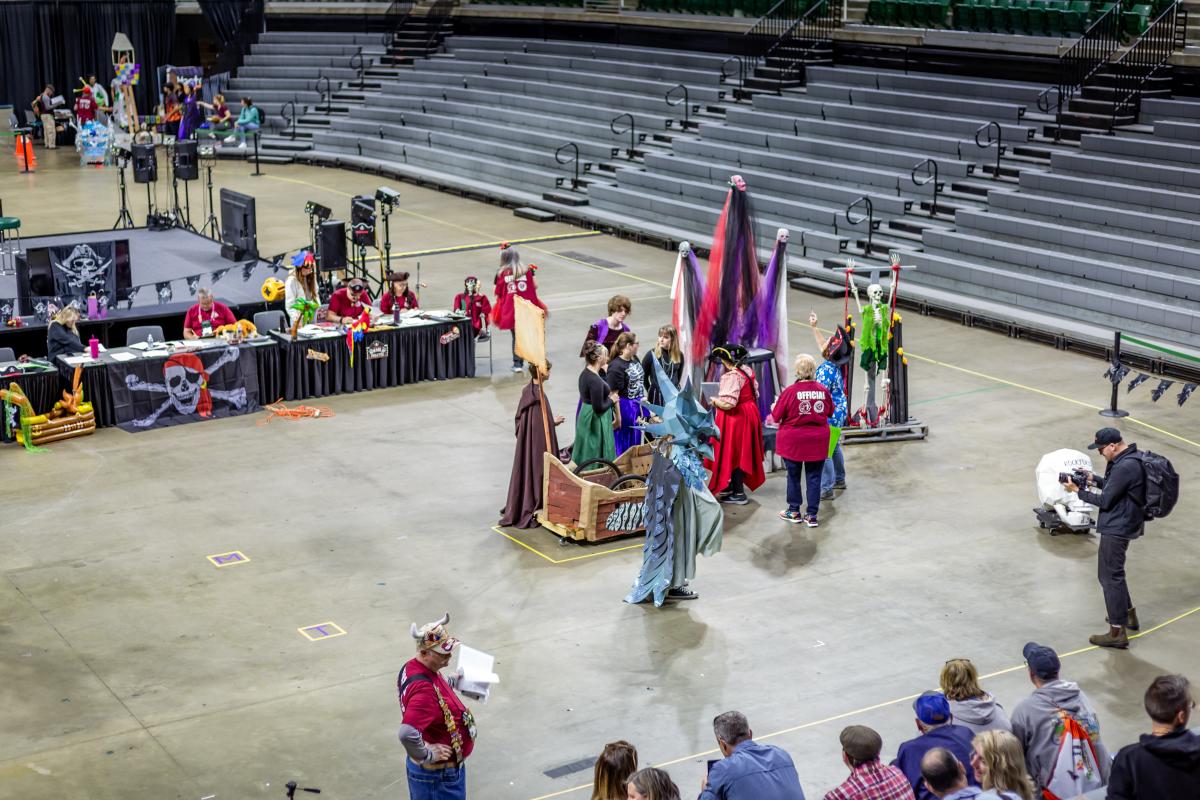 What is Odyssey of the Mind?
Odyssey of the Mind is a program that helps students solve problems creatively, gain self-confidence, learn life skills, and make friends while having fun. Teams around the world compete in regional challenges to solve creative problems, which culminate in the annual world finals.
The 2023 world finals brought approximately 15,000 people to East Lansing from 11 countries, including China, Hong Kong, Japan, Switzerland, Poland, France, Mexico, Canada, and more, as well as 31 states within the US.
The finals begin with an Olympics-style opening ceremony and end with a celebratory closing ceremony. When teams aren't participating in their challenge, they have the option to attend fun events like the Creativity Festival, an afternoon-long event that provides activities like face painting, games, and plenty of space for pin trading.
Out of more than 800 teams competing in the world finals, 15 became World Champions - one for each problem and division.
Odyssey of the Mind Associations offer teams pins to trade while at World Finals, which encourages participants to meet new friends from all over the world and to create pin collections to help them remember their World Finals experience..

Local partner support
Community partners played an essential role in the success of the world finals. When a last-minute transportation gap arose, our team collaborated with local partners like Lighthouse Group and a few East Lansing hotels to provide shuttle services for the 450 judges and officials to get from their hotels to event sites. Additionally, Dean Trailways and Michigan Flyer assisted with getting international participants from the Detroit Metro Airport to East Lansing.
The world finals also couldn't have happened without MSU, as the competitions took place at numerous locations on the university's campus and participants stayed in the university's dorms.
For large-scale events, working with a destination's CVB that has connections to the community and well-established relationships with members and local organizations is a key to success. Our services team knew exactly what local resources to tap into for both long-term needs and last-minute adjustments that may have taken longer to resolve without their level of local expertise.
From speaker suggestions to coordination of off-site events and more, we're happy to help with any and all aspects of…

GLCVB Services
Our services team was busy prepping during the months leading up to Odyssey of the Mind. They brainstormed and implemented creative ways to welcome the large group to Lansing with event-specific messages on local billboards, signage at downtown East Lansing businesses and hotels, and digital welcome signs at the airports in Lansing and Detroit.
Closer to the event, our team was able to provide referrals for extra AV support and other logistical needs, as well as manage a housing list for the 450 judges and officials in order to accommodate specific lodging requests and needs.
A more unique service we provided was collaborating with six East Lansing restaurants to create "dine around dollars" that judges and officials were able to use to purchase food during set-up days. This was a great way for the event organizers to thank officials for their volunteered time, and it supported several of the GLCVB's member restaurants.
We also coordinated special hotel rates for spectators, shared things to see and do outside of the event, provided on-site services for the welcome ceremony, and shared discounts and special activities offered by many of our local members. Other event support included strategically placing our Certified Tourism Ambassadors (CTAs) around campus to help answer questions during the event.
Finally, our team worked with Michigan State University on a press release to local media that resulted in media coverage at the opening and closing ceremonies.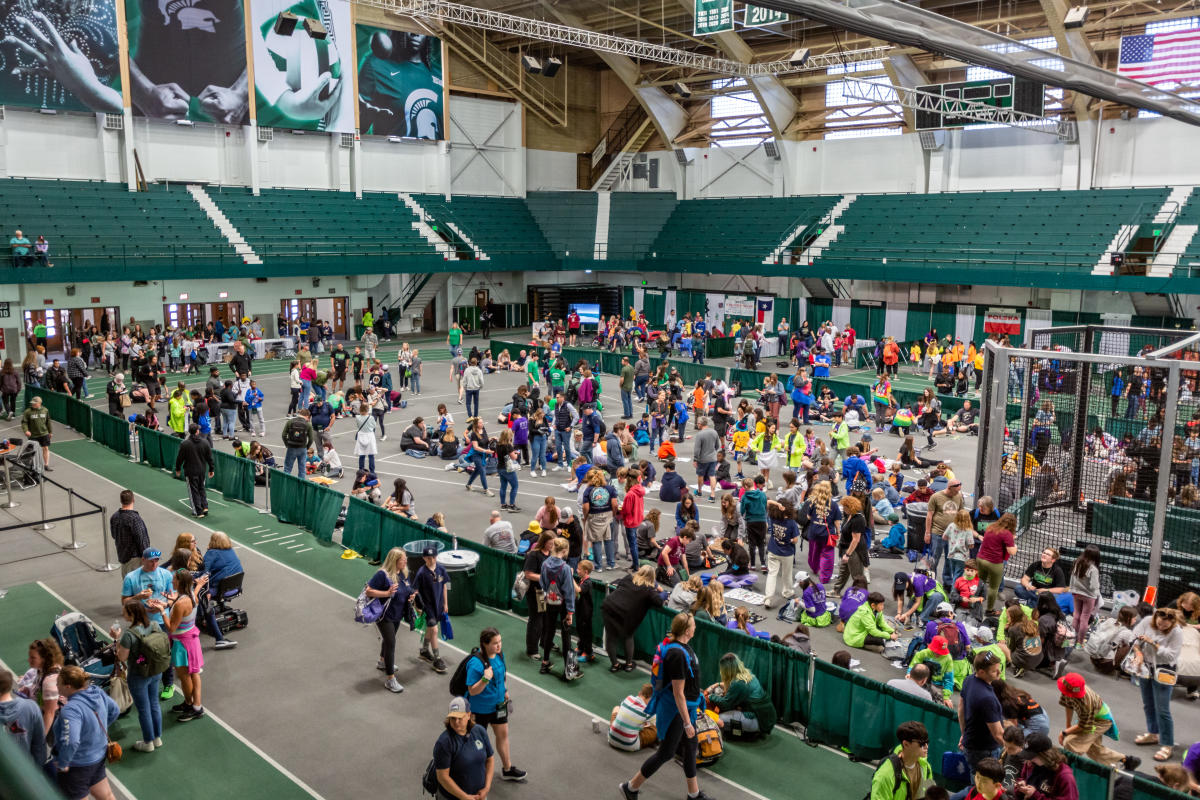 Our expert team
From years of expertise to well-established connections to the community and relationships with members, our team was well-equipped to serve the Odyssey of the Mind 2023 World Finals, and we're proud of the way the community stepped up to welcome and assist with an event of this scale.
There's no job too big (or too small!) for our services team. Contact us to find out how we can support your event in Greater Lansing!
Contact our services team!

Brandie Putnam, CMP, CTA

Senior Convention Services Manager
Brandie works with different market segments, including some of the biggest convention events in the community. Learn More About Brandie

Jenn Morden, CTA, CMP

Convention Services & Events Manager