Commencement marks the end of one thing yet graduation means the beginning of another new chapter. Whether your student is heading into the workplace, higher education or going on an adventure, their graduation ceremony is something you don't want to miss.
Ceremonies will take place at the following locations: Jack Breslin Student Events Center, MSU Auditorium and Wharton Center for Performing Arts. 
May 6-8, 2022 Baccalaureate and Advanced Degrees
May 5-6, 2022 Medical Degrees
May 13, 2022 Law Degrees
No tickets are required
No limit of guests per student
Seating is first come, first seated
Please remain for the entire ceremony.
Please be respectful of all candidates.  All names deserve to be heard.
Photographs are encouraged, though please remain in your seat when photographing or recording.  Professional photographers will provide at least one photo of the graduate.  The vendor will contact the graduates with purchasing information.
Please be sure to review the security announcement page for allowed and prohibited items.
Disability accommodations can be found here.
**This information was collected from the MSU Commencement website**
Find parking options in the map below. There is no charge for parking in any lot or ramp during commencement (except Kellogg Center.) 
Find info about Disability Accommodations for Parking.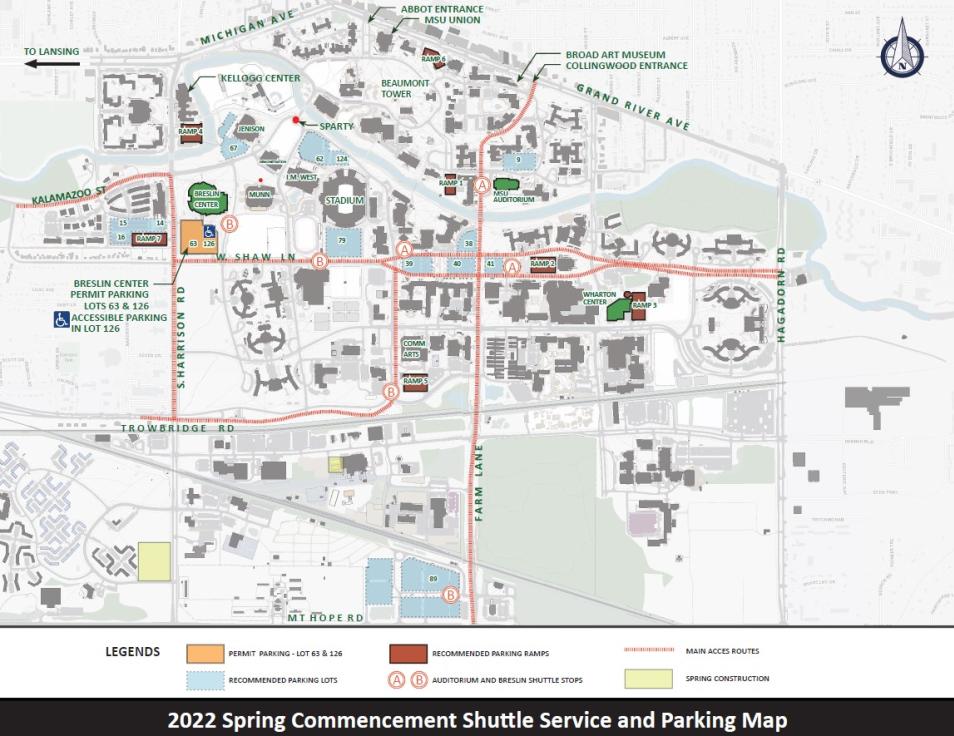 Where to Stay
We highly encourage you to secure an overnight room as soon as possible at a local hotel.
Click Here for a list of ALL Greater Lansing hotels.


Closest proximity to campus (distance from Breslin Center)
Eastwood Towne Center area
Downtown Lansing
Okemos
Where to Eat
To ensure a smooth dining experience, please call ahead to see about hours, waiting times, reservations, etc. 
Click Here for a list of all our member dining options.


Top 5 Picks Closest proximity to campus
Beggar's Banquet | 218 Abbot Road, East Lansing | (517) 351-4540
Awww Beggar's. Since 1972 this favorite restaurant has served generations of Spartans. Known for their delicious brunch and all around great food, this is a good pick.
Black Cat Bistro | 115 Albert Ave., East Lansing, MI 48823 | (517) 580-3821
This place may be new to a few. We like it for the upscale offerings and reasonable prices. Plus the service is next to none.
Red Haven Farm to Table | 4480 S. Hagadorn Rd., Okemos, MI 48864 | (517) 679-6309
Yum. With small plates to share and deliciously innovative menus that change seasonally, you'll be sure to be talking about the food long after you return home.
Crunchy's | 254 W. Grand River Ave., East Lansing, MI 48823 | (517) 351-2506
Hello pizza nugs and buckets of beer. This favorite watering hole is an MSU institution. With a great assortment of craft beers, fun food and relaxed atmosphere, it's a relief to sit down and enjoy it all.
Harrison Roadhouse | 720 Michigan Ave., East Lansing, MI 48823 | (517) 337-0200
The Roadhouse seems to always be the precursor to almost any Spartan sporting event. So why not make it the spot to celebrate graduation. With great patios and big open air garage doors, you can't miss the fact that you're in Spartan Country.
Top 5 Picks Close to Eastwood Towne Center
Champps Kitchen and Bar | 2800 Preyde Blvd., Lansing, MI 48912 | (517) 267-9306
An upscale sports bar with an extensive from-scratch kitchen. Plasma TVs and video walls show all of your favorite sporting events.
Maru Sushi and Grill | 1500 W. Lake Lansing Rd., East Lansing, MI 48823 | (517) 337-1500
Find the freshest ingredients and chefs committed to using only the finest fish, vegetables, sushi rice, and scratch-made sauces. Sharing plates, signature rolls...you can't go wrong.
Capital Prime | 2324 Showtime Dr., Lansing, MI 48912 | (517) 377-7463
This is the place to go for upscale dining featuring prime steaks and fresh seafood. Plus the patio with outdoor fireplace is comfy and a great gathering spot.
P.F. Chang's China Bistro | 2425 Lake Lansing Rd., Lansing, MI 48912 | (517) 267-3833
With foods made from scratch every day, this is usually a favorite dining spot. Lettuce Wraps and Crispy Honey Chicken anyone? Good to know there's also plenty of Vegan and Gluten Free options. Okay, now we're just plain hungry. 
Mitchell's Fish Market | 2975 Preyde Blvd., Lansing, MI 48912 | (517) 482-3474
Steak, seafood, seafood and more seafood. The menu offers one of the largest selections of seafood specialties in the Lansing region, with various tempting menu choices.
What to Do
Have your student show you their favorite place on campus. Whether it's Beaumont Tower, the Spartan Statue, along the banks of the Red Cedar, or simply a favorite tree they studied under, sharing that MSU experience is a great way to kick off graduation day. It's also just a great photo-op for the perfect graduation Instagram post.
Make a trip to the MSU Dairy Store. Pick up some cheese to take home (mmm best grilled cheese ever!) and indulge in a scoop or two of your all time favorite flavor of ice cream...or discover a new favorite!
Sweets and Treats
Speaking of treats, what a sweet surprise to order some treats for your graduate. Preorder, then pick up and enjoy.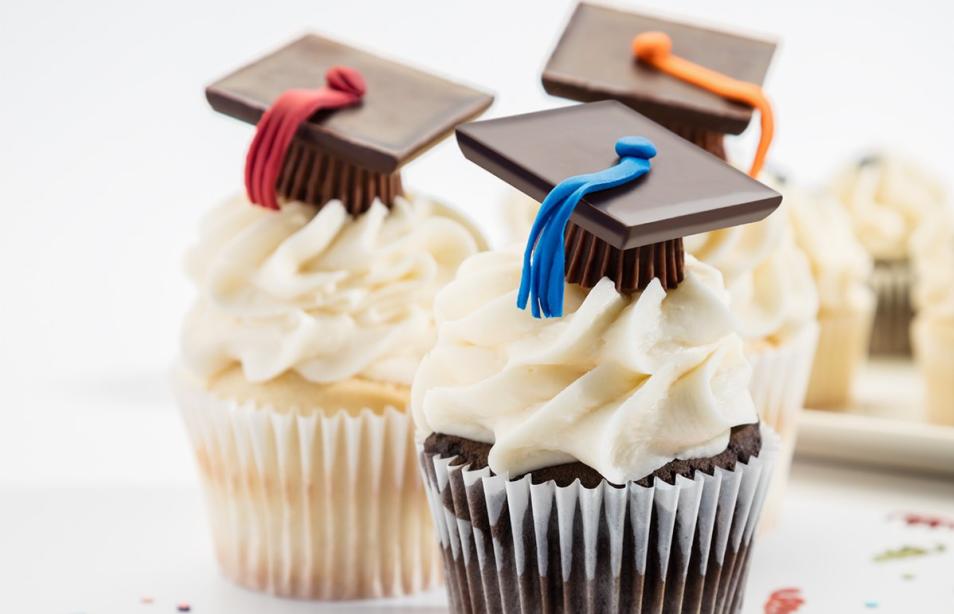 Photo Credits: Tom Gennara, Gigi's Cupcakes