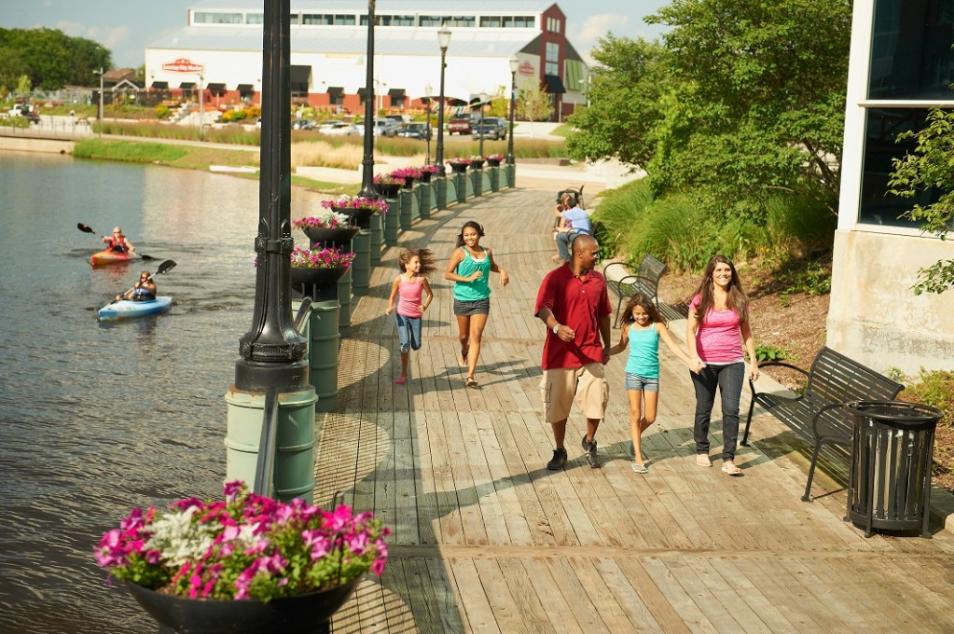 Whether you bike it, run it, walk it, roller blade it, or just take the dogs out for a leisurely stroll on it, the Lansing River Trail is one of Lansing's most treasured assets. This 17+ mile trail traces the banks of the Grand and Red Cedar Rivers and winds through artsy Old Town Lansing, passes through several parks, including the new Rotary Park, pierces straight through the heart of downtown Lansing, past Impression 5 Science Center and R.E. Olds Transportation Museum and out to Potter Park Zoo and beyond. It even connects with the super-sized campus of Michigan State University which adds even more options to see and do.
This multi-use trail is comprised of either smooth macadam, concrete stretches and even multiple boardwalk portions that dip under roadways, skim out over the Grand River and cut through marshy wetlands. To add some interest and variety, and to remind you that you're in Michigan's Capital city, you may get to see the back side of factories and manufacturing facilities, but hang on because just around the corner you can keep your eyes peeled for bald eagle nesting sites or an occasional heron sighting. On the river you'll find paddling ducks alongside canoeists and kayakers plying the water. Its truly and unequivocally an urban nature trail. Or a natural urban trail. You pick.
Recently ranked among the top ten trails in the country, the Lansing River Trail is a gem. Heads up though, in the spring because heavy rains may cause flooding along portions of the trail. Check the Friends of Lansing River Trail website for up to date detours. So bring your bikes along or rent them from River Town Adventures when you arrive for your Greater Lansing getaway. This is one of the best ways to experience a whole new perspective of Greater Lansing. Happy Trails to you!