There's nothing like a day spent outdoors… and on two wheels. If you enjoy getting out on a bike, whether it's leisurely cruising on the waterfront or tearing up trails in the woods, the Greater Lansing region has options that can satisfy riders of all ages and skill levels. 
You can head out with buddies on mountain bikes or take the family out for some time together disguised as an adventure. It's worth noting that this is an outing that changes with the seasons. Spring offers budding trees and clear river views. Summer is lush growth and sunshine. Fall brings glorious colors from changing leaves and relaxing, crisp temperatures that will keep you pedaling more and sweating less. 
On two recent trips to Lansing, I hit three of the area's trails – two popular options with capital region residents and visitors, and a third that carried less notoriety, but was worth a visit from some off the beaten path fun. 
Lansing River Trail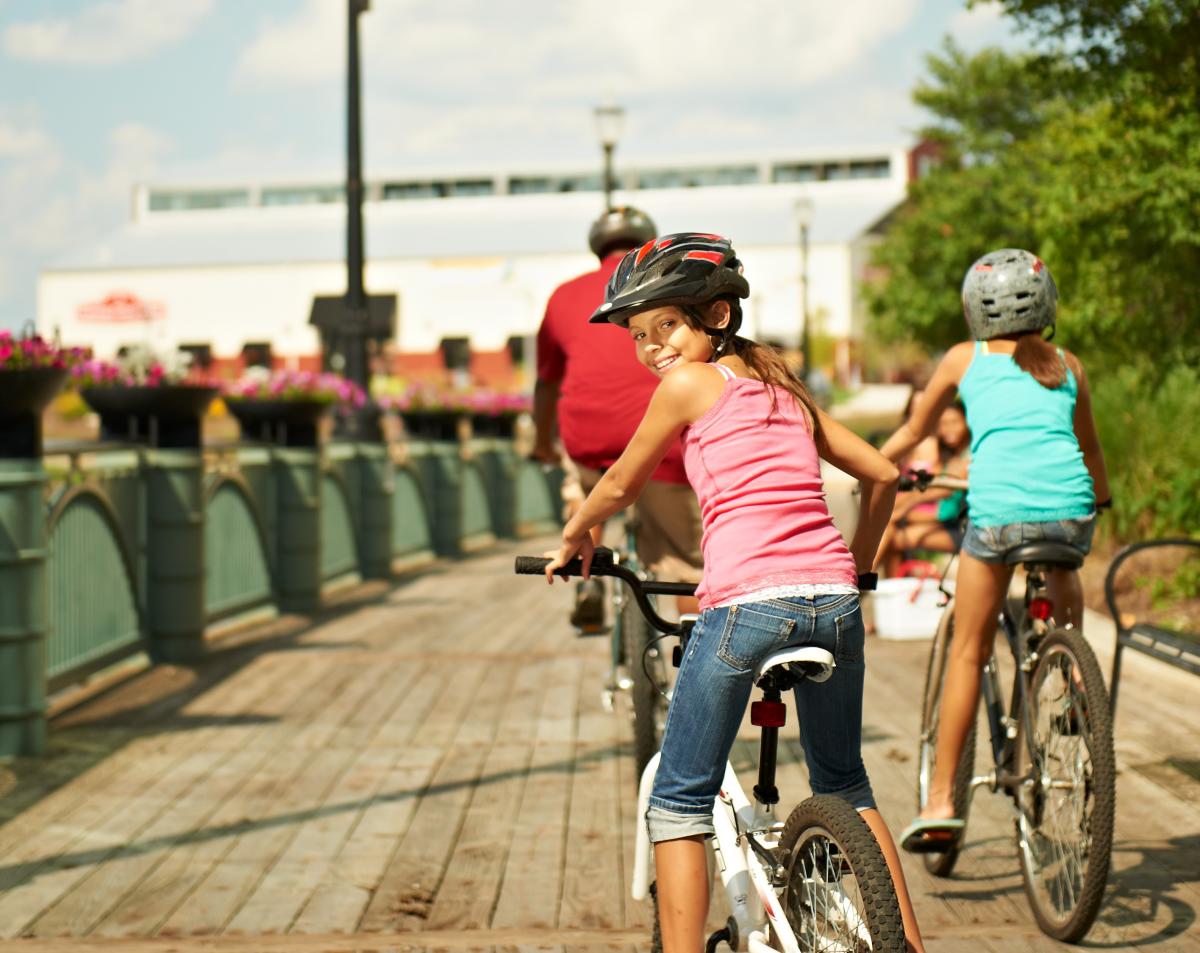 This is an outdoor jewel that is unmatched in Michigan. Picture nearly 20 miles of paved trail with varied experiences that place you in the region's urban core, allow you to hit the Michigan State campus and also lead you to parks and natural areas with wetlands and wooded portions that make this feel like a venture into the wild. On this trail, you can literally make it a day-long trip by stopping along the way to visit some of the region's cultural gems, taking a timeout for a meal or chilling out at one of the many parks along the way. The mostly smooth terrain is handled by any type of bike and is suitable for young children, who will delight in potential pauses at the Potter Park Zoo. The newer Rotary Park is a prime downtown spot for a refreshing beverage while you gaze out at the city and the Grand River. This is a must-hit while visiting Lansing and with more than a dozen access points, you can make it as long or as short of a ride as you'd like.
Learn more about the Lansing River Trail. 
Anderson Park
This little known natural area along Wardell Road in Delta Township is great for new mountain bikers and skilled riders looking for a beautiful ride with river views, rolling hills that won't beat you up with elevation and a handful of obstacles. I pulled in and met a man who was with his 10-year-old son and 13-year-old daughter. The trio, who frequent the trail, had just finished riding the 2-mile green loop and suggested I start out that way before hitting the other four miles inside Anderson. I pedaled in and found the well-maintained off-road tracks provided ample room for squeezing between trees and rolling around corners at a good speed on the green. The route takes you along the Grand River over a bit of up-and-down roller coaster-like land before pulling you back into the woods for some tight turns. The blue loop, at about one mile long, is the least difficult of the four riding areas. The 2-mile red loop challenges riders with firm ground and compact turns, making it good for intermediate riders. "The Playground" is best for veteran riders as it features a couple of drop obstacles as well as narrow wooden bridges that could cause some trouble for those with a lack of hours on the saddle.  
Read more about Anderson Park.
William M. Burchfield Park
First things first: I didn't break any bones, but the GoPro camera mount attached to my bike wasn't as fortunate. There was a bit of blood and a couple of rather large bruises from a spill – OK, it was a crash that involved rocks, trees and some really bad tactical moves on my part – I took within the first mile of the swirling maze of trails and elevated trick features that make up Burchfield's advanced riding area. Before you check out and look for another place to ride, let me tell you the rest of the story. This multi-use park is not a one-trick pony that only plays for skilled riders. Sure, the 10 miles of obstacle-rich switchback riding can befuddle veteran riders (of which I'm admittedly not) and be gut-wrenching for newbies, you can choose to avoid it all together. I pedaled on for about another two miles before taking a bailout option and rejoining some easier terrain. I cruised over the Ingham County-owned land toward another five miles of trails that wind loosely along the Grand River, sometimes allowing berths of 6-to-8 feet of clearance between trees and at other points resembling a two-track path cut through a farm field. That portion of the park, which features woods, ponds and flood plains, can be crossed by all who ride and make for great family time outside. The park is a perfect spot for a multi-activity day since Burchfield also has a beach, playgrounds, canoe and kayak rental as well as fishing and two 18-hole disc golf courses. (Check park website for availability.)  
Visit the William M. Burchfield Park 
Originally published in 2017 and updated April 2022