The Greater Lansing Convention & Visitors Bureau is proud to bring this exciting certification program to our region. The program strives to inspire and motivate our front-line employees and volunteers to turn every visitor encounter into a positive experience! Utilize your skills to make each and every visitor feel like they belong here and help in making Greater Lansing a home away from home!
Greater Lansing CTA of the Year - Joyce Grinczel, CTA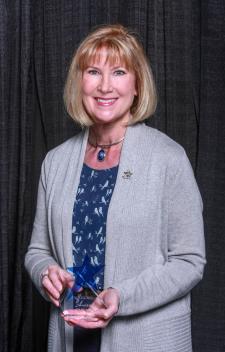 The Team Lansing Foundation, along with the Greater Lansing Convention and Visitors Bureau (GLCVB), is pleased to recognize Joyce Grinczel, CTA as the 2017 Greater Lansing Certified Tourism Ambassador Star of the Year. Grinczel was honored at the 2018 Greater Lansing CVB Annual Meeting held on February 22, 2018 at the Breslin Student Events Center in East Lansing. 
"Truly dedicated CTA's go above and beyond to make sure new residents to the area know everything that makes Greater Lansing great," said Jack Schripsema, President of the GLCVB and Executive Director of the Team Lansing Foundation. "Joyce serves as Dart's Relocation Specialist and works to integrate Dart's new employees into the community. What she learns as a CTA she passes along to Dart's employees from around the world. Joyce has planned get-togethers and field trips for employees so they can learn more about the community that has become their new home. Joyce attends almost of our networking events and is a passionate CTA advocate. We're thrilled to name her the CTA Star of the Year." 
Why You Should Become a CTA
FOX 47's Morning Blend Spotlight on CTA Program
Check out the video above as the GLCVB's CTA Program Manager, Kristina Kauffman explains even more great reasons to become a CTA on Fox 47's Morning Blend!
Contact Kristina today to learn more about the program and to join the next CTA class.