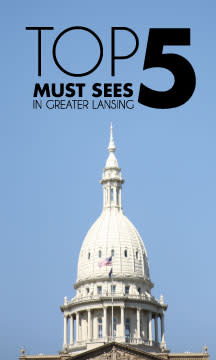 1. Michigan's Capitol Building
Tour this National Historic Landmark, Monday through Friday 9 a.m. - 4 p.m.  Prepare to be impressed as you gaze upward to the dome, and marvel at over nine acres of hand-painted surfaces throughout the building.  Observe the House and Senate galleries to see legislators at work.
2.  Michigan Historical Museum
Open seven days a week; Michigan's history comes alive as you explore interactive exhibits.  Walk through a replica copper mine, one-room schoolhouse or stroll down a 1920's street scene.
3.  The Lansing Lugnuts Baseball Team
What's more American than hot dogs, baseball, and a chance to "Go Nuts!"  Fans of all ages will be entertained by the minor league affiliate of the Toronto Blue Jays.
4.  Little Hawk at Hawk Hollow
Little Hawk is an 18-hole bentgrass putting course complete with sand traps, bridges and water hazards.  One of only three such courses in the state, it's a treat for the whole family.
5. Wharton Center for Performing Arts
Catch a Broadway show at Wharton Center on MSU's campus.  From A Chorus Line and Phantom of the Opera to Mel Brooks' Young Frankenstein and 101 Dalmatians, these musicals will win you over!