MSU and East Lansing Points of Interest
A collection of three gardens, the 4-H Children's Gardens, Clarence Lewis Arboretum and MSU Demonstration Gardens
Founded in 1873, is the oldest continuously operated garden of this type in the United States. It includes over 5,000 species organized in economic, systematic, landscape and ecological groupings.
Beaumont Tower sits on the site of Old College Hall, the first building erected for study of scientific agriculture. Carillonneurs play noontime recitals on the 49-bell carillon. At times, the tower is open for public tours. Bells in the tours range in weight from the smallest bell at 15 pounds to the largest bell weighing in at 2 ½ tons.
Explore three floors of exhibits exploring natural science and culture in this museum which is Michigan's first Smithsonian Institution affiliate.
The modern art museum (Zaha Hadid design) is dedicated to exploring global contemporary culture and ideas through art. It is a dynamic 46,000 sq. ft. teaching institution and cultural hub.
Historically the student union has been the hub of campus. With numerous dining options and coffee shops, this building also houses a bowling alley, bank, a billiards room, a convenience store, a Spartan Spirit shop, MSU dairy store for fresh ice cream and more.
The Spartan
The 9-foot 7-inch "The Spartan" statue was designed and produced by a MSU professor. The original terra cotta sculpture resides indoors at Spartan Stadium and a replica/replacement made of bronze resides in the original spot on Red Cedar Road. Traditionally students "guard" the statue prior to big football games to prevent other schools from painting The Spartan in the visitor's colors.
Housing an exhibit hall with a gift counter, a blacklight gallery of astronomical art, and a domed sky theater with Digistar, the world's only computer graphics-based planetarium projector. The planetarium is open weekdays, and public shows are presented Friday and Saturday nights and Sunday afternoons.
Michigan's largest presenter of performing arts with four unique stages. Wharton Center presents the best of touring Broadway with all the major blockbuster shows plus a great lineup of performing arts attractions.
Choose between 32 flavors of ice cream or choose cheese or yogurt. There is an observation deck to view the processing facilities. Best time to see them at work is during the school year Tuesday, Wednesday or Thursday.
Two top-rated  18 hole golf courses with a year-round practice facility.
Offering learn to skate and hockey programs, figure skating and public skating.
Greater Lansing On The Go!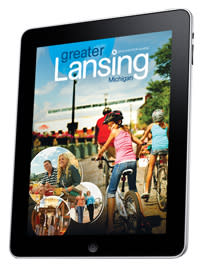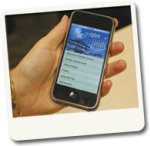 The Greater Lansing Convention & Visitors Bureau has a FREE iPhone and Android app and mobile website for all smart phone users. Turn your smart phone into a location-aware travel guide loaded with maps, info on nearby events, entertainment, dining, shopping and more.
And for those that prefer to see their information on a tablet, we have an interactive replica of the current printed Visitor Guide available for download on your iPad or Android device. It features interactive articles, videos, and photos of the region. Once downloaded, it is available on your device regardless of internet connectivity.
Get Greater Lansing on the go >>
If you prefer to read our Visitor Guide "off screen," you can click here to request a copy to be mailed to you or download a printable pdf.