Michigan Statewide Teen Convention
March 6-8, 2020
Greater Lansing offers everything you'll need to make the most of your time with us — wherever you're from and whatever your pleasure! Whether you'll be with us for the day or are planning an extended stay, we're looking forward to hosting the 2020 Michigan Statewide Teen Convention in Michigan's Capital City!
---
Greater Lansing On The Go!
For even more information on things to do with your family, download our new Family Fun Guide. This booklet has everything you need for a day, week, or all season long of fun for the whole family in Greater Lansing! If you prefer a printed copy, be sure to fill out the form located within the page linked below and check "Family Fun Guide" after you input your address information.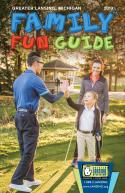 If you prefer to read our Visitor Guide "off screen," you can click here to request a copy to be mailed to you or download a printable pdf.