Greater Lansing is a welcoming community that embraces its unique heritage and diverse cultures. The region is full of numerous different faiths, hundreds of churches and one dedicated CVB focused on providing all the assistance your group might require. Whether its your first time planning or if you've put together events all over the world the GLCVB has the proven know-how and local contacts to make your event in our town smooth and seamless.
Learn more about our Faith in the 517 initiative by clicking our brochure below.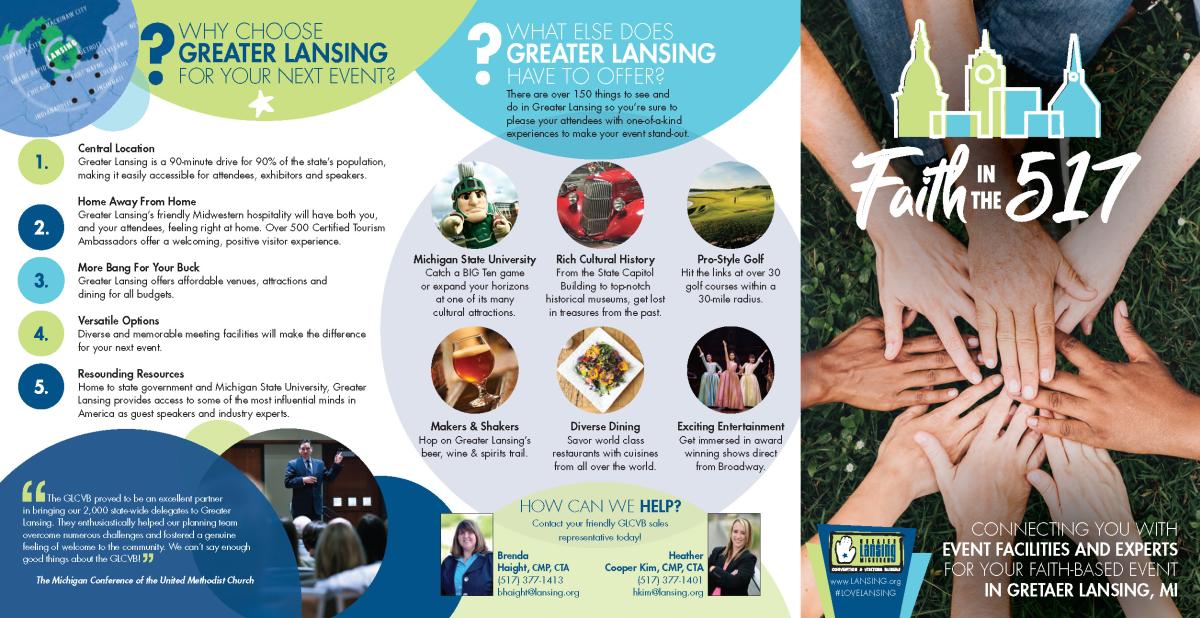 7 reasons Greater Lansing is perfect for your faith-based event 
Centralized location in the state to boost event attendance.
Trainers and speakers from MSU and state government and unique meeting venue resources are available at MSU including several faith-based educational centers:

Great Lakes Christian College
Spring Arbor College
Olivet College
Several faith-based high schools

Our faith-based community provides a large volunteer pool as a service to visiting groups.
The area is home to many well-known national and international Gospel music artists. Interested in having them perform at your event? Call the GLCVB for help!

Reverend Betty Carter-Cooney
Pastor Carrol and James Carter
Pastor Tracy Edmond
Tabernacle Voices of Praise
Bishop Neal Roberson
The Singletons

Affordability.

We know faith-based groups often travel with family and operate on budgets that are limited. From our accommodations, to dining and entertainment, you will find something for everyone with a price-point that fits a tight budget.

Be a big fish in a small pond!

While Greater Lansing is a thriving Midwestern metropolitan area, we're not so big that your group is going to fall through the cracks. Our sales and services staff at the GLCVB will employ every effort to show you that your group's event truly matters to us, and that we're glad you're here!

We have all five of the world's major religions present in Greater Lansing: Judaism, Hinduism, Buddhism, Islam, and Christianity. We also have eight of the non-orthodox Christian Churches represented:

Christian Science
Church of Jesus Christ of Latter Day Saints (Mormons)
Church of God and Saints of Christ
Community of Christ
Jehovah's Witnesses
Spiritualist Churches
Unitarian Universalists
Unity
Because of this diversity in places of worship, the access to volunteer and community support groups within a group's denomination or religion is made possible in Greater Lansing.
Faith Based Contacts