2019 Be A Tourist In Your Own Town - Prize Winners
Big Winners
Grand Prize - $1,500 Capital Region International Airport: Mary Kay C. of Lansing
Lugnuts Suite - Hannah P. of Lansing
Four passes to Impressoin 5 Science Center - Leslie C. of Lansing (Survey drawing).
Silver Ticket Winners
Congratulations to the people shown below who were the lucky recipients of our Silver Ticket giveaways. Twenty-five silver tickets were inserted in the passports - so there's still plenty of chances to win!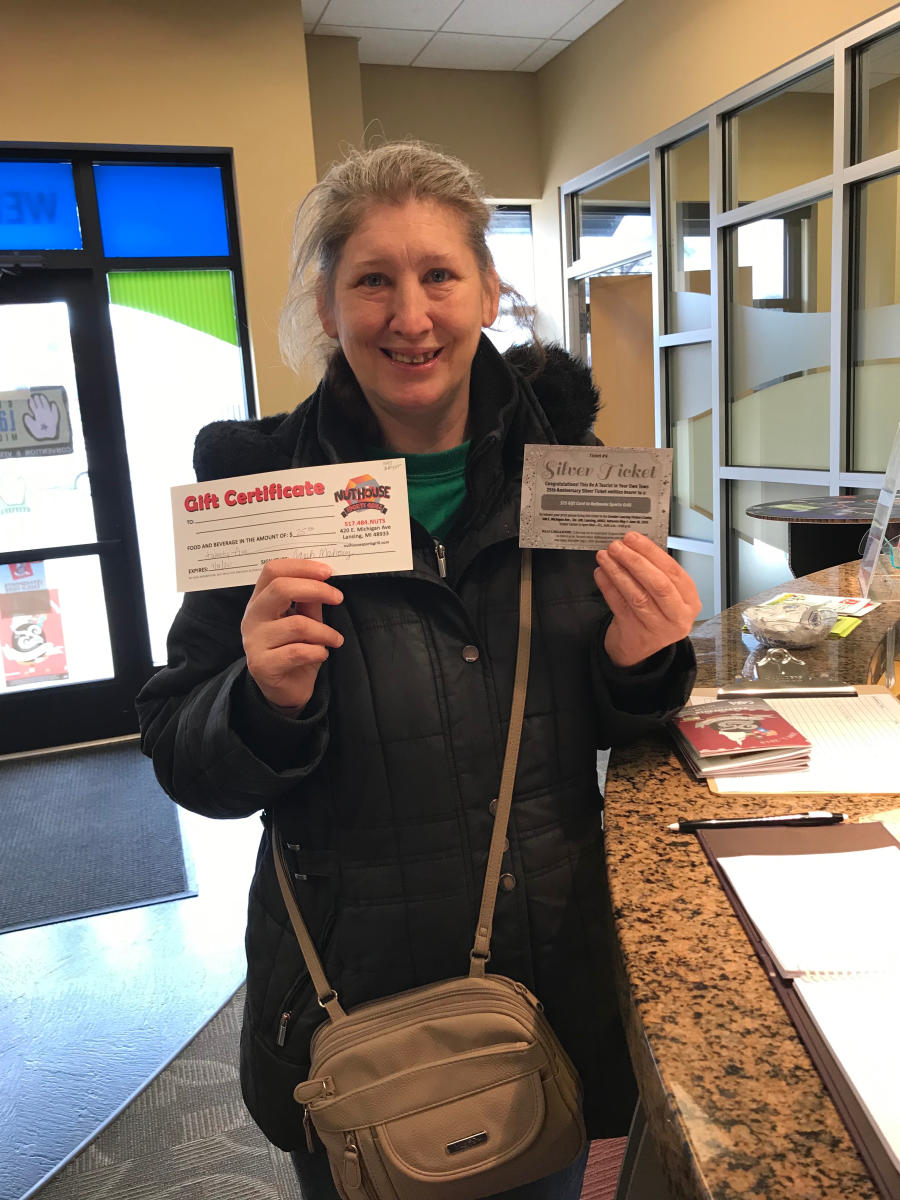 SUE W.
$25 TO THE NUTHOUSE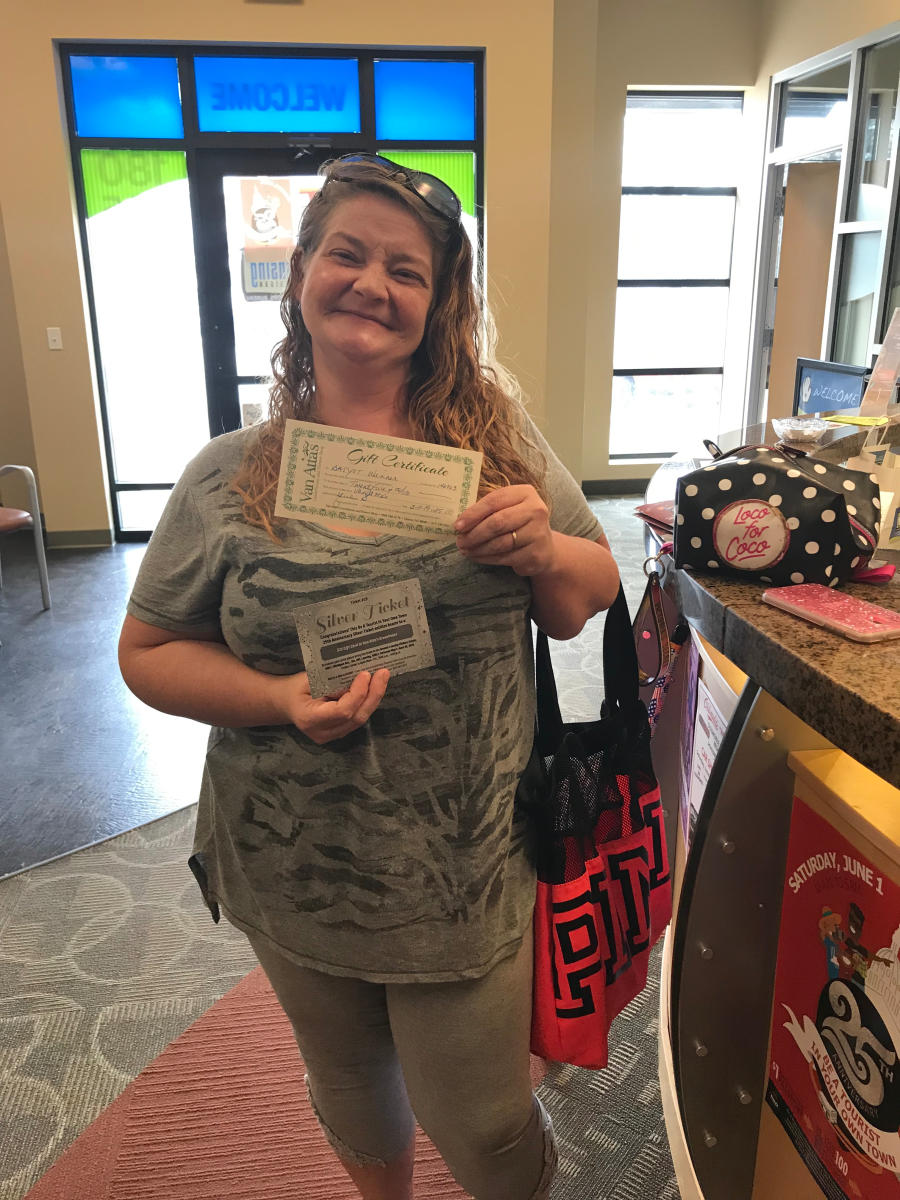 Dannie P.
$25 TO VAN ATTAS GREENHOUSE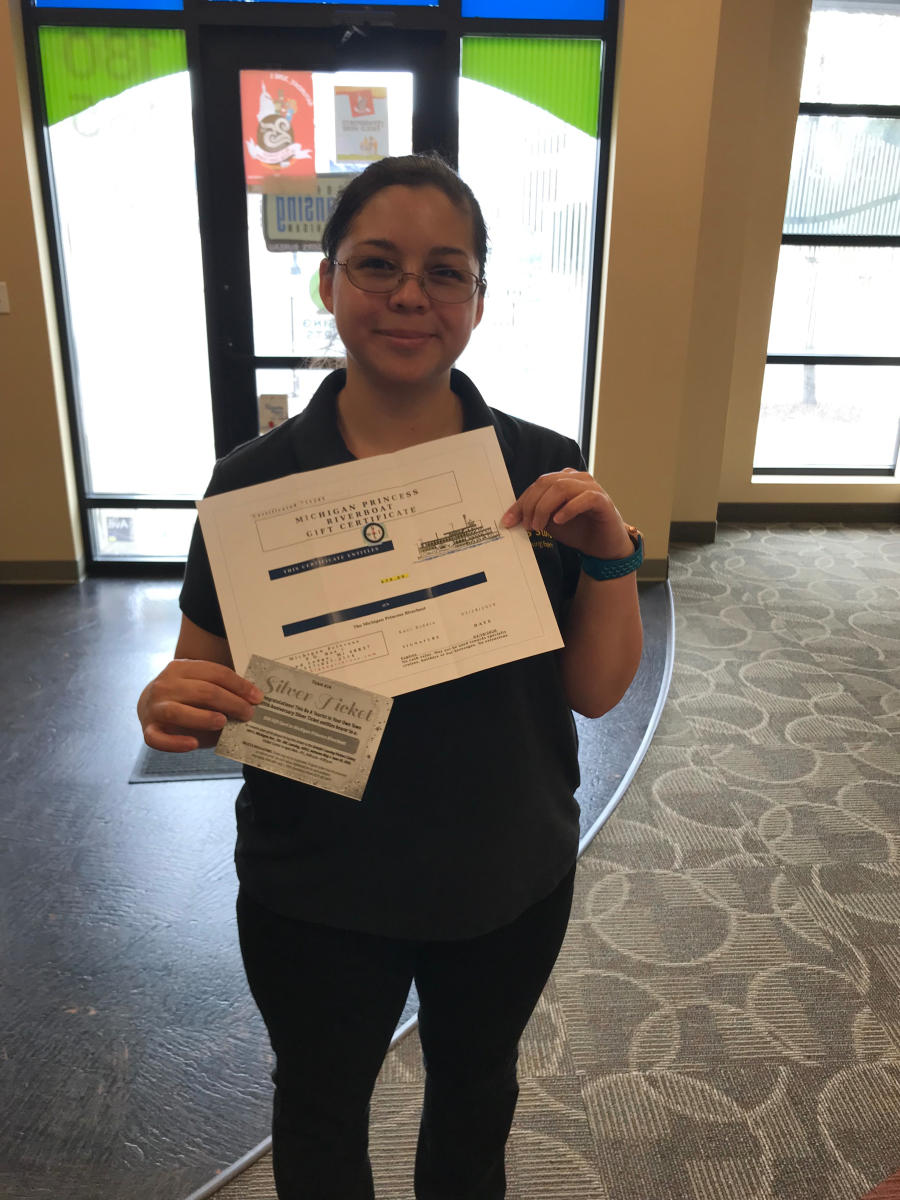 ROSA D.
$50 TO THE Michigan Princess Riverboat
---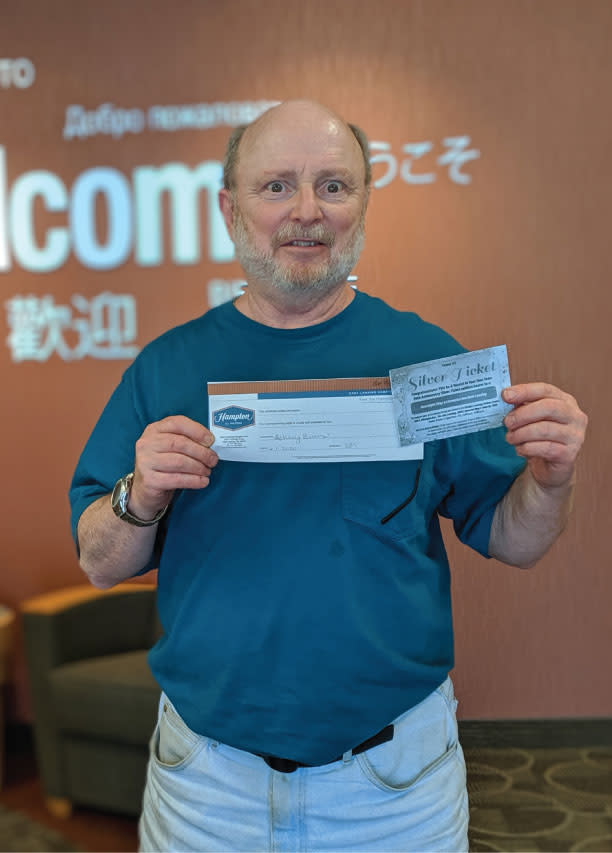 Tom S.
Overnight at Hampton Inn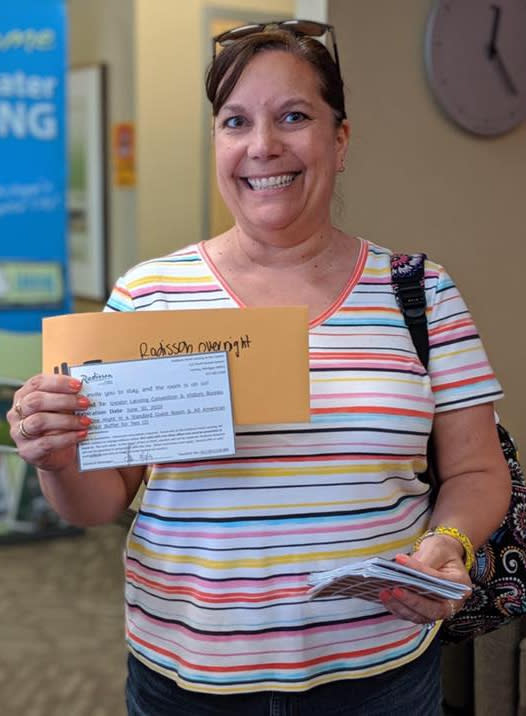 Twila
Overnight at Radisson Lansing at the Capitol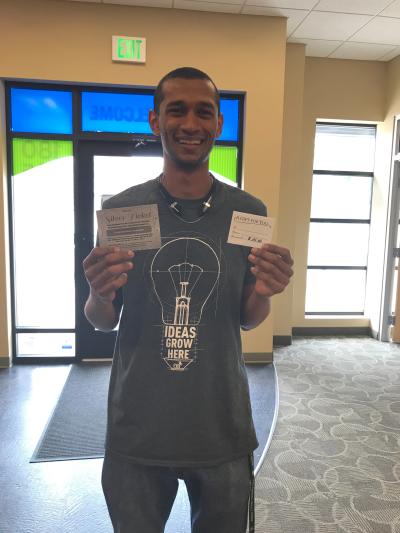 Tyler H (For Ashley E)
$25 to Kellie's Consignments
---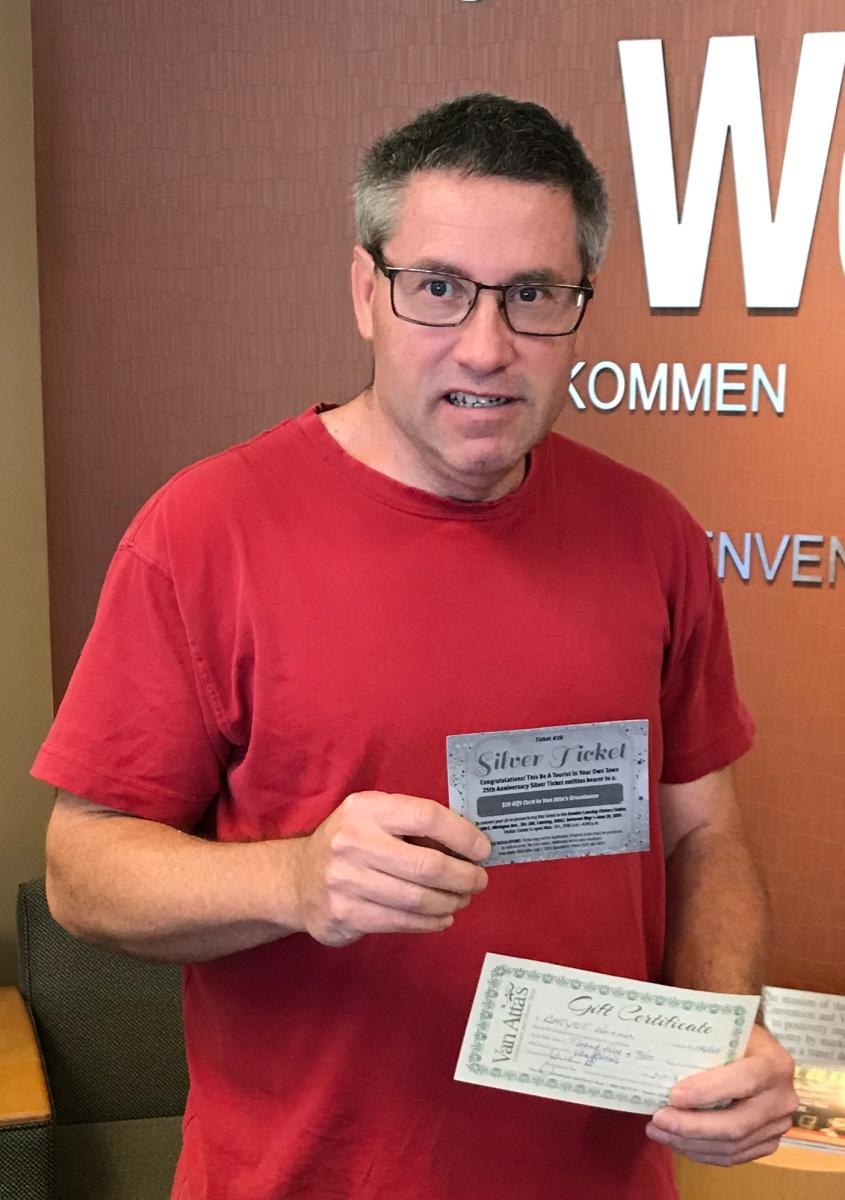 Martin B.
$25 to Van Atta's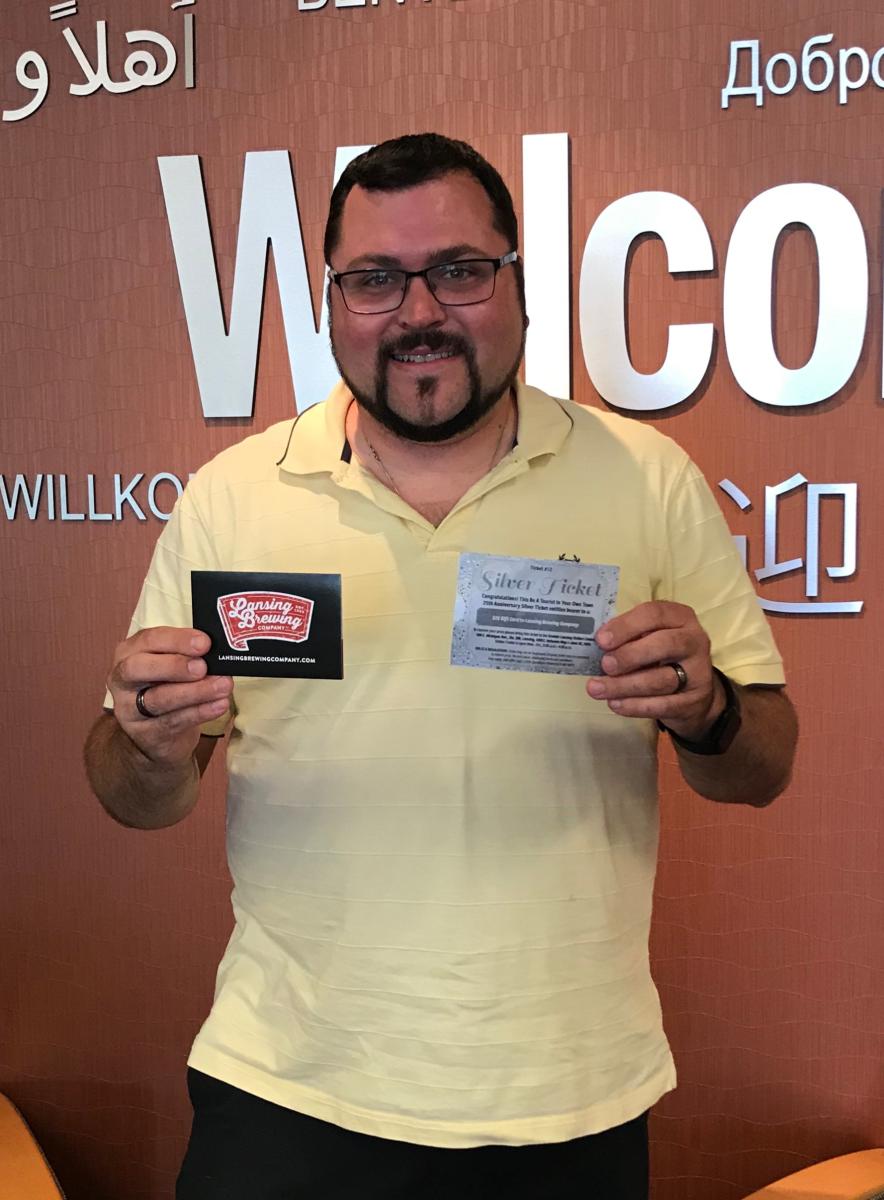 Andrew R.
$25 to Lansing Brewing Company
---
Other Prize Winners
| | | | |
| --- | --- | --- | --- |
| A.J. | W. | Holt | Gift Certificate $35 |
| Adam | M. | St. Johns | $50 Gift Certificate |
| Anjelita | S. | Lansing | Gift Certificate Parklake Ice Cream Sandwich |
| Anna | D. | Holt | Family 4 Pack |
| April | F. | Grand Ledge | $50 Gift Certificates |
| Archer | K. | Lansing | $25 gift certificate |
| Ben | D. | Haslett | Family pack of four admission passes to Impression 5 Science Center with some science swag. |
| Brad | H. | Eaton Rapids | Gift Certificate Parklake Ice Cream Sandwich |
| Capricia | T. | Lansing | Gift Certificate for a walking tour for 4 people, a $60 per certificate value. |
| Carin | W. | Mason | Gift Certificate Parklake Ice Cream Sandwich |
| Carrie | L. | Lathrup Village | $25 Gift Certificates |
| Casey | H. | Holt | $25 gift certificate |
| Christine | M. | East Lansing | 1 Free Dance Class |
| Cory | G. | Lansing | 4 pack of tickets to the Lansing Ignite |
| Courtney | G. | Lansing | One (1) gift certificate valid for two (2) Zone B tickets to any one (1) MasterWorks, Chamber, or Jazz Band concert in the Lansing Symphony Orchestra's 2019/2020 Season. |
| Dannie | P. | Holt | 1 Free Dance Class |
| Dave | T. | Holt | Gift Certificate Act One Family Series |
| Debby | R. | Okemos | 12x15 Custom Print. Gallen/Wrapped on Metallic Gloss Canvas |
| Delilah | L. | Lansing | $25 gift certificate |
| Denise | L. | Lansing | Gift Certificate for a walking tour for 4 people, a $60 per certificate value. |
| Diana | S. | Lansing | $15 Allen Farmers Market gift certificates. |
| E. | A. | DeWitt | 4 pack of Free Admission to any one Bout during the 2019 season |
| Ed | D. | Grand Ledge | 4 pack of Free Admission to any one Bout during the 2019 season |
| Elizabeth | G. | East Lansing | 4 pack of Free Admission to any one Bout during the 2019 season |
| Elizabeth | Q. | Lansing | $10 Gift Certificate |
| Elliott | M. | East Lansing | $25 gift certificate |
| Emerson | G. | Williamston MI | 1 Free Dance Class |
| Emilee | M. | Williamston | 4 pack of Free Admission to any one Bout during the 2019 season |
| Emma | R. | Okemos | 4 pack of Free Admission to any one Bout during the 2019 season |
| Erik | H. | Lansing | Gift Certificate for a walking tour for 4 people, a $60 per certificate value. |
| Ethella | C. | Saginaw | 4 pack of Free Admission to any one Bout during the 2019 season |
| Gabriella | S. | Okemos | 1 Free Dance Class |
| Gaelen | M. | Okemos | Two Adult Family Membership |
| Gavin | S. | Okemos | 4 pack of Free Admission to any one Bout during the 2019 season |
| Glenda | C. | Gregory | Overnight Stay |
| Greg | W. | DeWitt | $50 custom framing |
| Heather | S. | Haslett | 4 pack of Free Admission to any one Bout during the 2019 season |
| Holly | W. | Interlochen | Gift Certificate for a one night stay in a standard suite |
| Iris | T. | East Lansing | 4 pack of Free Admission to any one Bout during the 2019 season |
| Jacklyn | G. | Eaton Rapids | $10 Gift Certificate |
| Jackson | G. | Williamston | $25 |
| Jaimee | G. | Williamston | 1-hour jump passes totaling $68. |
| James | G. | Lansing | Gift Certificate $25 |
| Jamie | W. | Lansing | $50 gift certificate for any program |
| Jayde | P. | Lansing | 1 Free Dance Class |
| Jesus | E. | Lansing | Single Scoop Coupons |
| Jianig | L. | East Lansing | $100 Birthday Party Pack |
| Jocelyn | B. | Lansing | $25 gift certificate |
| Jodie | F. | Eaton Rapids | Single Scoop Coupons |
| Joe | H. | Lansing | 4 pack of Free Admission to any one Bout during the 2019 season |
| Johnny | R. | Lansing | Single Scoop Coupons |
| Joni | S. | Eaton Rapids | Family 4 Pack |
| Jordon | H. | DeWit | 1 Free Dance Class |
| Katie | P. | Lansing | $25 gift certificate |
| Kaylee | S. | Mason | 1-hour jump passes totaling $68. |
| Keith | H. | Munith | Over Night |
| Keyonie | J. | Lansing | $25 Gift Card |
| Kim | K. | Lansing | 1 Free Dance Class |
| Kris | G. | Lansing | Gift Certificate for a walking tour for 4 people, a $60 per certificate value. |
| Kristin | P. | Okemos | 1-hour jump passes totaling $68. |
| Kyle | S. | Eagle | $25 gift certificate |
| Laura | H. | Lansing | 4 pack of Free Admission to any one Bout during the 2019 season |
| Letta | D. | Lansing | Slice Cards |
| Lifeng | X. | Lansing | 1-hour jump passes totaling $68. |
| Linda | J. | Ovid | $25 GC |
| Linnett | G. | Lansing | $50 Gift Card |
| Loren | M. | Bath | $10 gift certificate |
| Lukas | S. | East Lansing | 4 pack of Free Admission to any one Bout during the 2019 season |
| Madelyn | S. | East Lansing | 1 Free Dance Class |
| Margaret | S. | Dimondale | Certificate for an overnight stay in a studio suite |
| Martin | B. | Lansing | Gift Certificate Parklake Ice Cream Sandwich |
| Mary | A. | East Lansing | $25 |
| Matthew | O. | Lansing | 4 pack of Free Admission to any one Bout during the 2019 season |
| Melissa | B. | Lansing | $10 gift certificate |
| Michelle | H. | Charlotte | Gift certificate for one night stay in a standard guestroom. |
| Michelle | R. | Okemos | 1 Free Dance Class |
| Mike | K. | Lansing | Slice Cards |
| Morgan | L. | Lansing | $10 gift certificate |
| Nancy | H. | Toledo, OH | Certificate for an overnight stay in a studio suite |
| Nancy | K. | Grand Ledge | $10 Gift Certificate |
| Naomi | W. | Saginaw | A gift certificate for a free night stay at the Fairfield by Marriott Okemos, MI |
| Nicholas | A. | Haslett | $25 gift certificate |
| Nicholas | H. | Lansing | Slice Cards |
| Nicki | W. | East Lansing | $50 Gift Certificates |
| Norm | S. | Lansing | $25 Gift Card |
| Pam | S. | Vestaburg | Over night, breakfast |
| Pamela | S. | Lansing | $25 GC |
| Patrick | M. | Lansing | $50 gift certificates |
| Paula | G. | Lansing | Slice Cards |
| Prachi | J. | Okemos | $25 gift certificate |
| Pradip | S. | East Lansing | 4 Pack of tickets |
| RayAna | B. | Lansing | 4 pack of Free Admission to any one Bout during the 2019 season |
| Rebekah | L. | Lansing | $15 Allen Farmers Market gift certificates. |
| Samantha | D. | Mt. Pleasant | Overnight Accommodations |
| Scott | G. | East Lansing | $50 gift certificates |
| Snehalata | S. | East Lansing | 1 Free Dance Class |
| Sophie | H. | Okemos | 1 Free Dance Class |
| Stephanie | S. | Holt | Single Scoop Coupons |
| Tami | C. | Dimondale | Gift Certificate Parklake Ice Cream Sandwich |
| Tao | P. | DeWitt | $25 gift certificate |
| Toreg | W. | Holt | 4 pack of Free Admission to any one Bout during the 2019 season |
| Tsz Ho | C. | Bath | $50 gift certificates |
| Tyler | H. | East Lansing | $10 gift certificate |
| Violet | R. | Sheperd | Gift Certificate $25 |
| Virginia | P. | Lansing | $10 Gift Certificate |