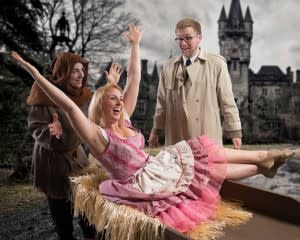 If you love Mel Brooks comedic genius and parody, then youll love the silliness of the musical Young Frankenstein. And you may want to remember its pronounced Fronkensteen thankyouverymuch.
The premise of the production is that the scary Dr. Victor Frankenstein who we all remember from Mary Shelley's novel has died. And, his grandson-Dr. Frederick Frankenstein- travels from New York to Transylvania to take possession of his grandfathers castle. He meets up with the hunchback Igor (pronounced Eye-gor of course) who is predictably the grandson of the original Igor. In his travels he meets the lovely Inga, a yodelling lab assistant. Next, enter the crazy Frau Blucher who was played so well by Cloris Leachman in the movie. Well, you get the picture. Hilarity and full farce comedy ensues. If you like Mel Brooks, then youll love this musical production at Riverwalk Theatre in downtown Lansing.
Find it at Riverwalk Theatre running through September 21st. Its ALIVE theatre!!!