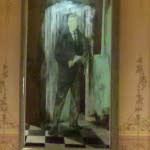 Governor John Swainson was Michigans 42nd governor and the second youngest governor of the state, a man deeply dedicated to the people, serving in the State Senate, the Governors office and on the Michigan Supreme Court. In the state leader lineup he follows G. Mennen Soapy Williams and precedes George W. Romney. His portrait hangs in the State Capitol rotunda. Its the portrait that is usually pointed to and asked about by Capitol visitors. At first glance it appears to be an unfinished portrait yet Swainson actually commissioned artist Pablo Davis to paint that way. It was to symbolize that his work was not yet complete when he left office. He was still a young man and had a big future ahead of him.
Losing both of his legs before he was even 19 years old as a young soldier fighting in World War II, it never deterred his rise to the top of Michigans political ladder. He was elected Governor in 1960 at age 35 and served two terms. However steady his rise was, he hit the ceiling in 1975 when he was convicted of perjury, disbarred and removed from the Michigan Supreme Court. Unfinished business, indeed.
Come join me in a lecture by Lawrence Glazer, author of Wounded Warrior: The Rise and Fall of Michigan Governor John Swainson on Thursday, January 19th at 7:00 p.m. at the Capitol Area District Library. Hear how Glazer charted the rise and fall of this beloved man, revealing the truth behind Swainsons conviction.
For more information about the artist Pablo Davis click here.