Currently golf is often seen as a primarily male-dominated sport, but women have been changing and developing the game since as early as the 15th century. Did you know that today's golf can be almost wholly attributed to Mary, Queen of Scots? It's true! In the 1550s she commissioned a golf course to be built at St. Andrews in Scotland after playing and enjoying a similar game in France, and thanks to her influence it soon became a widely-enjoyed game across Scotland, then the UK and beyond. Notable moments include the invention of the word "caddy", and the first golf-related public scandal, when she was spotted playing just days after her husband's death. Notable Scottish historian George Buchanan wrote at the time that Mary, Queen of Scots was playing "sports that were clearly unsuitable to women". Golfing became an elite sport, often associated with business discussions which, of course, women were considered to have no place in at the time.
In 1867 with a lack of venues for women to play golf, the very same St. Andrews formed The Ladies Club, the first women's golf organization. Fast forward to 1938 when Babe Didrickson-Zaharias became the first woman ever to compete in a men's tournament, the Los Angeles Open. Other women followed her lead and in 1950 she co-founded the Ladies Professional Golf Association (LPGA), now the oldest women's professional sports association in America.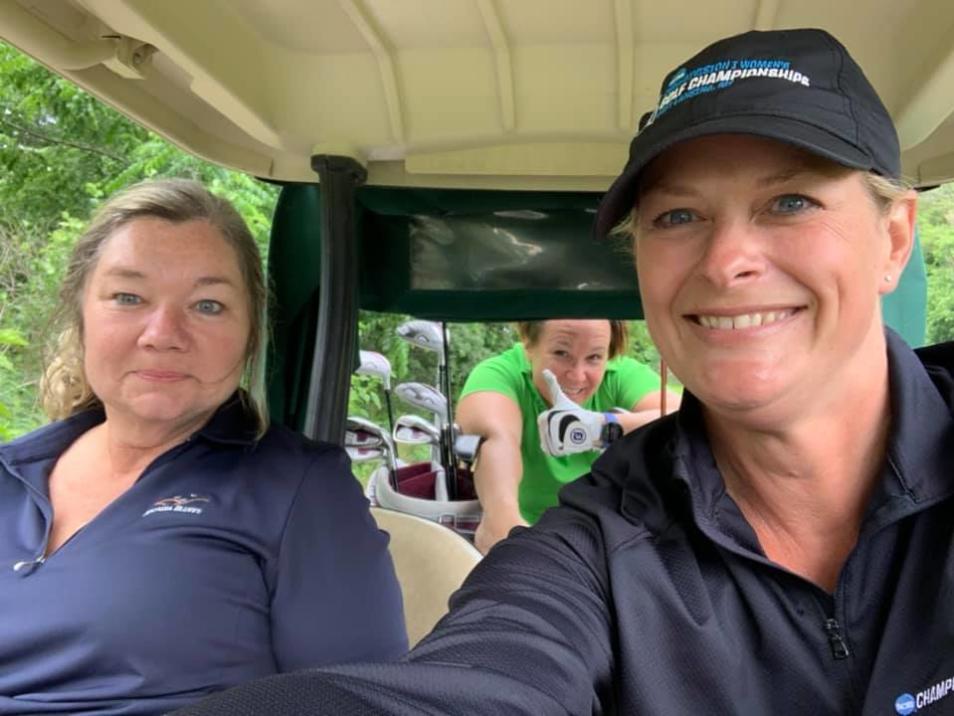 The best way to know about local golf courses is to talk to local golfers who are frequent players. When you're a #LoveLansing resident, you tend to hit up all the local courses and end up with some favorite aspects of each. I asked five questions to women I know who enjoy the game of golf.  There's MELISSA, JAN, AMANDA and TRACY. Some of these women play on leagues or have just been playing for years and were happy to share their opinions on some local courses.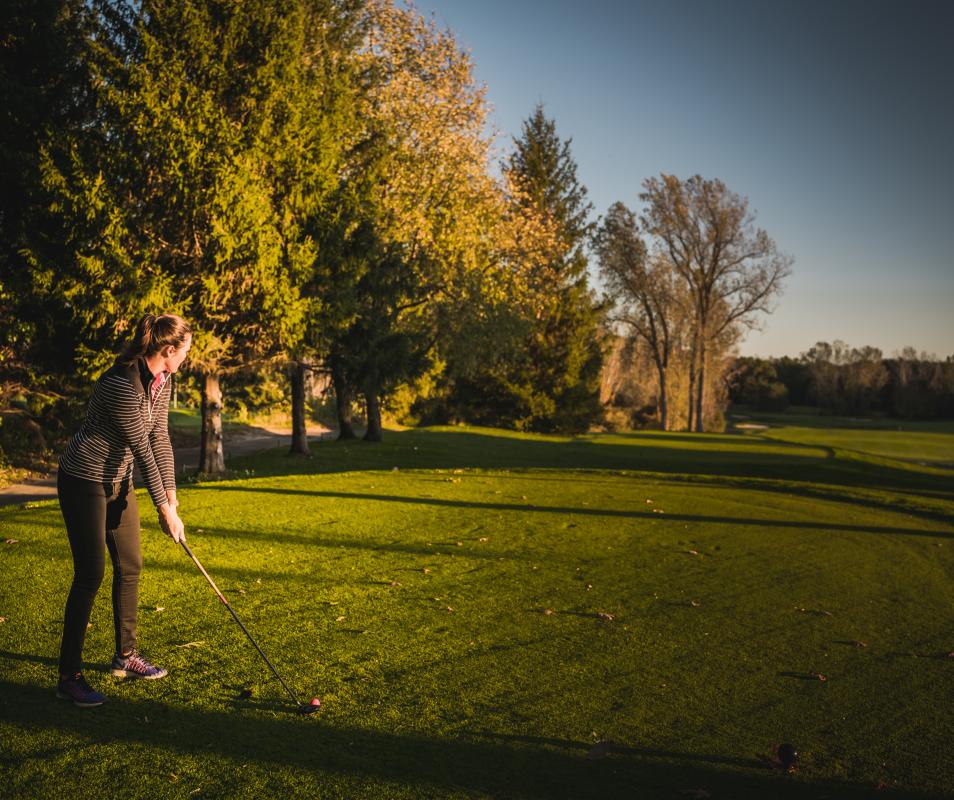 Which course has the best birdie opportunities? 
 MELISSA College Fields has great holes for Birdies if you a modest lady golfer. If you are a beginner lady golfer Ironwood Links is the best spot to make you look like a pro and add a birdie or two under your belt
AMANDA Hawk Hollow.  The red tees are generously appointed in a forward position to allow a solid drive to get on the green in one on many par 4's and set up birdie opportunities for par 5's as well.  An added benefit to Hawk Hollow is their friendly service and beautifully kept tee boxes, including on the forward tees!
TRACY Timber Ridge
Which course in Greater Lansing has the best greens? 
MELISSA Eagle Eye & Forest Akers West have the best (and hardest) greens hands down!
JAN Ironwood
AMANDA The Emerald. Hands down. Fast, smooth and beautifully kept.
TRACY Hawk Hollow
What is your favorite course in Greater Lansing?
MELISSA My favorite is College Fields. I like that it has some very challenging holes as well as some very easy holes.
JAN Hawk Hollow - 27 holes with a different feel on each 9, It's a challenging course, but not overwhelming.
AMANDA Woodside is the perfect version of more than 9 holes, that often leaves you wanting more, but less than 18 so you leave satisfied without being exhausted! Ironwood links is a great local course for new golfers and veterans alike. Friendly, laid-back environment and they even have golf clinics for kids. This is one of our family favorites!
TRACY The Emerald in St. Johns. It's lush, green and well-manicured without being pretentious.  All skill levels are welcome. I also appreciate that Uncle Johns Cider Mill is nearby. Making it a convenient location to play a round in the morning and do some wine or hard cider tasting in the afternoon. I'm also a fan of Woodside Golf Course. It's the newest course in Greater Lansing and the only 12-hole course in the region. It's ideal because I can play the 12 holes in under 3 hours. It's nice when I don't have the time or energy to play 18. It's also great for beginners.
What's your favorite driving range?
MELISSA The all-weather all year range at Forest Akers is the BEST!
TRACY Forest Akers practice facility. Appreciate the access to pros/experts and all weather facility. Especially in the chilly spring/fall Michigan weather.
What's the craziest hazard you've encountered on a Greater Lansing course?
MELISSA Forest Akers West has sand traps that when somebody is standing in them you cannot see the person.
TRACY It has to be the island green at Eagle Eye modeled after the infamous hole at the TPC Sawgrass course in Florida.
Here is a list of all our member Greater Lansing golf courses.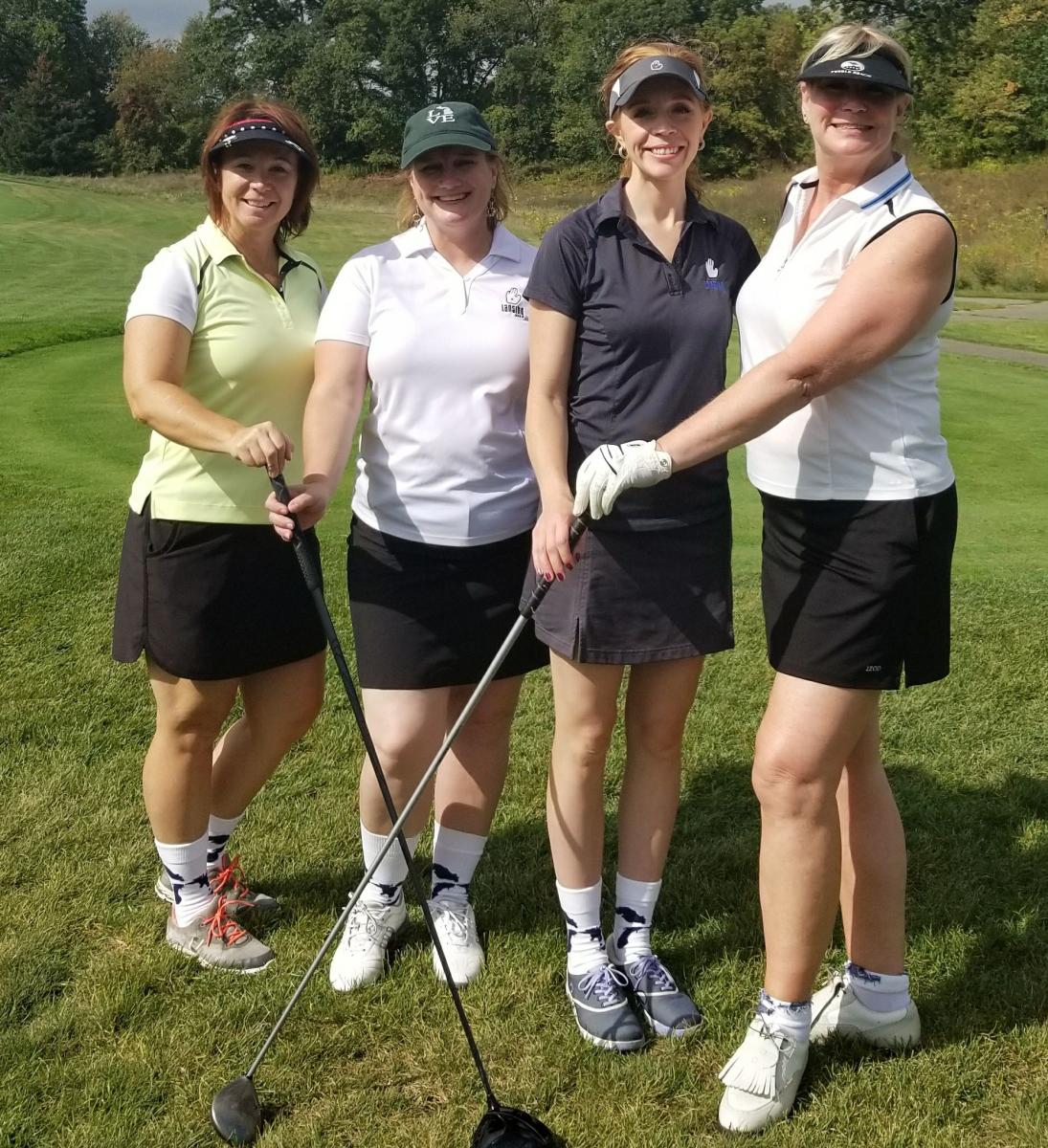 If you are a woman, here are five reasons to play golf:
1. It helps your career
Golfing is a great way to network. By spending quality one-on-one time with new clients or workplace superiors, that time on the course (and also at the 19th hole) can be priceless for your career. According to a Barron's survey, 80% of golfers believe it is an important business development tool.
2. It gets you outside
Being outdoors in the fresh air is good for you, whether it's during the weekend or in the middle of a beautiful weekday when business golf outings take place. It gets you out from behind your desk and into the great outdoors.
3. It counts as exercise
A good golf game can get you plenty of exercise especially with the potential of walking for up to five hours. The average golfer is said to burn around 1,500 calories per 18 holes of golf!
4. Its social
Golf can be an opportunity to network professionally, but it can also just be a really fun activity with friends. Even better, the handicapping scoring system allows for players of all abilities to compete together. Join a league to keep your game dates on a consistent and ongoing basis.
5.You can golf wherever you go
Golfing is a world sport. With 35,000 courses in the world, you can always find a golf course nearby. When on a business trip, you can meet people from all kinds of destinations or plan it as a part of your family vacation.
20th century sports-writer Grantland Rice had plenty of things to say about the sport of golf.
"Eighteen holes of match play will teach you more about your foe than nineteen years of dealing with him across the desk." 
"Like life, golf can be humbling. However, little good comes from brooding about mistakes we've made. The next shot, in golf or in life, is the big one." 
"Golf is 20 percent mechanics and technique. The other 80 pecent is philosophy, humor, tragedy, romance, melodrama, companionship, camaraderie, cussedness and conversation." 
"Like life, golf can be humbling. However, little good comes from brooding about mistakes we've made. The next shot, in golf or in life, is the big one." 
Photo Credits: GLCVB, Julie Pingston, James Lenon, Hawk Hollow Golf Properties