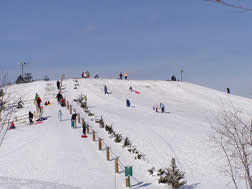 Hey everybody, just because the holidays are over doesn't mean that the rest of winter is going to be a drag. Goodness no - not in Greater Lansing anyway. Now is the time of year to get out and enjoy some fun and frosty outdoor activities!
Alright, there is no snow as I sit and write this blog but , c'mon, it's MICHIGAN! We'll probably have a foot of snow by tomorrow morning. Anyway the time is now to get out and have some fun in the brisk winter weather. Either takethe children you have or the kid inside you that wants to get out and ski, snow-shoe and sled! Speaking of sledding, the Mid-Michigan Environmental Action Council recently announced that Burchfield Park on Grovenberg Road in Holt was recentlyvoted in an online survey asthe area's favorite sledding hill. I've been to this park and can attest that it is awesome. There are trails for X-Country and stuff as well as two different sledding hills - one for the kids and one a little more intense for the wild child, or in my case, 30-something year old thrill-seeker. Now whileI give mad kudos to Burchfield for winning this award, I have to say my favorite sledding hill in Greater Lansing is Granger Meadows Park on Wood Road in Lansing. The hill for sledding, while an intense test of your arobic abilities to climb, is a total blast to ride down.
Yes its cold outside, okay we all know that, but the reason you hate it is because the only time you're in it is shoveling, or the drive in to work, or things that aren't fun. Winter is long. Too long to shut off your "looking for some fun" switch until spring. Yes, you will get cold, but that's why they have things like fireplaces and wine - Now am I talking your language?
Get out with some friends and have some fun sledding this weekend. Let me know what you think is Greater Lansing's best sledding spot!