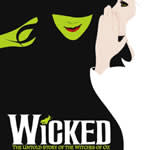 Im so excited that Im going to see the musical Wicked tonight. No, I havent read the book, and although the production has been here at the Wharton Center for Performing Arts before, Ive just never had the chance. And I was more than jealous of my friends who had seen it multiple times. I heard nothing but rave reviews about it and vowed to go next time it was in the Greater Lansing area. Personally, I dont usually appreciate the vast majority of musicals because of all the singing. It distracts me. I want a story in words and drama. But flying monkeys, you say? Yes please, I say.
I am also interested in the storyline of this-the prequel to the movie that I watched year after year as a child. Back before you could record it, DVR it, or even rent it. We had to wait, sometimes a whole year before the network would air it again. (Yes, yes, Im old) And it delighted me every time. There were always little pieces and parts of the movie that I had forgotten. It was like welcoming an old friend back into your living room.
So I am thrilled to go see an altered version of an old friend tonight and experience the early years, before good and wicked. Maybe even before flying monkeys. I dont know what to expect, but I cant wait.
If youre green with envy, then I suggest you get your little monkey butt over to the Wharton Center and see this untold story of the witches of Oz.