As anyone with taste buds knows there is eating, and there is EATING. You can have a meal just to fill you up so you can get back to your day, or you can have a can of soup or a frozen pizza when you're looking for a quick meal or you're light on cash, but lets face it, that's no fun. A truly fantastic meal that awakens your senses with flavor is, to me, part of the fun of being alive. Great veggies, wonderful meats, fabulous cheeses - I love it all. We are so lucky in Greater Lansing to have awesome restaurants like the State Room, located in the Kellogg Hotel and Conference Center. Looking for real food that is an awesome experience, not just grabbing something quick, or cheap, but I mean a real meal that you will enjoy and always remember? Make eating an experience, step up your game, get classy and check out the Visiting Chef Series at the State Room and take eating to a whole new level.
Here's what the state Room has to say about the Visiting Chef Series and exciting upcoming events: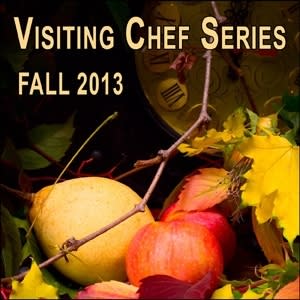 The September events featuring Chef Robert Waggoner of Watermark Restaurant in Nashville, TN were a smashing success! The demonstration dinner and "Dinner with the Chef" were packed events with guests applauding both the fabulous menus and celebrity Chef Waggoner's electric personality. Comments included "Best one I've been to so far. Chef entertaining and the food was great!", "Bring back Chef Bob!" and "By far one of the best dinners."
Continuing the series this October, bigger than life Executive Chef Hoss Zar from Fly Trap in San Francisco will be gracing our campus. Guests will be treated to a "lesson in Persian food" as Chef Zare shares his culinary wisdom and explains how fresh herbs and fruit set Persian cuisine apart. Spaces are filling fast, so make your reservation now and stay tuned for a peek preview of his menus!
Hoss Zar, Zar at Fly Trap, San Francisco, CA October 16 - Demonstration Dinner October 17 - Dinner with the Chef
James Rigoto, The Root Restaurant & Bar, White Lake, MI November 20 - Demonstration Dinner November 21 - Dinner with the Chef
Sit back, preview our chef bios, and then register for all your favorites. If you're planning on attending one of the demonstration dinners, you'll enjoy the changes we've made to the presentation which allow for an enhanced visual experience and a more intimate interaction with the chefs - See more at: http://www.kelloggcenter.com/specials/visiting-chef-series-0#sthash.hIH0NM0l.dpuf