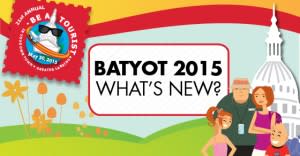 Each year we strive to add something new and different to Be A Tourist in Your Own Town. After 21 years, its possible that Lansing area residents may find that theyve been there and done that when it comes to Be A Tourist. This year weve added some fun new spots to visit including two new venues in Charlotte and a couple of things that are at multiple locations. Our total entries in the passport have surpassed 90 this year. Heres the rundown on some new and super fun things to check out.
AA Creative Corridor. Formerly known as Art Alley in REO Town, this darling space is home to art exhibits, classes, photography and even dance space. On May 30th, stop by to create your own artwork that will grace the walls of the space for the month of June. This is also the location to pick up you REO Town scavenger hunt clues. (See below)
REO Town Commercial District. If youve not been to REO Town (on S. Washington Ave. just south of I-496) then you havent seen its renaissance. This is Lansings up and coming hot spot to work, live and play. Discover its charm with a scavenger hunt and dont miss the food truck rally dubbed REO EATS beginning at 3 p.m. and running into the night.
CADL Okemos. Youve probably visited the Capital Area District Library in downtown Lansing during Be A Tourist, but now you can visit the Okemos location and do a childrens craft from 1-2:30 and listen to the musical performance of Gemini at 2:30.
Charlotte Aquatic Center. Heres your chance for a free open swim and a fun pool obstacle course. Located in the Charlotte Middle School, they will also have free Red Cross skill assessment between noon and 2 p.m.
Eaton Countys Museum at Courthouse Square. Another new Charlotte addition is the historic Eaton County Courthouse. This museum features more than 10,000 sq. ft. of artifact displays.
(Also in its second year for Be A Tourist is the third Charlotte attraction - Al!ve: Your Community Well-Being Place which makes a nice trifecta for Charlotte. If you havent purchased your passport, Al!ve has a limited quantity available to buy.)
MSU Forest Akers Golf Courses. Oh heck, Im all about this and thrilled to have Forest Akers participate in Be A Tourist this year. Free golf lessons for adults and kids by PGA golf staff. They have clubs you can use and theres even a fun Snag Golf game for the kiddies!
Lansing Public Media Center. Head south on Washington Ave. and check out where Lansing Public Media Center is. Theyll be showing films from the Capital City Film Festival with FREE popcorn! Im hoping that theyll be showing some of the Love Letters to Lansing entries.
LCC Downtown Sculpture Walk. Lansing Community College campus is transformed with the addition of beautiful huge sculptures created by LCC students and alumni. Take a tour and dont forget to stop at the other participating venues; Shigematsu Japanese Gardens, LCC TV and LCC Radio studio tours and the Veterans Memorial.
Olds Forge Flyers. Located in the AVFlight hangar just to the west of the Capital Region International Airport, the Olds Forge Flyers have been in existence for 70 years. Take a peek at their planes and learn more about small craft aviation.
River Town Adventures. Im a big fan of Paul and Nate who started up this company on the banks of the Grand River right outside of the Lansing City Market. Allowing you to see Lansing from a whole new perspective by paddling through urban and natural settings. The guys are offering $3 half hour paddle rides during Be A Tourist. I'm crossing my fingers that they might have something special up their sleeves for the day.
The Runway. Located in the beautifully restored Knapps Building in downtown Lansing, The Runway is Michigans first fashion incubator. Whats that mean? That means that budding designers can craft their fashion designs right here in Lansing and showcase them in the retail space on the first floor. Find the entrance on Washtenaw St. This is some cool stuff. Really.
Lansing Votes! The Lansing City Clerks office will have three locations (REACH Studio Art Center in REO Town, Michigan Historical Museum and CADL-downtown) for you to vote on this special Be A Tourist election. Are you Team Sparty? Or Team Big Lug? Get there to vote and then the results will be posted on the Be A Tourist website and also on the City Clerks site after the event.
Makers & Shakers Greater Lansings Beer, Wine and Spirit Trail. We are very pleased to launch this new and exciting initiative. The craft movement has been blowing up in the Lansing area with some great micro-breweries and distilleries and weve got a handful of them participating this year during Be A Tourist. Some will be offering tastings, so you may want to taste what locally-sourced beer, wine and spirits are all about.
Social Media #IgersLansing We want you to capture your Be A Tourist adventures and memories and share them with your Lansing community. Take a photo, upload it to Facebook, Twitter or Instagram and tag it with #BATYOT2015. Well be giving out prizes to some lucky photographers! AND if you love Instagram and want to meet other photographers, then you can participate in the #igerslansing meet-up on May 30th. Find each other at 10:30 a.m. in REO Town near St. Vincent de Paul Thrift Store and set out for a fun BATYOT day!!!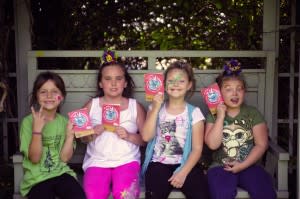 Be A Tourist In Your Own Town is not only a great way to get to know Greater Lansing better but it also helps to create passionate ambassadors for Michigans capital region. We believe our residents are a true reflection of Greater Lansing and hope that Be A Tourist reminds them of all the assets right in their own backyard.
Did you know that Greater Lansing has over 150 things to see and do? Check out the LAN150 page, print out your bucket list and get started today!