Alright yes, its a bit of a bummer that a potentially fun day like Valentine's Day falls on a Tuesday this year, next Tuesday to be exact, but I'm here to say, don't let that talk you into being a big ball of lame. How about raising the bar a bit and bringing your A-game and surprising your significant other with a fun Valentine-themed night out on the weekend preceding?! You see, that's the good thing about holidays like Valentine's Day; its not some big huge deal like Christmas, so you don't miss anything by celebrating early or late. Also this way you'll come across as extra romantic, as in "Aw, it's not even Valentine's Day yet and he went out of his way to get a sweet gift and plan a fun night out. He is such a keeper!" See what I mean? Wouldn't you like those accolades?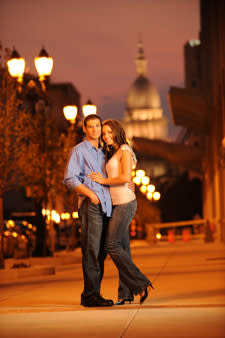 So we have the timing issue figured out now right? To recap: Celebrating Valentine's Day a little early wins you romantic points and allows for more fun than regular people who work can typically have on a Tuesday night. So cool, check.
The next thing you need to do is get some things planned out. I think it comes across thoughtful and "put-together" to have a plan for what you'll do on a date or fun outing, not just be like, "lets spend some time together" and then have to go back and forth for about 8 hours about what you'll actually do. Now remember, attention men: Do NOT plan something YOUwant to do and assume your significant other wants to go along for the ride. This is Valentine's Day, so we're being extra thoughtful. If you've been listening to her over the last few months what has she said she'd like to do, try someplace new, favorite flowers etc.? While you want to have a good time too, you're doing some planning with her in mind, not you, so if you end up somewhere eating wings, drinking beer, watching sports and talking about your fantasy draft - you probably did something wrong. If you know your significant other really well, I bet you already have some ideas, if not, don't fear, you are in the right place. Check out all there is to see and do for some Valentine's Day fun on the Things to do in Lansing website. Great ideas for everything from a cool unique shop for a gift, to ideas for a new place to eat out, entertainment options or even a cool sweetheart package at one of our partnering hotels. These usually bundle an overnight stay with dinner and champagne and a nice breakfast and late check-out the next day. Are you getting the picture? A very fun and romantic time awaits right here in Greater Lansing, but it isn't going to fall into your lap! Using this site to plan your Valentine's Day is the next best thing thoughand planning this fun night outwill have you coming across thoughtful and classywhich is a major plus. Show your significant other how much you care and have a ball in the Capital City.