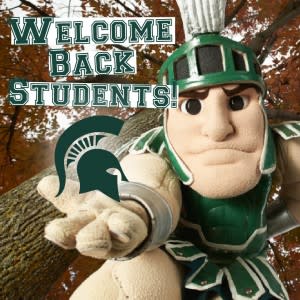 Attention Michigan State University students. You are finishing up your first week of school right about now. Its been a short week and next week will be too, with Labor Day coming up on Monday. Finding your classes, new buildings, new housing, the correct bus and everything that goes with a new year at school can sometimes be a bit of a challenge. But out of challenges you can discover strengths that you didnt know you had. And once you have a couple of weeks under your belt, it will be time to discover that as big as campus is, theres a bigger region thats just waiting for you to explorecar not required.
Step across Grand River Avenue into East Lansing, a beautiful city that has grown throughout the years in proportion to the steady growth of Michigan State University. The restaurants are diverse and offer great meals. If your parents come to town, you should have them take youto the Spartan Hall of Fame and check out the cases filled with sports memorabilia. Order the meatloaf. Seriously. And the mashed potatoes and gravy. Or pop in for lunch at Hobies. The wooden tables are crafted from the old Jenison Field House basketball floor that Magic Johnson played on. Its pretty cool. Of course you cant miss watching an away game at Pizza House, Crunchys or Beggars Banquet.Check this link out for even more MSU and East Lansing offerings.
Ready to expand your horizon a bit more? Hop aboard the Number One CATA bus and head west three miles down Michigan Avenue to downtown Lansing and the State Capitol Building. Watch live while laws are being made. Take a look around at the over nine acres of hand painted surfaces-one of the nations finest examples of decorative painting. Lay on the rotundas glass block floor and gaze up into the oculus of the dome and try and count the stars. Its a building youll never forget. Just down the road is the birthplace of some of the finest American-made cars. At one time it was Oldsmobiles, but now its Cadillacs and Camaros. And within walking distance of the Capitol is the Michigan Historical Museum with three floors of Michigan History. Stroll through a simulated copper mine. Sit in a one-room schoolhouse and marvel at the largest relief map of Michigan youve ever seen. Theres some great dining and nightlife a block away on Washington Square so be sure to check that out as well. See the trail that runs along the river in downtown Lansing? Its the Lansing River Trail and it can take you right back to campus.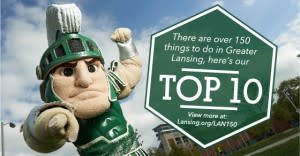 So get out and explore. Michigan State University has a lot to offer above and beyond your classrooms and labs. This is your home for a few years. Get to know it. And if you need help, or just want to ask some questions about things to see and do, there is a Greater Lansing Visitor Center right on Grand River Avenue across from the Broad Art Museum. The information specialists are there to help.
Did you know that Greater Lansing offers over 150 things to do? With only 48 hours in a weekend, the clock is ticking. Download the LAN150 Bucket List to get started.