Lisa Houseman: Oh, my God. Look at that! Ma, I should have brought those coral shoes. You said I was taking too much! Marjorie Houseman: Well, sweetheart, you brought ten pairs. Lisa Houseman: But the coral shoes match that dress! Jake Houseman: This is not a tragedy. A tragedy is three men trapped in a mine, or police dogs used in Birmingham. Baby: Monks burning themselves in protest. Lisa Houseman: Butt out, Baby.
Packing for vacation is always a challenge for me. I like to be prepared for all occasions (like Lisa Houseman in Dirty Dancing with a pair of shoes for every outfit) but I also want to be the care-free traveler who throws a bathing suit, a tshirt and a pair of running shoes into a duffle bag and calls it good. Voila! My packing dilemma.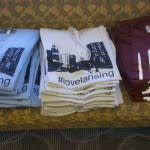 But Ive got a few things that I ALWAYS pack whether its a weekend to the lake or a weeklong vacation. Its my #lovelansing t-shirt from 517 shirts and my Spartan togs.
When I was in Hawaii a couple of years ago, my MSU shirt was an instant conversation starter and I had so many encounters with alumni and fans.
If youre proud to represent the 517 area, stop by our Visitor Center and pick up a Lansing shirt. It will be one less decision to make when packing your bags.