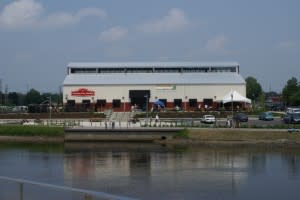 If you follow my blogs you know that festival season is in full swing andmy weekends get packed. From Friday evening to Sunday theres always something to see and do and get involved in. So where do you go on a Sunday evening in Greater Lansing to kick back and enjoy a small bite to eat and a beverage? We found that the Waterfront Barand Grille fit the bill perfectly.
Nestled in the Lansing City Market with patio seating under an ample tent, the Waterfront Barand Grille allows patrons to enjoy a bit of live entertainment and also the opportunity to enjoy a view of the Grand River. We ordered simple delicious sandwiches that were just perfect when your appetite is compromised by the hot weather. They also have a wide variety of salads available along with an extensive selection of Michigan beers. Not only was the guitar player smooth and accomplished, we were able to watch kayakers paddle by, ducks with their babies bobbing on the water and when we finished our meal, we enjoyed a leisurely stroll down the Lansing River Trail and took in the Art By The River collection of sculptures. What a perfect ending to a great weekend!
Check our Where to Eat in Lansing page for evenmore places to eat in the Lansing area.