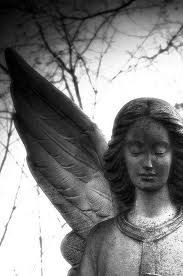 We always have a bunch of cool attractions and fun spots for the participants to explore during the annual Be A Tourist in Your Own Town, but this year there is something particularly neat and very different that you just have to check out.
It's a really interesting way to learn about the history of an area when you can walk through and explore the local cemetery. I mean it! I know maybe its macabre, but hey, when you have a big community like Greater Lansing and the oldest and biggest cemetery around like the Mt. Hope Cemetery, you're bound to get a huge dose of local history. Whether its old distant relatives of your own or famous Lansing residents from the past, its a cool way to learn about those who came before us and left their marks which now shape our community. Look for grave stones that have last names that remind you of streets around town. Don't miss the R.E. Olds Mausoleum, maybe Lansing's most influential resident ever.
Anyone who has ever been to Mt. Hope Cemetery will also tell you about theunique geographictopography of the area. Apparently the area inside the cemetery is very hilly and extreme due to ancient glacial activity that carved out some very steep hills and drop-offs. I know this first hand as my high school track team used to run these hills for intense workouts back in the day. Brutal!
Then, from an artistic perspective a tour through the cemetery istruly inspiring. The cool old statues and monuments evoke a lot of emotion and will likely spark deep and memorable conversation with your companions that day. Do something different, peaceful, interesting and informative on the day of Be A Tourist In Your Own Town this year on June 2nd, 2012 and take a tour of the Mt. Hope Cemetery!
P.S. if you're afraid this will be kind of a bummer or creepy somehow, don't worry. Just about every other stop on the day of Be A tourist is sure to cheer your party up significantly. Go from the cemetery to the Potter Park Zoo and then for some ice cream at the MSU Dairy Store -- ya big baby...