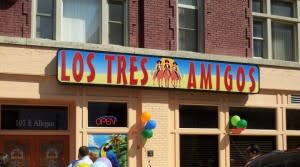 I know this time of year does not conjure up cravings for Mexican food and theres something that just doesn't sound quite right about chimichangas dancing in your head. ButI'verecently discovered what may be my absolutely favorite Mexican restaurant dish. And Id like to add the caveat that I dont know authentic from Americanized fare. Ill blame that on my Canadian upbringing. But, with the newly opened Los Tres Amigos in downtown Lansing, Im been having a love/love relationship with their Chicken Fajita Nacho appetizer plate. With a white creamy cheese sauce smothering some chips, onions, seasoned chicken and who knows what else, Im in heaven. And I keep going back for more. Im sure the other menu items are fab and my dining partners seem to love their choices, but I cant get enough of those nachos.
Los Tres Amigos has five locations in the Lansing area, so you can be sure theres one super close to you. Add a little fiesta time to your holiday season.and dont forget to pass the pitcher of Margaritas! Feliz Navidad.
107 E. Allegan St., Lansing, (517) 316-0066 D
1227 E. Grand River Ave., East Lansing, (517) 853-5800 E
447 S. Jefferson, Mason, (517) 676-7701 S
6450 S. Cedar St., Lansing, (517) 393-4100 S
5010 W. Saginaw, Lansing, (517) 327-0545 W
Open Mon.-Thurs. 11 a.m.-10 p.m., Fri.-Sat. 11 a.m.-11 p.m., Sun. 11 a.m.-10 p.m.
www.lostresamigosonline.com