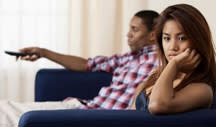 Your relationship with your hometown can be a little like your relationship with your significant other. I mean it! Everyone has heard the saying, "Familiarity Breeds Contempt" meaning of course that the better and longer you know something or someone, the more prone you might be to eventually tire of it. Well, just like with your significant other, you've got to keep things with your hometown interesting, and that takes a little work! Your significant other is not the same person you knew two years ago, and neither is Greater Lansing! Your significant other has new interests from music to books to thoughts on politics, pop culture and more. You'll find things out when you take the time to give the relationship the extra attention it needs and deserves. Of course your significant other maybe gets boring if you watch TV, shovel down a drab dinner and then drift off to sleep every day. When you stop learning, listening and investing THATS when things get dull. The same thing happens with your hometown! Sure the drive to and from work can get boring, but what are you doing to learn about new things going on? Always doing the same things, or worse, pretty much never get out to explore because you assume youve been there and done that - Have you really learned all there is to learn? Well, I'm here to say, I highly doubt it.
It's time to clean yourself up a bit, put on some cologne and get ready to go on a date with Greater Lansing. Yup date night baby! Take this bloggers fair warning too - prepare to fall head over heels with Michigan's Capital City all over again. Yup, by the end of the night you'll be posting romantic things about Greater Lansing on Facebook and Twitter. Things like: Someones headed wedding ring shopping! #lovelansing
Coming up on Saturday June 1 from 10 a.m. to 5 p.m. the Greater Lansing Convention and Visitors Bureau presents the 19th Annual Be A Tourist In Your Own Town event. At this awesome day-long local extravaganza, you get to check out over 70 local attractions and hot spots for just the cost of your $1 Greater Lansing passport. So not only will this be a FUN date, it will be CHEAP too! Get out of your local rut of the same couple of attractions, same few stores and old stand-by restaurants! Try something new! When was the last time you were at some local parks, gardens or scenic natural areas? Have you made time yet to see the wild-looking Eli and Edythe Broad Art Museum on MSU campus? How about the Potter Park Zoo or the Michigan Historical Museum? Be A Tourist in Your Own Town opens the doors to so many great things going on locally that you'll be re-fueled as an outspoken advocate of all we have to see and do. Before you have that oh-so-difficult, "It's not you, it's me (but it's really actually you) conversation with Greater Lansing, open your heart and mind and go on a date with Greater Lansing during Be A Tourist in Your Own Town on June 1st - you'll have butterflies in your stomach again by 5 p.m. - I guarantee it. You and Greater Lansing will be "That Couple" which makes everyone saw, "Aww, look at those two - THEY have something really special..."
All the event info you could ever want is available at www.lansing.org/batyot