There are a ton of advantages to living in, or very near, a college town like East Lansing, Michigan. As home to Michigan State University, MSU is also home away from home to thousands of students every year. These students bring with them to campus their dreams of higher education and aspirations for asmashing professional careeras well as their parents money, brand new credit cards and very fickle, youthful tastes. The last three on this list can, (and have for me), play into your hands very well at places like Flat, Black and Circular, or FBC to us locals.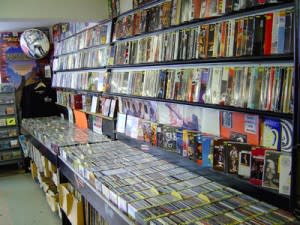 FBC is located upstairs in the campus town mall on Grand River Avenue, right by Chipotle. They have been there I think forever (in this case forever is 1977) and the reason is because they are always selling something people want - the greatest DVD's, CD's and vinyl records (LP's and 45's) from yesterday and today. They have new stuff, but the gems are in the used, I'm tellin' ya! Because stuff is gently used, you can get a good break on the price, which is always nice. The variety is awesome, even though the place isn't huge like some giant Best Buy (which doesn't even really sell CD's anymore, what the heck?). I mean it, you can go in there and getDefinitive Soul byOtis Redding, the Beatles White album and the Greatest Hits of the Scorpions and you'll leave with a smile on your face and yes, your shirt still on your back.
Anyway, what I was getting at with the students is this. A lot of times they try getting into new music, buy a CD at the store, listen to it once or twice, realize they don't like it, and then they come to FBC and sell it for beer money! That's where I come in. I got a few great Led Zeppelin CD's this way only a few months ago. Students are looking for their identity, you see. They are trying to find the soundtrack of their life. As soon as they realize that Pink Floyd reminds them too much of their ex-girlfriend, they sell their copy of The Wall and you pick it up for the fraction of what you'd pay at a regular music store. See what I mean? Their youthful soul-searching, low on pocket money fickleness is your gain! It's really a major win-win. They pick up a few bucks cash for taco bell and I get an awesome Radiohead CD they already burned to their iPod - booyah! Don't forget the DVD's too. You know some kid bought the Wizard of Oz DVD just to see if it really does match up perfectly to Pink Floyd's Dark Side of the Moon, and then sold the DVD when the novelty wore off.
Join me in reaping the musical benefits of college town heartbreak warfare - get in and get yourself a deal (or a few bucks if you're looking to sell) at Flat, Black and Circular in East Lansing. See you there! Or, if you're one of those people who have to check out everything online first before you go anywhere, check them out online at www.flatblackandcircular.com