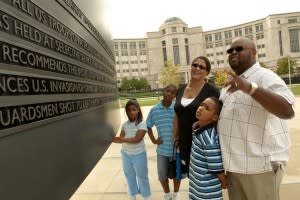 In honor of the upcoming Memorial Day weekend, I would like to remind myself that this weekend is truly not about a three day weekend with barbecues and trips up north to the cottage. Id like to remember that its a time to honor and remember our veterans who gave their lives to protect and serve our country.
During Be A Tourist in Your Own Town on Saturday, May 31st, there are multiple stops that you can make throughout the city that honor our service men and women and also pay tribute to heroes and moments that need to be remembered.
Mt. Hope Cemetery. Although the Friends of Lansing Cemeteries are doing a program about murder and mayhem, Mt. Hope Cemetery is a beautiful place and you can also visit the Spanish American and World War I Veteran Memorials along with some Civil War veterans graves.
Remembrance Memorial. This twisted steel I-beam is located at Wentworth Park across the street from the Radisson Hotel on N. Grand Ave. Salvaged from the World Trade Center, it honors those who lost their lives in New York, Pennsylvania and Virginia on September 11, 2001.
LCC Veterans Memorial. Lansing Community Colleges Veterans Memorial is designed to showcase the significant contributions of Michigan veterans through the use of video storytelling instead of a traditional granite wall with inscribed names.
Michigan Vietnam Veterans Monument. Erected and dedicated in 2001, this monument is a powerful tribute to the 2,651 Michigan casualties who died during the Vietnam War. The memorial is a 120-foot-long graceful steel arc that is suspended three feet above the ground. Find it west of the Capitol Building and just east of the Supreme Court Hall of Justice building.
For all the info you need to know about the over 70 attractions participating in Be A Tourist visit www.lansing.org/batyot.