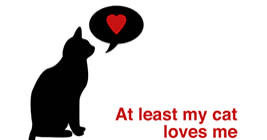 I'm an optimist. Anyone that knows me would agree to that I'd bet, but that doesn't mean I've got blinders on. I've been through a thing or two in my life that has me not only sometimes questioning is the glass half empty, but is it possibly also laced with strychnine? Life can be mean, nasty and lonely at times and that's no fun. Especially when days like Valentine's Day come rolling around. You see the hearts and cupids and flowers and candy and you want to, well...puke - or punch somebody. I know, I understand I've been there. Love is funny that way. There are haves and have-nots in this lovers game, and when the haves are going out to eat, seeing a movie and holding hands, the have-nots are gritting their teeth and searching for a distraction from lovey-dovey-schmoopsie-poo type of stuff. While Greater Lansing is an excellent place to get out and celebrate Valentine's Day with your significant other, it's also a prime location for an anti-Valentine's Day outing.
Whether its just you, or you and a band of your single friends, there are some good places to go where you can turn a blind eye to the warm glow of relationship bliss. Put on your "Love Stinks" t-shirt and consider these options: 1 - Not to start with the obvious but hey, its a no-brainer -Pick a bar, any bar
You've got it. Grab some single friends and talk about past relationship epic fails or future prospects at any Greater Lansing watering hole. Co-miserating is always so much easier and more fun with friends AND over a margarita, glass of wine or a few beers. 2 - Consider a peaceful walk in one of Greater Lansing's many natural areas. I know it'll be wintery, but a brisk walk in some fresh air can do wonders to give you perspective. By yourself or with a friend (yes, pets count-because they don't talk, they're great listeners), get some space and either come up with your 2014 battle plan, or come to peace with being single and good with it. 3 - Shopping! Yep, while the local lovebirds are wining and dining, having already shopped for a Valentine gift, the area malls are yours to browse, searching for something for (wait for it...) You! Yes, you! With no sandbag relationship on your shoulder, you get to buy yourself a Valentine gift! Don't feel guilty about it, just buy the book, DVD or outfit you've been wanting, swing by the store on the way home for some ice cream, get Chinese take-out and barricade yourself at home with your cat until next year.
Ah, next year. An interesting notion. Where will you be next year? A lone-wolf, or sappily in love, rubbing noses and playing footsie with someone special? Here's a tip - be the very best you that you can be and it really doesn't matter. Love yourself well and things have a way of taking care of themselves.