Valentine's Day is a special time to show those around you that they are loved. Traditional gifts include, flowers, candy, maybe a cute stuffed animal and a big heart-shaped card with a thoughtful sentiment inside. That's all well and good except for - what if the person you love doesn't like those things? What if, say, you're in need of a Valentine gift for a guy in your life and he isn't particularly fond of teddy bears or a bunch of carnations? You want to get something he really likes, and the traditional go-to valentine gifts are simply off the mark? Fear not, because this holiday-loving blogger is here to give you his never-fail top-five list of things to get for a guy for Valentine's Day.
Since chivalry is NOT dead, in Greater Lansing Michigan anyway, let your guy pick up the tab for dinner, it's the least he can do for you putting up with him all year, but wouldn't it be a nice touch if you offered to pick up the tab for some drinks at a cool Lansing place like one of the cool new distilleries and tasting rooms in Greater Lansing's growing adult beverage corridor? Make a stop into Sanctuary Spirits, Red Cedar Spirits or American Fifth Spirits and get him a drink to warm his belly and heart.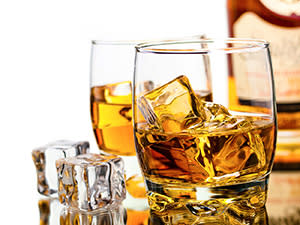 Don't underestimate the long-time adage that the way to a man's heart is through his stomach. How about a special tasty treat from a classic unique-to-Lansing shop like some ice cream from the MSU Dairy Store, some dark molasses salted caramel popcorn from Cravings, fresh roasted peanuts from the Peanut Shop or a famous Cherry-Berry pie from Sweetie-licious Bakery Cafe.
But man cannot live by food alone - time for some fun! How about after dinner you plan an outing at somewhere cool like Spare Time Entertainment Center, Royal Scot or City Limits Bowling Center? Have a couple drinks, some super hot and salty mozzarella sticks dipped in pizza sauce and bowl a game, play some laser tag and then win a stuffed monkey from the skill crane. Set your worries down and act like a couple teenagers on a date for a while.
Those are fun activities, but you want to hand him something wrapped in red tissue paper to open, right? How about something cool from the hub of all things Michigan State Sports - The Spartan Book Store? Maybe splurge on a jersey, or a cool sign for the "man cave"? This place has it all.
One more gift idea, and of course, it's another unique-to-Lansing gem. For this one, let's think about the future. When our world isn't a frozen ball and we've got green grass, warm temps and skies of blue. Yes, those days will be here eventually. How about a Lugnuts season ticket package or a gift card for a round of golf at one of Greater Lansing's premier courses! This will give you both something to look forward to - along with another great year together, of course... Awww.