We are busy people. If we aren't busy, we should be; life is too sweet to not embrace the possibilities. As Time Management becomes a new trend in balance, here are the top 6 tips to practice, practice, practice!
Tip #1 KNOW THYSELF- Before you can best manage your time, you best know what you do with it! Create a spreadsheet, or pull one off the web. Every hour, for 1 week, jot down how you use your time.  
Tip #2 COMPARTMENTALIZE YOUR DAY- It's easier to stay on task and reduce distractions if you assign yourself to tasks. For example, if you respond to emails from 9a-10a every day, it will be second nature. Then, you read up on trends and share important information with colleagues and stakeholders from 10a-11a…clockwork!  Live "in the moment" with each task. If you compartmentalize each task, you'll no longer feel overwhelmed by your GIANT to-do list.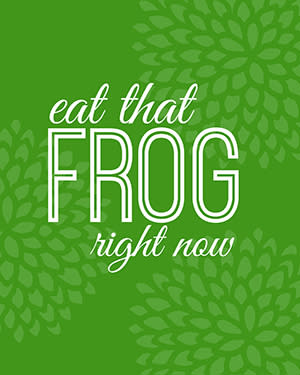 Tip #3 EAT THE FROG- Mark Twain once said that if the first thing you do each morning is to eat a live frog, you can go through the day with the satisfaction of knowing that that is probably the worst thing that is going to happen to you all day long. Your "frog" is your biggest, most important task, the one you are most likely to procrastinate if you don't do something about it.
Tip #4 BE WELL- If you feel well; you are more productive. Eat more whole foods, drink plenty of water, stretch at your desk, get a whiff of fresh air every few hours and sleep, yes, I'm reminding you to go to bed at night! Also, your desk is a work-space, not a storage unit. If you're not working on it, have it labeled, filed, and stowed away.  
Tip #5 LET TECHNOLOGY WORK FOR YOU- From better utilizing tools in your google or outlook calendar, to being sure you have the right tech tools to help you work efficiently, stay on top of your tech game.
Tip #6 JUST SAY NO (but know who you're saying no to!) If you are "in the weeds" or think someone else would be a better fit for the job, remember: be QUICK in the response, Be HONEST why it's not a good time and SUGGEST an alternative person for the job.
Keep at it, and you'll find more time; to increase productivity or to simply enjoy a little more "me" time!
Amanda Toy is Associate Director of Sales with the Greater Lansing CVB. To learn more about how she can help your meeting shine in the Greater Lansing area, visit the meetings and events section of lansing.org!