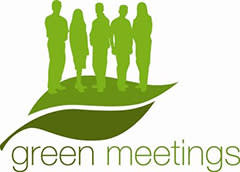 Real Estate agents don't know everything, but they are right about one thing. Location means everything, whether you're buying a house or planning a meeting. Selecting a destination that is conducive to the event's purpose, while also taking into account how far event attendees must travel, is the first step in putting together a successful event. It's also the first step in planning an environmentally-friendly meeting. That leads us into number one on our list of top three things smart planners consider when planning a meeting that's both successful and green.
1. Close Makes Sense!
Choose a destination that is close and convenient for as many attendees as possible. Not only will organizations tend to send more attendees to a conference that is close-by, you are also saving the environment the unnecessary travel. Yes, minimizing travel is both an economic and environmental consideration. You're looking to ideally balance a great event, in a welcoming community that is also convenient - but the real bottom line is you want to meet somewhere where you can get some work done. Don't be lured to the resort property 5 hours away where attendees will fit in a round of golf instead of attending the mid-day sessions you worked so hard planning.
2. These Boots Are Made for Walkin'...
Is the community walkable? Just like you don't want people traveling cross country to get to the event, it's also green to let them keep the car parked once they arrive! Is the community you're considering walkable? Does the hotel and event space have close by dining, nightlife, shopping and other things that attendees will want? It's something to consider. You might get good rates from the select-service hotel right off the highway, but if the closest restaurant and shopping is 7 miles back down the expressway, you just lost the respect of the Lorax.
3. Lists of Legit Locals
Does the destination's convention bureau have a list of venues, properties and suppliers that have environmental practices in place? Where can you go for an organic meal? Which hotels are the most environmentally friendly? Can you have tours or off-site events in natural areas? Or access to alternative-fuel vehicles? there is a good chance this research has already been done by the local CVB. A city that understands the importance of eco-friendly meetings and has prepared a sustainable vendor list will be a more effective partner as you move into other aspects of event production.
Lucky for you, the Greater Lansing Michigan community offers all three of these key factors. Yes, our location is centrally located - right in the middle of the state, making it a convenient drive no matter where you're coming from in the state. Yes, Greater Lansing is walkable. Whether you're in our lively downtown or out on the campus of Michigan state University, you'll find pretty much everything you need, accessible by just putting one foot in front of the other. And yes, the Greater Lansing CVB has a complete list of environmentally-friendly hospitality partners. From hotels and suppliers to local CSR opportunities, you're meeting in a place that cares about the environment. For more information about Green meetings in Greater Lansing, visit lansing.org, or contact one of our helpful sales managers today.