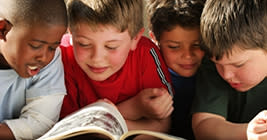 Are we Michiganders or Michiganians? What's the State Bird? State Tree? Which State Governor was lovingly called "Old Soapy?" Was the REO Speedwagon something before it was a band? What are some of Michigan's legal milestones that helped change America? Did woolly mammoths and dinosaurs used to roam around our mitten-shaped state?
Maybe you know the answers to all of these questions, and if you do, good for you. But I'm willing to bet you don't know all the answers, and I'll double that bet and say your kids absolutely don't know all the answers to these questions - but they should - and you have the resources at your fingertips to help them learn all this and more. Awesome, kid friendly attractions in Michigan, and Greater Lansing specifically, have resources that teach a ton about state history. How can you turn yourself and your offspring into Michigan history experts? Hit these top 5 kid friendly attractions in Michigan!
The Michigan State Capitol Building: Step back into the Victorian era with a visit to Michigan's award-winning Capitol Building. Designed by Elijah E. Myers, one of the foremost architects of public buildings during the Gilded Age (1865-1914), construction of the Capitol Building took six years and included over nine acres of hand-painted surfaces. The building was dedicated to the citizens of Michigan in 1879. Tours of the public areas and the House and Senate galleries are available every half hour. Now open on Saturdays!
State of Michigan Historical Museum: The Michigan Historical Museum surrounds visitors with Michigan history from prehistoric times through the late twentieth century. Major exhibit environments include a three-story relief map of Michigan, walk-through Upper Peninsula copper mine, one-room schoolhouse, 1920s street scene, 1957 Detroit Auto Show, and a lakes and lands diorama complete with a rustic cabin and lighthouse. Explore all 26 permanent galleries, located on four levels. Don't miss the temporary exhibit gallery on the ground floor. The museum store offers unique items that have been carefully selected to reflect Michigan's rich heritage.
MSU Museum: The MSU Museum has three floors of exhibits devoted to natural and cultural history with an emphasis on the Great Lakes region. Halls of continuing exhibits are devoted to world cultures, dinosaurs, animal diversity, and heritage. Special exhibits rotate quarterly. The Museum store has a nice selection of books, jewelry, traditional arts, and educational gifts for children. The museum also produces one of the top kid friendly attractions in Michigan, the Great Lakes Folk Festival in August. The MSU Museum is Michigan's first Smithsonian Institute affiliate.
Michigan Supreme Court Learning Center: A museum-style gallery filled with exhibits, hands-on activities, and computer programs to help demystify the judicial branch of state government. For educational, kid friendly attractions in Michigan, this learning center has to be on the list. Visitors, both kids and adults, learn about the legal foundations of our state. Free 1-hour tours are available. Groups need a reservation. Open M-F, closed state holidays. Call (517) 373-7171.
R.E. Olds Transportation Museum: This collection of cars and memorabilia is a tribute to the auto industry, courtesy of one of Lansing's most prominent citizens, Ransom Eli Olds. The very first Oldsmobile, built in 1897, is on display along with antique REOs, Stars, automotive advertising and memorabilia. The gift shop has a diverse selection of items related to the history of transportation and the automotive industry.
Well there it is, amazing, kid friendly places in Michigan to learn history. All of them right here in Greater Lansing. Don't just love the Mitten - Learn it!