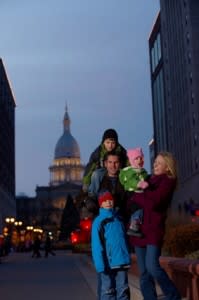 Have you ever visited somewhere, come home and sadly discovered that you had missed a perfect photo opportunity?
Heres my top 5 list of photo ops for you and yours when youre in town over the holidays: 1.In front of Michigans state Christmas tree on the Capitol lawn. 2.At Michigan State University in front of The Spartan statue. 3.Surrounded by a bubble at Impression 5 Science Centeror in the giant mouth. 4.In the judges robe and banging a gavel in the mock courtroom at the Michigan Supreme Court Learning Center. 5.Under the giant Inspiration sculpture on the Lansing River Trail next to Lansing City Market.
Grab the family and start a new tradition!