A trip to Lansing is not complete without a visit to these five establishments that have been aroundwell, it seems like forever.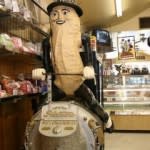 1.The Peanut Shop Tammy and Glenda, granddaughters of the original owner Floyd Melser, will tell you the story of how their grandfather purchased this original Planters Peanut shop while he was the manager. They still roast peanuts daily in the roaster and the smell is fabulous. Take a trip back in time when you walk in the door. Find the Peanut Shop at 117 S. Washington Square.
2.Roma Bakery Mena and Sostine Castriciano have been putting their heart and soul into Roma Bakery for close to 40 years. Dont miss their fruit tarts or the Italian cannolis. And Mena can craft a stunning and delicious wedding cake. Find Roma Bakery at 428 N. Cedar Street.
3.Kositcheks Mens Store Kositcheks has been in business for 145 years and in its present location since the late 1800s. Now in its fourth generation, the styles are up to date and classic. This is THE place for all menswear needs. Find Kositcheks at 113 N. Washington Square.
4.Linn & Owen Jewelers This is Lansings oldest family owned and operated jeweler. Well known for their watch and clock repair, they have a wonderful selection of treasures and if youre really lucky, you might get to meet owner Stuart Powells sweet Golden Retriever, Morel. Find Linn & Owen at 223 S. Washington Square.
5.Fabianos Candies A trip to Fabianos is a sure treat. With Madeline Fabiano-Blair behind the counter, her son Steve and grandchildren in the back room making the sweets, this family owned chocolate shop has traditions that have been passed down through the years since 1924. Find Fabianos at 1427 E. Michigan Ave.
All five of these beloved Lansing treasures have been a mainstay for generations of residents and a destination for visitors. If you havent had the chance to stop in, its time you did.