I think you'd be surprised, that in a community the size of Greater Lansing Michigan, we have so many well-known stand-out athletes born right here in the middle of the mitten. From wrestlers to divers to golfers to boxers, runners, refs and hoops stars we are literally brimming over with sports super stars. To me it says something about our local sports culture. This is a sports-minded community, and not only because we have Michigan State in our backyard. Sports are just in our blood. For a full look and a really cool experience you should take the time to check out the Greater Lansing Sports Hall of Fame located in the downtown Lansing Center. Free of charge and full of info the Hall of Fame wraps along the Lansing Center concourse on the river side and showcases jerseys and one-of-a-kind memorabilia from the area's top athletes.
There are dozens and dozens to choose from, and feel free to make your own mind up but I'm going to share with you my personal top five athletes to come from Greater Lansing, Michigan!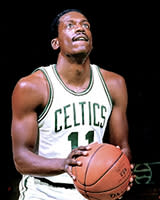 5: This guy isn't the BEST basketball hero from Lansing, but he IS local hoop GOLD STANDARD. James Samuel "Sam" Vincent (born May 18, 1963) is a retired professional basketball player and former coach. Vincent won the State of Michigan "Mr. Basketball" award in 1981, the first year the award was given. He attended Lansing's Eastern High School, where he scored 61 points in one game as a senior, breaking the previous city scoring record of 54 set by Magic Johnson at Everett High School.
A 6'2" point guard, Vincent followed in the footsteps of his older brother Jay Vincent, attending Michigan State University and earning Sporting News All-America honors in 1985. After graduating from college, he was selected by the Boston Celtics with the twentieth pick of the 1985 NBA draft. He played two seasons for the Celtics, winning an NBA Championship ring as a reserve in 1986, before joining the Seattle Supersonics, who promptly traded him to the Chicago Bulls for Sedale Threatt. After one-and-a-half solid seasons with the Bulls, he was selected by the Orlando Magic in the 1989 NBA expansion draft, and he finished his NBA career with the Magic in 1992. He scored 3,106 points and tallied 1,543 assists during his seven-year tenure in the league.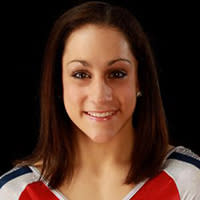 4: This lady may be small, but she is a total local sports POWERHOUSE. Jordyn Marie Wieber (born July 12, 1995) is a retired artistic gymnast. She was a member of the U.S. Women's Gymnastics team, dubbed the Fierce Five by the media, at the 2012 Summer Olympics, where she won a gold medal in the team competition. She was also a member of the gold-winning American team at the 2011 World Championships, where she also won the individual all-around. She is from DeWitt, Michigan and trained at Twistars in Lansing.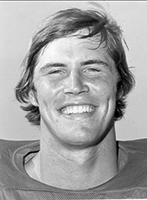 3: they just don't make 'em like this guy anymore. Long successful NFL career, sure, but before that he was a stand-out at MSU in Track, football and Baseball. He was literally good at EVERYTHING. Brad Alan Van Pelt (April 5, 1951 – February 17, 2009) was best known as an NFL football linebacker who played 14 seasons in the National Football League (NFL). A two-time All-American (1971, 1972) and the 1972 Maxwell Award winner as college football's best player, he was drafted by the New York Giants, earning five Pro Bowl selections during his ten years with the team. He rounded out his career with the Los Angeles Raiders from 1984 to 1985 and the Cleveland Browns in 1986. Van Pelt is the father of former Denver Broncos and Houston Texans quarterback Bradlee Van Pelt.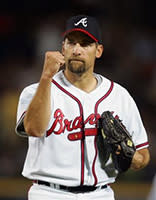 2: If you're a fan of baseball, there is a good chance you've heard of this well-known hurler. John Andrew Smoltz (born May 15, 1967), played 22 seasons in Major League Baseball from 1988 to 2009, all but the last year with the Atlanta Braves. An eight-time All-Star, Smoltz was one of a celebrated trio of starting pitchers, along with Greg Maddux and Tom Glavine, who propelled Atlanta to perennial pennant contention in the 1990s, highlighted by a championship in the 1995 World Series. He won the National League (NL) Cy Young Award in 1996 after posting a record of 24–8, equaling the most victories by an NL pitcher since 1972. Though predominantly known as a starter, Smoltz was converted to a reliever in 2001 following his recovery from Tommy John surgery, and spent four years as the team's closer before returning to a starting role. In 2002, he set the NL record with 55 saves, and became only the second pitcher in history (joining Dennis Eckersley) to record both a 20-win season and a 50-save season. He is the only pitcher in major league history to record both 200 wins and 150 saves.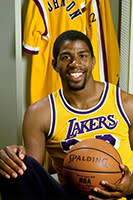 1: Duh. Not a surprise here. Magic is not only the biggest sports star to come from this area, he went on to become an NBA basketball LEGEND. Earvin "Magic" Johnson Jr. (born August 14, 1959) is a retired professional basketball player who played point guard for the Lansing Everett Vikings, the Michigan state Spartans and the Los Angeles Lakers of the National Basketball Association (NBA) for 13 seasons. After winning championships in high school and college, Johnson was selected first overall in the 1979 NBA draft by the Lakers. He won a championship and an NBA Finals Most Valuable Player Award in his rookie season, and won four more championships with the Lakers during the 1980s.
Johnson's career achievements include three NBA MVP Awards, nine NBA Finals appearances, twelve All-Star games, and ten All-NBA First and Second Team nominations. He led the league in regular-season assists four times, and is the NBA's all-time leader in average assists per game, at 11.2. Johnson was a member of the 1992 United States Men's Olympic basketball team ("The Dream Team"), which won the Olympic gold medal in 1992. After leaving the NBA in 1992, Johnson formed the Magic Johnson All-Stars, a barnstorming team that travelled around the world playing exhibition games. Johnson was honored as one of the 50 Greatest Players in NBA History in 1996.
Well that's MY top five. Do you agree? Disagree? Browse the Did you Know section of LansingSports.org or visit the Greater Lansing Sports Hall of Fame and make your own list!