This could be a tough, yet hopefully entertaining blog. I'm going to take my shot at giving my top five holiday gift ideas for Mom. What might make it tough is that I'm not a Mom. Not even a woman. I think I'm pretty in-tune with my feminine side however, and I've been in the gift-buying game long enough to have learned a thing or two - and even help you guys out who are admittedly clueless, or kids that are gift buying rookies. So here goes.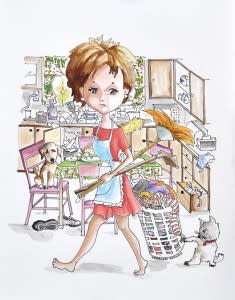 1. Women are notoriously busy people. They are nearly all major multi-taskers, so much so that they need a real reason to relax. Like a broken ankle. Men dont need a reason to relax; in fact, we're actively looking for opportunities. To be honest, a lot of the time we're working, its so that we can relax as soon as possible. Women are different. They are hard-wired do-ers, and often busier than they want to be. Lots of "this just has to get done" going on in their lives. So whats a good gift? Something that forces them to relax! How about a bottle of wine and a book she's been wanting? Or send her a book to her Kindle that you've also read so you can talk about it together. Does she have a hobby? Hook her up with things that will make her want to turn to her hobby.
2. Clothes. Dangerous, dangerous territory. While you have a chance of hitting a home run with clothes, you can also get sent down to the minors. Get it too big? You must think she's fat. Get it to small? Well then she'll try it on, it will be small and she actually will feel fat. Its tough. Society has women feeling like at any age they need to be looking like they just jumped out of a fashion magazine. A shame. However you can do still a clothing gift and come out looking good. How about a scarf? Women are wearing these big time right now. No, not a thick woolen scarf, a fancy colorful one that other than being pretty is useless. Thats the kind they like. Men, kids, do yourselves a favor here. Know the stores your Mom or wife likes and go there, then lean on the expertise of the sales people. They can help a lot with whats in style and (hidden bonus) you can blame them, should things go bad. I'm thinking you should head to Meridian Mall, Eastwood Towne Center, Lansing Mall (duh) or the more boutique-style places in downtown East Lansing.
3. Jewelry is obviously tough because its super expensive, but there are a lot of places that sell necklaces and bracelets and stuff that wont require you to sell one of your Kidneys to pay for it. Check out, again, the boutiques in downtown East Lansing. Make your jewelry buy special though by being thoughtful. Free tip? Women appreciate thoughtfulness. If you're not going to wow her with a big time price tag, go the thoughtful and sentimental direction. Like get her a necklace with a bird charm on it because on your first date you went for a walk at Fenner Nature Center, or something. Fill in with your own real life story here, PLEASE. Dont try and be sentimental and be wrong about an important occasion or memory. Ouch.
4. Back to the busy thing here for a second. Well, busy and tough. Women are tougher than they get credit for. For being known as the "gentler sex" women do less complaining about physical discomfort than men. By far. If a man has a sore back, God knows, his wife or girlfriend has heard all about it. Women are different. They will have sore feet or a sore back and not really say much. Why? Because they're busy and if they're too busy crying about their stiff muscles, who is going to carry their purse, workout bag, car seat (with a baby in it) and a bag with a few things for dinner into the house from the car? Good old Mom... This is why a spa package at like All Body Kneads, Creative Wellness or Douglas J is a great idea. Its a planned and set time for them to go and relax and have a professional work the kinks out.
5. Mom's like making memories with family. Yes, Dad is content to do the same thing every weekend (a little yard work, then a ton of watching football) but Mom's like to mix it up and engage the family in an event they will be enriched from and remember. How about some tickets to a great show at Wharton this winter? But maybe you're a kid and that's out of your price range? Do some research into local events and set up something like snow-shoeing at a local nature center for the whole family? Or cross-country skiing, with everyone together, then Dad helps out and picks up the tab for lunch after. Take the planner role away from Mom for once and let her know you care about spending time together and that you know what she finds enjoyable. When you always plan everything its really fun to know someone out of the blue has a fun plan for you! Shell love it.
So there are a few recommendations. Mom's and wives are special people. In fact, when you strip away all the junk people think is important in life, what's left, if you're lucky, are solid relationships with your Mom or wife. If you have these people in your lives available for you to spoil a bit - do so. No one is more appreciative or deserving.