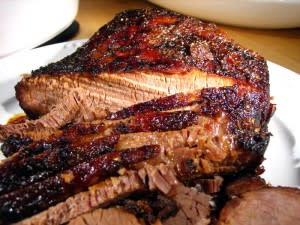 If you're a meat-lover who is always in search of great BBQ or creatively crafted brisket, you've got to hit up these three Greater Lansing eateries. Sure it's cold and snowy outside right now, and your BBQ grill at home is buried under a foot of snow, but no matter the weather, you can't change your tastes. If you're craving BBQ, you're craving BBQ and it doesn't matter what the calendar says. Slow-roasted beef, pork and turkey, seasoned in flavorful marinades and mouthwatering dry rubs take eating from being something you have to do, to something you're really looking forward to. It seems like the older I get, the more I like spicy things, and hot wings, or custom hot sauces all over slow roasted brisket is so delicious and flavorful I find myself wanting it all the time. You are certain to be caught in the spell of the BBQ stylings of these professionals who have turned slow-cooking meat into an art form of sorts – see if you don't agree. These Greater Lansing carnivore haunts get it right, every time, and if you're a meat-lover they will soon become your favorite places. Get to know them, because to know them, is to love them.
Buffalo Wild Wings is known for its 16 signature sauces and 5 dry seasonings, making their wings and other menu items customizable. The menu includes wings, both traditional and boneless, specialty burgers & sandwiches, finger foods, wraps, salads and a variety of appetizers. There are 3 signature events each week; Wings Tuesday and Boneless Mondays and Thursdays. Two awesome Greater Lansing locations.
MEAT. Southern BBQ & Carnivore Cuisine
At Meat. Southern B.B.Q. & Carnivore Cuisine all of our meats are slow smoked for hours using a combination of woods until they are moist, flavorful, and butter soft. We offer combo plates, scratch-made sides, as well as many other southern influenced comfort foods. To-go and catering available. –
Located in the heart of REO Town. Saddleback specializes in hand-crafted, award-winning Southern BBO with a unique Midwestern flair. We are 100% devoted to the craft of BBQ. We smoke our meats in-house using a wide variety of wood, ranging from hickory and mesquite to Michigan fruit-tree woods like apple and cherry. Our proprietary technique is what gives our product its unique flavor and tender, fall-off-the-bone goodness.