Second Annual Lansing Beer Festival Saturday June 28, 2014 - 1pm - 6pm
For a growing number of folks sitting back and having a beer means a lot more than just grabbing whatever's closest to you and popping the cap off before a big satisfying pull. Hundreds of beer varieties from dozens of regional breweries are taking over the adult beverage landscape and setting up permanent camp both in residential refrigerators and area festivals as well. Yes the thirst for something unique and different has given rise to special summer fests honoring the micro-brew. Works for me! Interested? Make your way to Greater Lansing (specifically REO Town) Saturday June 28th for the Second Annual Lansing Beer Festival, from 1 p.m. to 6 p.m. Im a Beer Hound and Motor City Brew Tours put this event on and its the culmination of Lansing Beer Week, which started June 20 (yes, you're behind). Visit the event website and find out about how you can get started enjoying yourself right now with deals and special beer events all over the area this week leading up to Saturday. Lansing Beer Fest is an outdoor beer festival on Washington Avenue that will feature 30 Michigan Breweries and 100+ craft beers and Live Music. A portion of the proceeds from this event will benefit the REO Town Commercial Association which helps this cool old area of Greater Lansing grow and put on more cool events like this. Detroit Beer Press will be there creating one of a kind stamped coasters so stop by their booth and receive a FREE Lansing Beer Fest coaster - while supplies last!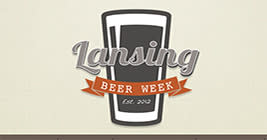 While you are enjoying some local craft beer the live local musical talent that will be playing throughout the day. Opening will be Mark Warner who plays a classic rock style that is sure get your feet moving. Next up is Joe Wright who travels all over Michigan playing his own unique blend of classic rock and country. He always puts on a good show. The headliner is Lights and Caves a young group that is sure to please with their alternative indie sound.
Now I know what you're saying, "Sure the beer and music sound great, but what about some grub?" What is a festival without food? There will be a few local favorites for you to choose from. MEAT located in Old Town Lansing is always a favorite with their unique brand of slow roasted meats. Pita Delight is Mediterranean Food with fresh options such as humus and pita wraps. Finally check out What Up Dawg, which gets my award for coolest restaurant name but also their gourmet hotdogs are all the rage.
So if you're a beer fan, or music fan or food lover (um, okay, I'm pretty sure that's all of us...) then you've got to get to Greater Lansing this Saturday for Beerfest. Check out the list below for the breweries that will be represented! Some cool names and even better tastes. This Saturday June 28th we're all about beer. Not just because it tastes great, because its our duty. Shoot, did you ever see Ben Franklin's quote about beer?
"Beer is proof that god loves us and wants us to be happy" -- Benjamin Franklin
Featuring the Michigan breweries of: Lansing Beer Fest will include 51 North Brewing, Arbor Brewing, Arcadia Ales, Atwater Brewing Co., BAD Brewery, Beggars Brewery, Bell's Brewery, Boatyard Brewing Co., Brewery Vivant, Cellar Brewing Co., Crankers Brewing Co., Dark Horse Brewing Co., Eagle Monk Brewery, Fenton Winery & Brewery, Founders Brewing Co., Frankenmuth Brewery, Gravel Bottom Brewery, Greenbush Brewing Co, Kuhnhenn Brewing Co., Latitude 42 Brewing Co., Liberty Street Brewing Co., Mountain Town Brewing Co., New Holland Brewing Co., Perrin Brewing, Right Brain Brewery, Saugatuck Brewing Company, Schmohz Brewery, Short's Brewing, Tapistry Brewery, Tri-City Brewing Co., Vander Mill Ciders, Uncle John's Cider Mill and Witch's Hat Brewing Co.!