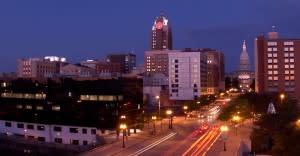 How much do I love downtown Lansing? Id have to say a lot. A whole lot. I work in downtown Lansing. I play in downtown Lansing. I attend baseball games at Cooley Law School Stadium and events at the Lansing Center. I visit attractions and cheer on friends who run in downtown Lansing. I go to the bars and restaurants and entertain my out-of-town friends in downtown Lansing. This is My Downtown.
So when a project for Downtown Lansing Inc. came into play about highlighting all the things the downtown Lansing has to offer, I raised my hand to be the project manager. And after hours and hours of interviews, tours and behind the scenes peeks with business owners, residents and employees who love downtown as much as I do, wehavea video product. A video that reflects our pride in Michigan's capital city. Sadly, 75% of what we filmed ended up on the cutting room floor. A one minute video is merciless. But my experience and time spent with those people is priceless. They inspire me and confirm what Ive known all along. This IS downtown Lansing, a great place to live, work, play and enjoy.
Take a minute to watch the video. Id encourage you to share it via your social media platforms and also come and visit downtown Lansing. Its a remarkable destination to be re-discovered.
http://vimeo.com/106308972
Big thanks to the following people and businesses who were more than accommodating and make me proud each and every day to share this little piece of the world with them.
Matt VanAcker State Capitol Building.
Capital Area District Libraries downtown Lansing
Stefanie Pohl Fox 47.
Marc Wohlbert - Midtown Brewing Company
Tameko Richards - Juice Nation
Boris Hsieh - Anqui Sushi
Kositcheks Menswear with special appearance from Melik Brown
Taps 25
Cooley Law School Stadium and my main man Big Lug
Pamela Werling and family
John Lindenmayer Lansing River Trail
Impression 5 Science Center
R.E. Olds Transportation Museum
Alexis - the violinist on Washington Square
Clint Tarver The Hot Dog Guy
Tiffany Klein - La Fille Gallery
Chad Munce The Black Barn Band at Waterfront Bar & Grill
Mayor Virg Bernero - our fearless leader
and a special shout out to the crew at Lansing Public Media who did the filming. They were an absolute delight to work with.