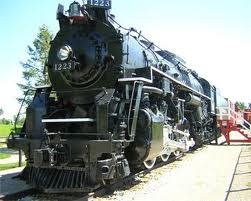 When my boys were little, we had a train set that ran under the Christmas tree that sounded a whistle and blew some sort of steam. Im not sure whether it was their dad or the boys who loved it best. And as kids they absolutely loved to watch Thomas the Tank Engine on TV and video while playing with the wooden Brio track with all the trains on the living room floor. I think stepping barefoot on those trains ranked on the pain meter right up there with stepping on Legos. Ouch. And then when the movie Polar Express came out in 2004, I think we all got a little nostalgic and fell in love with trains all over again.
When I was young, my parents used to usher me on the Canadian National train in Windsor to travel four hours alone to visit my very best friend in the world for a week every summer. I would like to think that maybe an attendant was looking out for me and my Barbie dolls, but I seriously doubt it. But the roll and bump of the train car lulled me to sleep and I arrived each and every time with no incidents. Fast forward to last summer when I boarded the Amtrak Blue Water Line in East Lansing to head to Chicago for a trade show. It was super easy and super convenient and I will be doing it again next month. I have to say that trains are pretty cool. And train sets are not just for little kids. Grown kids join clubs and build elaborate scenes and sets that are incredibly intricate and realistic.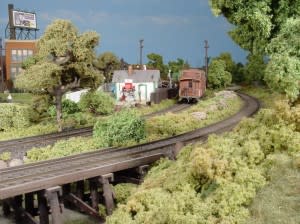 This Saturday is National Train Day. But you dont need to have a special day to enjoy the beauty, majesty and romance of trains. Head over to The Steam Railroading Institute in Owosso. They are dedicated to the education and preservation of the steam-era railroad technology and its impact on the Great Lakes region. They are also home to the Pere Marquette 1225 steam locomotive, used as the prototype for the Warner Brother film, The Polar Express. If you are looking for something on a bit smaller scale, the Lansing Model Railroad Club, housed in the historic Millett Depot will fit the bill. They will be having an open house on Saturday June 1 from 10 a.m.-5 p.m. during Be A Tourist In Your Own Town. Celebrating 60 years, this club has an expansive layout of scale model HO trains.
Other notable train related places in Greater Lansing include dining at Claras Lansing Station, the newly opened Bradlys boutique in the historic Comfort Station in Old Town and the beautiful restoration of the REO Town train station now under the auspices of the Lansing Board of Water & Light. The love of trains is definitely not age or gender specific. Its fun for everyone. All aboard!!