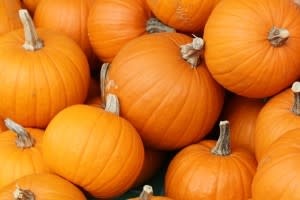 I am super excited about the Lansing City Markets Harvest Fest this Saturday. The Market is always a great place to stop in and pick up a lunch to go, some delicious Hills cheese, a sweet treat from Aggie Maes Bakery or to enjoy a nice adult beverage at The Waterfront. Whether its during the week, or on the weekend, I love to see all the vendors and their ever-changing products. Currently, fall favorites like apples, cider, donuts and seasonal dcor abound. And pumpkins. Hooray for pumpkins!!! Ill definitely have to pick up some to carve for the end of the month and a couple to sit on my porch until Thanksgiving has come and gone and Im ready for the next holiday which will remain unnamed until sometime in November.
But the really cool thing about the market are all of the activities. This Saturday you can find workshops on applesauce making, canning and indoor herb gardening. Add in some great live music, a magician and those adorable miniature horses from Sierra Rose Farms. Then, for even more family fun, there will be craft activities, farm animals and games. Its a perfect fall family festival.
So rain or shine, head over to The Barn. There will be plenty of parking at the adjacent Lansing Center lot. Its bound to be bountiful. It will be a cornucopia of deliciousness and a bushel full of fun. Oh, and did I say its free? Its FREE!
The Lansing City Market 6th Annual Harvest Fest
Where: Lansing City Market 325 City Market Dr., Lansing
When: Saturday, October 26, 2013 Starting at 10 a.m.
What:Live Music
Ben Hassenger 10 a.m.-1 p.m.
The Springtails 2-5 p.m.
What: Kids Events
Miniature Horses from Sierra Rose Farms 10:30 a.m.-12:30 p.m.
Alan Kazam Interactive Magic Show 1 p.m.
Kids Activities 10 a.m.-1 p.m.
Farm Animals from 5-D Farm and Tice Family Farm
Craft and pumpkin Activities
Field Games
What: Educational Workshops
Applesauce Making Demonstration 1:30 p.m. Canning Demonstration 2:30 p.m. Start Your own Indoor Herb Garden 3:30 p.m.