Anyone who has spent much time in Greater Lansing knows we really love our unique haunts. Special places that only exist here. One of those is a special place called Beggar's Banquet. We found this cool article on eastlansinginfo.org and wanted to share it here for any visitors looking for a taste of unique East Lansing, a campus classic. Enjoy!
East Lansing REWIND Reprinted with permission of Beggar's Banquet Restaurant and Saloon Author: Ashley Griffin and Ann Nichols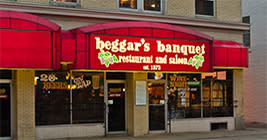 Beggars Banquet Restaurant and Saloon, was founded by Bob Adler, Charlie Rose, Martin Richard and Christopher Blunt in 1973. The four had worked together at a fairly upscale East Lansing venue, The Cave of the Candles. According to Adler, who retired from Beggars but retains an ownership interest, the men wanted to have their own place, to have a killer restaurant and not be pretentious.
The restaurants name was taken from a 1968 Rolling Stones album, and catchphrase Gimme Eat comes from Joseph Hellers novel Catch-22. Local stained glass artist Dick Hamley established a studio around the time Beggars opened, and he was commissioned to make the two original lamps that hang over the restaurants bar. When he was done, according to Adler, Hamley produced the finished lamps, whereupon Adler observed that one read Beggars Banquet and the other Gimme Eats. I said no, Dick, thats not what I asked for - its supposed to say just Gimme Eat. Hamley made the correction, and the (corrected) lamp still hang over the bar.
Dana Kenney, current general manager and part-owner, recalls that in the 70s, they had to hand-write the menu every day, but over the years it has increased in size. The chili and chocolate mousse have not changed. The chili is one of Beggars most famous menu items, but Kenney said that she also has people calling and e-mailing her for recipes of other items such as the London Broil.
The idea to have chili on the menu was Adlers which he took from a bar in Aspen that had good and spicy chili. Adler described what he wanted to Chris Blunt, who was Beggars first chef and suggested that theyd make a deal a bowl of spicy chili plus your first beer for a dime.
Blunt started with a five gallon stockpot of the chili, a spicy concoction of beef chunks and beans called Sympathy for the Devil, thinking it would be a weeks worth. Instead, Adler recounts, they opened at 7:00 on a Thursday, by 7:30 you couldnt get in and by Friday the chili was gone. This initial rush lasted for their first six weeks in business, slowing only on St. Patricks Day because of a massive snow storm.
Walking down the back hall you can see some of the original hand-written menus and various articles and pictures that have been collected over the decades. A perennial item across the years is the Chris Bishop Memorial Vegomatic Sandwich, basically a grilled cheese sandwich that can be customized with a large assortment of vegetable add-ins. Bishop had worked as a dishwasher at The Best Steakhouse #9 on the site that later became Beggars Banquet. Adler recalls that Beggars inherited Bishop; he came to work as a cook, and ended up being an excellent cook. He used to stand there, people would order a grilled cheese sandwich, and hed tap his spatula and say those goddamned veggos. Hence the Chris Bishop Memorial Vegomatic Sandwich.
Beggars, which was originally only two rooms, has expanded into the space adjacent to the original bar area but retains its original spirit. Numerous engagements have taken place here, graduation parties, wedding receptionsit is definitely a place that has an emotional attachment for a lot of people says Kenney.
Its still a really good place says Adler. I can tell a good joke and be a good host, but its the food and the service that bring people back. The people who came back were a mix of people who, in their ordinary life would never interact, all standing at the bar talking to each other. Usually the level of discourse was pretty high. We really were the political locus for the food and beverage crowd for many years. Senators, lobbyists, Supreme Court justices, professors and street people.
Kristin Beals Bellar, an East Lansing resident and a customer of Beggars for about 15 years, said that her favorite part is the friendly staff and the continuity of the servers/bartenders. They are really welcoming and have accommodated our young son on many occasions. I love the atmosphere. It just feels like walking into a friend's house a lot of the time. My husband James would say his favorite part is the beer selection, which has really improved since Dana took over a few years back.
I got the place I wanted says Adler, who is keenly aware of how very lucky he is. We opened up, weve been open about a week or so, were taking the town by storm. Some well-intentioned local resident came to say he was so pleased at how good the food was, but wed never make it if people from Whitehills had to walk past all those street people and riff-raff at the bar. He suggested a separate entrance. Adlers take on this suggestion? Martin Richard liked this line from a Brother Dave Gardner song: let them that dont want none have fond memories of not getting any.