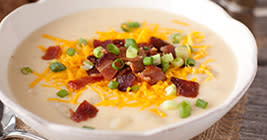 Boy they couldn't have picked a better month for "Soup Month." Am I right? I mean, in January in mid-Michigan we dont just want to eat a bowl of soup, often we want to actually climb into one. Cold, blustery weather with sub-zero temps and even colder wind chills has residents and visitors alike seeking a spoonful of something warm. More than that actually. A great big steaming bowl of something hot and wonderful like a brilliant and soothing bowl of beautiful soup. Why not embrace soup month completely and check out all the great spots in Greater Lansing serving incredible soup? Are you up to the challenge? I'd hope you are, given the fact that this is going to be a delicious, warm and toasty challenge you'd be a fool to turn down. I mean, its Soup month after all, get some courage, grab your spoon and get into it.
McAlister's Deli - This little sandwich shop in Eastwood Towne Center has a variety of some great soups, sure to warm you up from the toes. Get a baked potato too; they're as big as a football. Yum.
Claddagh Irish Pub - Also in Eastwood Towne Center has absolutely fantastic Potato and Leek Soup. Literally something to write home about. Make this Irish-themed haunt part of your January Soup Month list for sure.
The Soup Spoon Cafe - This little Michigan Avenue spot has people coming from all over to try their bold and creative soups. They are so memorable and delicious you'll be coming here long after Soup Month is over.
The Spartan Hall of Fame Cafe - I love this restaurant for a lot of reasons and while its not a "soup place" per se, they have an awesome bowl of Lobster Bisque which I often crave.
Cosi - this soup and sandwich spot is right downtown East Lansing and just like the name is a cozy place to curl up with a bowl of hot soup and a tasty sandwich for dipping. Come check it out. Its a campus lunch hot spot.
Hobie's Cafe & Pub - I've been coming to this awesome soup spot since I was a kid. Big steaming pots of great soup all lined up, its awesome. If you're a soup lover you may have a hard time deciding what you might get. If this happens - get two, the clam chowder and broccholi cheddar.
Tom & Chee - This concept restaurant has absolutely taken off and offers some awesome grub right in downtown Lansing. They serve all kinds of different types of grilled cheese and different kinds of tomato soup as well. Looking for something different? Get a steaming bowl of cream of tomato and a grilled cheese donut. Yes, I said donut.
Zoup! - Zoup! is located on Washington Square in downtown Lansing and is another hot lunch spot. It's maybe the premier soup place in town offering at least a dozen rotating gourmet soups along with sandwiches and salads. Its your "must-go-here" soup spot in Greater Lansing and your new home for "Soup Month."
The Knight Cap - The Knight Cap is a fantastic steak and seafood spot, but they are also known for amazing soup, specifically the Lobster Bisque - as you can see, I'm a fan of this kind of soup. This little place is right across from the Lansing Center and offers big taste, great drinks and beautiful soup.
Okay soup-loving spoon-grabbers, thats my list of awesome Greater Lansing soup spots. It's my way of telling you not to celebrate Soup Month at home with a can of Campbell's. Get out into the cold and warm yourself back up with a steaming bowl of the best thing in the world to warm up a belly. Get your soup on people!
"Beautiful Soup so rich and green, waiting in a hot tureen - Who for such dainties would not stoop? Soup of the evening - beautiful soup. Soup of the evening, beautiful soup.
Beautiful soup! who cares for fish, game or any other dish? Who would not give all else for two pair penny worth only of beautiful soup."
Lewis Carroll Alice In Wonderland